A 6-year-old was diagnosed with flesh-eating bacteria after testing positive for strep throat.
The bacteria is called Necrotizing Fasciitis and it kills around 33 percent of people who get it.
Chance Wade was diagnosed with the disease and has undergone one surgery already as doctors try to fight it.
"He was complaining about his leg we took him to the doctor he tested positive for strep throat but he was still limping," mother Melissa Evans told WJTV.
"Once we got here, the infection had aggressively went through his whole thigh, all the way to his knee we just got an update that it did spread to his other leg."
A picture posted by the family on its GoFundMe fundraising page shows one leg with a massive wound. An IV injecting antibiotics directly into the area is hooked up to the leg.
Evans had never heard of the disease but wanted to warn other parents.
"It can come from many things staff, just a small cut, an open wound just a scratch… With all this weather changing, and sick babies, and everything going around, just never take anything lightly. Just continued to pray for me and my baby he's still fighting and it's going to be alright," she said.
The family has raised over $10,000 so far for the McComb boy's care.
"Hey you guys wanted to let everyone know there donation has not gone unnoticed I've tried to thank each and everyone if I haven't please I promise I will chance is still down but we have gotten the infection to stop spreading thanks you all again continue to pray for my sweet baby boy," Melissa wrote on Dec. 10.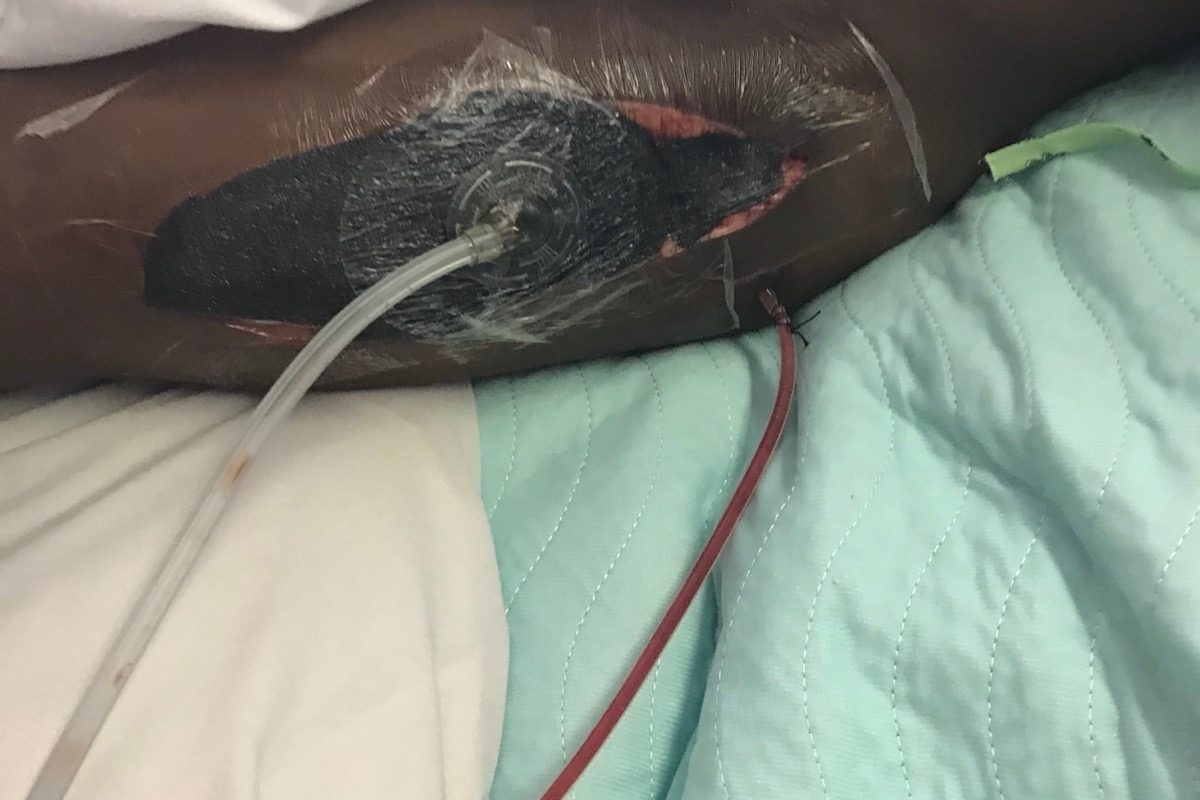 Necrotizing Fasciitis
Necrotizing Fasciitis "is a rare bacterial infection that spreads quickly in the body and can cause death," according to the Centers for Disease Control and Prevention.
The diagnosis of the bacteria is difficult, as a number of other infections look similar to it during the early stages.
Symptoms include a red or swollen area of the skin that spreads quickly; severe pain, including pain beyond the red or swollen area; and a fever.
People with these symptoms after an injury or illness are urged to see a doctor right away to make sure they don't have the flesh-eating bacteria.
Later symptoms can include ulcers, blisters, or black spots on the skin; dizziness; and changes in the color of the skin.
Necrotizing Fasciitis is treated with antibiotics and surgery.
"Sometimes, however, antibiotics cannot reach all of the infected areas because the bacteria have killed too much tissue and reduced blood flow. When this happens, doctors have to surgically remove the dead tissue. It is not unusual for someone with necrotizing fasciitis to end up needing multiple surgeries. In serious cases, the patient may need a blood transfusion," the agency stated.
According to the agency, Necrotizing Fasciitis can lead to sepsis, shock, and organ failure. It can also result in life-long complications from loss of limbs or severe scarring due to surgically removing infected tissue.
"Even with treatment, up to 1 in 3 people with necrotizing fasciitis die from the infection," it said.
From NTD News