Officials in Southern California are looking for six-month-old Culver City baby who hasn't been seen in more than a month.
Jacsun Manson was last seen by witnesses on Dec. 31 in Culver City, reported ABC7. He was with his parents, Adam Manson and Kiana Williams, sitting in a blue 2006 PT Cruiser with a missing bumper after it was allegedly stolen by the two.
MISSING INFANT: Culver City police are asking the public's help finding a missing 6-month-old boy whose parents were arrested last month and remain in custody.

Gepostet von ABC7 am Donnerstag, 7. Februar 2019
Days later on Jan. 3, the couple were arrested for car theft. They were reportedly trying to break into cars, and investigators think the PT Cruiser they were in was also stolen.
Both Manson and Williams were arrested by Los Angeles police but Jacsun was not with them. Since their arrest, the couple have refused to tell the Los Angeles County Department of Children and Family Services (DCFS) where their baby is, KTLA reported. They are still in the custody of the county sheriff's department, the report said.
DCFS decided to report the child as missing on Jan. 25.
Update: Culver City police have released photos of the parents of #JacsunManson – Adam Manson and Kianna Williams. They have been arrested while their infant son remains missing https://t.co/EXI9u3qCqV pic.twitter.com/K0V650KWoT

— KTLA (@KTLA) February 8, 2019
The family had been living at the Upward Bound House in Culver City, a family shelter for homeless and struggling families, KTLA reported.
The National Center for Missing and Exploited Children said Jacsun weighs about 20 pounds, is 18 inches tall, and has brown hair and brown eyes.
Police told an NBC affiliate that Manson has at least two aliases, including Adam Owens and Adam Jackson.
Culver City police Lt. Troy Dunlap said, "We have contacted family members and friends, and they have been cooperative," CrimeOnline reported. "But none of the information they have given to us has actually led to the location of Jackson," he stated.
Dunlap added that he is "hoping for the best" in finding the boy but he's still "preparing for the worst."
A neighbor of the couple, who only gave the name Sandi, told CBS2 that she doesn't "think they hurt the baby."
"I really don't," she said. "I really believe they have him somewhere and they just refuse to tell."
She described Williams and Manson as loving parents.
"I never saw anything but that little boy being showered with love and affection, that's all I ever saw. They were always doting parents," the woman said.
Those with information about the case are urged to contact Detective Raya at 310-253-6318. A watch commander can be reached at 310-253-6202 during non-business hours.
Missing Children: A Major Problem in the US
There were 464,324 missing children reported in the FBI's National Crime Information Center (NCIC) in 2017, according to the National Center for Missing and Exploited Children.
Under federal law, when a child is reported missing to law enforcement authorities, they must be entered into the database. In 2016, there were 465,676 entries.
"This number represents reports of missing children. That means if a child runs away multiple times in a year, each instance would be entered into NCIC separately and counted in the yearly total. Likewise, if an entry is withdrawn and amended or updated that would also be reflected in the total," the center said.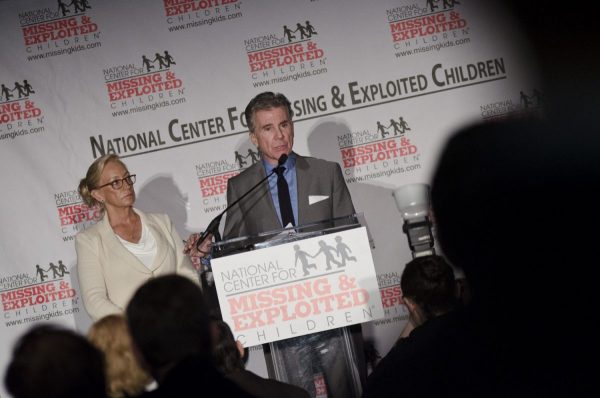 In 2017, the center said it had assisted officers and families with more than 27,000 missing children. In those cases, 91 percent were endangered runaways and 5 percent were family abductions.
Nancy McBride, the executive director of Florida Outreach at the National Center for Missing and Exploited Children, said most of the runaways involve technology.
"[Technology] has great benefits and some potential risks," McBride told USA Today in 2017. "It's important to stay plugged into their lives."
Tech is utilized by online predators, McBride said, who exploit gaps when the child's relationship with their parents is not the best.
About one in seven children reported missing to the center in 2017 were likely to be victims of child sex trafficking, the center said.