Eleven elephants have been killed trying to rescue a baby elephant that slipped from a cliff and plunged to its death into a waterfall.
Six elephants, including the three-year-old calf, died on Oct. 5, authorities in Thailand said.
The situation unfolded at the Haew Narok Waterfall in Khao Yai National Park.
The country's Department of National Parks, Wildlife and Plant Conservation said in a statement that the body of the young elephant was found that day after staff at the park heard elephants in the area. The young elephant drowned on the first tier of the waterfall.
In a statement on Oct. 8, the department said that five additional elephants had died at the waterfall.
The department shared pictures that included the location of each body. Some appeared trapped in a crevice, two appeared to be at the base of the waterfall, and the rest had washed downstream.
The additional bodies were spotted by drone, according to Edwin Wiek, the founder of the Wildlife Friends Foundation Thailand.
According to the Thailand Tourism Directory, Haew Narok Waterfall consists of three levels: the first level is a steep cliff 50 meters high and the other two levels "are quite dangerous and not open to the public."
One or two elephants die on average at the waterfall, according to statistics kept by the country since 1987.
The director of the national park, Kanchit Srinoppawan, said the baby elephant appeared to have slipped as a group of elephants crossed a creek that was high after recent rains.
After the baby fell, others tried to rescue it.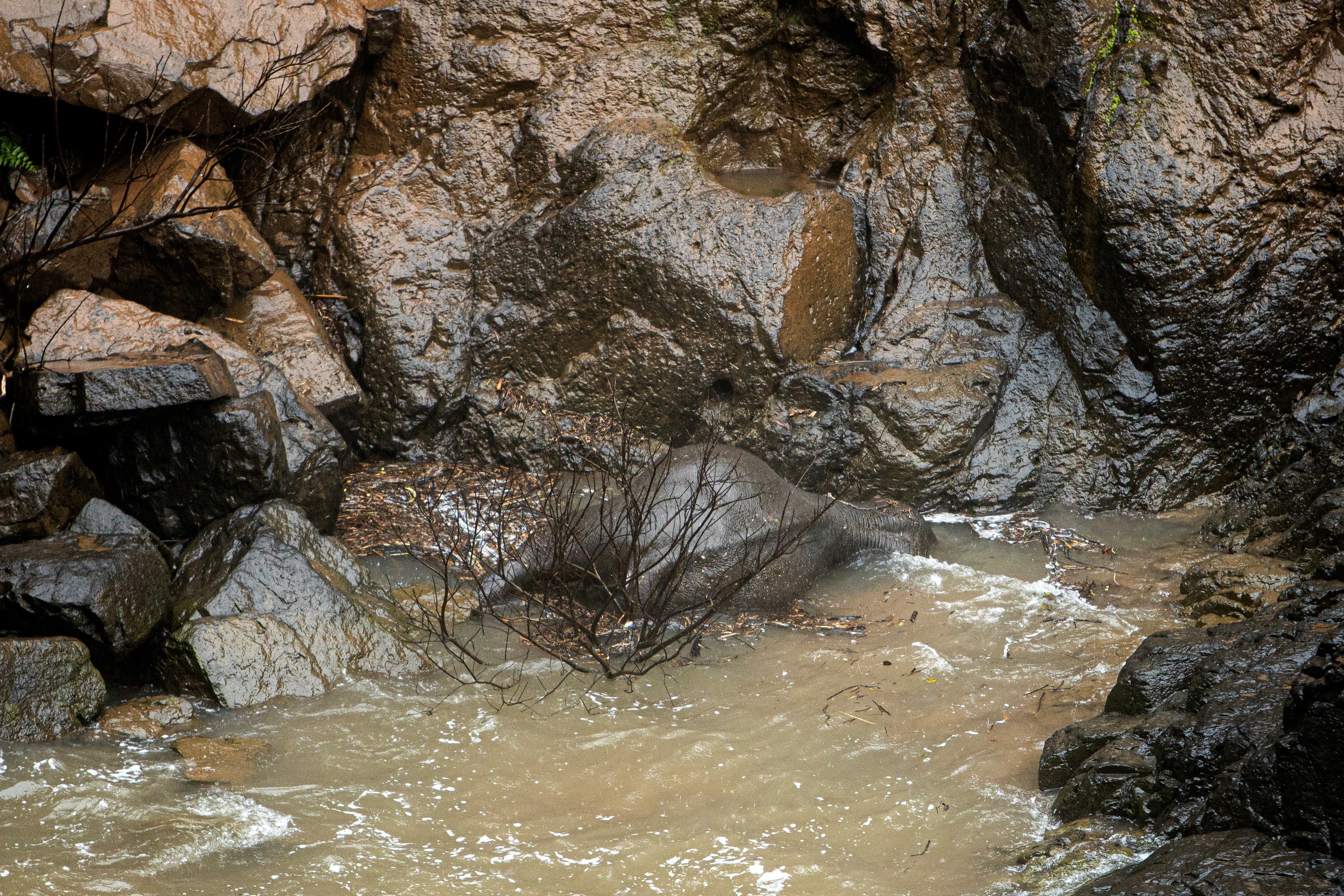 "We believe that the elephants were trying to help the baby," he told the New York Times. "They are forest animals that live in a group, and when one member is facing problems or needs help, they will come to help."
"We believe that the death of all these elephants happened at the same time because they wanted to save the little one," he said.
Two elephants were found over the weekend trying to reach the baby. They were led from a ravine and would be under monitoring for the near future, Chanaya Kanchanasaka, a veterinarian at the park, told the Associated Press.
"The two elephants right now are taking a rest," he said. "They are exhausted from trying to cross the stream."