Police in the United Kingdom arrested a 25-year-old driver from Northern Ireland on suspicion of murder after more than three dozen bodies were found inside a truck, officials said.
Police in Essex said that 39 bodies were found, adding that they were all adults except for one teenager. The truck was found at the Waterglade Industrial Park in Grays, Essex.
"This is a tragic incident where a large number of people have lost their lives. Our inquiries are ongoing to establish what has happened," Chief Superintendent Andrew Mariner said, The Guardian reported. "We are in the process of identifying the victims, however, I anticipate that this could be a lengthy process."
Mariner said the driver of the truck was arrested.
Sickening news of 39 people found dead in a container in Grays. People trafficking is a vile and dangerous business. This is a big investigation for @EssexPoliceUK Lets hope they bring these murderers to justice

— Jackie Doyle-Price (@JackieDP) October 23, 2019
The truck had driven from Bulgaria through Holyhead in Wales, added officials.
British Prime Minister Boris Johnson tweeted that he was "appalled" by the deaths.
"My thoughts are with all those who lost their lives & their loved ones," he wrote.
Home Secretary Priti Patel stated that the truck discovery was "truly shocking."
This tragedy is subject to an ongoing investigation. Our thoughts are with the families of the deceased but whatever the circumstances, it highlights the danger of migrant gangs people-smuggling on lorries. @RHARichardB https://t.co/JHy5ApqXjt

— RHA News (@RHANews) October 23, 2019
"I think the whole House will agree this is truly a truly shocking incident. My thoughts and all thoughts and condolences are with the victims and their loved ones at this utterly terrible time," Patel added, CNN reported. Patel said she had asked Home Office officials "to work closely with the investigation, providing all assistance we can in these horrific circumstances."
A member of the UK Parliament, Jackie Doyle-Price, quickly blamed the "sickening news" on human trafficking.
"People trafficking is a vile and dangerous business," she tweeted. "Let's hope they bring these murderers to justice."
Richard Burnett, the chief executive of the Road Haulage Association, also blamed it on human trafficking.
Officials have not commented on why 39 people were inside a truck. However, there have been several causes of migrants dying while being smuggled across borders, namely in the United States, in recent years. In 2017, police found dozens of migrants inside a semi-trailer at a Walmart parking lot in San Antonio, leaving at least nine people dead, Time magazine noted.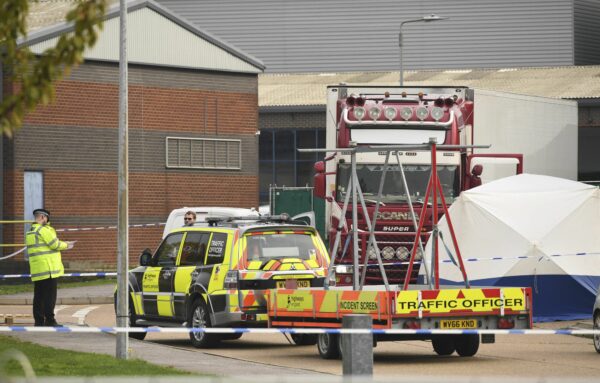 The BBC reported that in 2000, 58 Chinese migrants were found dead in the back of a truck in Dover, England. The driver was later found guilty of manslaughter.
A spokesman for Bulgaria's foreign affairs ministry said it's not clear if the truck was registered in the country.
"There is also no indication of the nationality of the human bodies found in the truck," he said, as reported by the BBC.