Nearly 3,700 people on a Dream Cruises ship are undergoing testing for the Wuhan coronavirus while they're being held on the vessel off the coast of Hong Kong.
Three people who were on the cruise between Jan. 19 and Jan. 24 tested positive for coronavirus, which has ravaged parts of China and triggered lockdowns, according to a letter from Dream Cruises (pdf). The Taiwanese government blocked the ship from making its port of call in Kaohsiung, forcing it to return to Hong Kong.
Hong Kong's health department said that 90 percent of the people on the cruise are from Hong Kong and added that no mainland Chinese were on board the World Dream, Reuters reported. It's unclear clear how long passengers and crew would be held on the cruise ship.
"We would like to inform you that all passengers had received stringent temperature checks in Guangzhou Nansha upon disembarkation" on Jan. 24, while any person who had a fever was further tested for coronavirus, according to the letter.
Edith Poon, a woman from Genting Hong Kong Limited, which owns Dream Cruises, told USA Today that 30 crew members said they had coronavirus symptoms, saying that as the company awaits test results "all passengers of the cruise ship are to remain onboard." The firm is following instructions from the local department of health.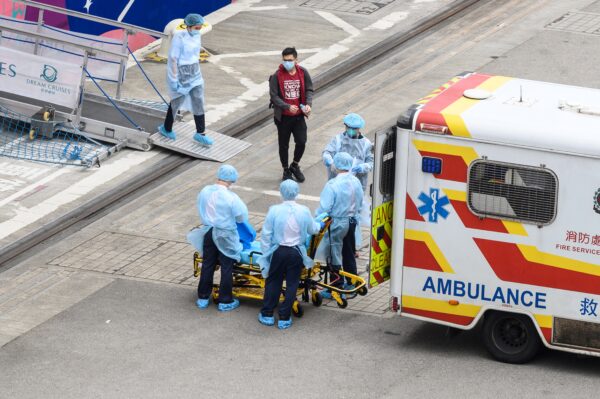 On Wednesday, Hong Kong leader Carrie Lam told reporters that anyone from mainland China who enters the territory will face a mandatory, 14-day quarantine. So far, 21 cases of coronavirus have been confirmed in Hong Kong.
The World Dream isn't the only cruise ship that has been impacted by the virus outbreak.
Princess Cruises said Wednesday that it would keep 3,700 people in quarantine on its ship for 14 days after 10 people tested positive for coronavirus, also known as the 2019 novel coronavirus (2019-nCoV), off the coast of Yokohama, Japan.
About 7,000 people were held on a cruise ship in Italy last week after fears that a Chinese passenger was infected with the virus before local health officials declared the passenger coronavirus-free, saying she had the common flu.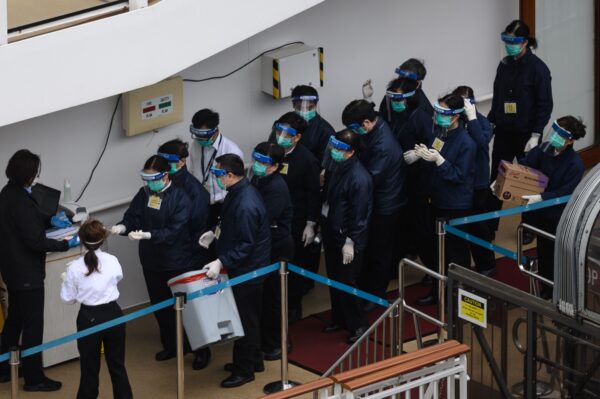 After the World Health Organization declared a public global emergency over the virus, the Cruise Lines International Association trade group announced recent guidelines. Any guests or crew members who recently went to China in the past two weeks will be denied boarding a cruise ship.
"CLIA members have suspended crew movements from mainland China and will deny boarding to any individual, whether guest or crew, who has traveled from or through mainland China within the previous 14 days," the association said in a statement, reported CBS News.
Carnival Cruises, Royal Caribbean, Germany's AIDA and TUI lines, Italy's Costa Cruciere, and MSC of Switzerland are members of the trade group.