A three-year-old boy missing for three days over the weekend in Australia was found alive in thick, mountainous bushland on Sept. 6.
Anthony "AJ" Elfalak was reunited with his family after being spotted by a rescue helicopter, half a kilometre from his home, sitting in a creek drinking water with his hands.
He had been missing from the rural property in the Hunter Valley region of New South Wales from 11.45 a.m. on Sept. 2.
The toddler, who has autism and is non-verbal, survived three nights completely alone in the Australian bush in temperatures as low as three degrees celsius.
AJ was spotted by a police helicopter, who then alerted the search party to his location.
A three-year-old child missing on a rural property in the Hunter region since Friday has been located following a large-scale search.https://t.co/VrlVwL4sYW pic.twitter.com/byOXFCiD1j

— NSW Police Force (@nswpolice) September 6, 2021
An Special Emergency Service volunteer walked up to AJ and put his hand on his shoulder, Simon Merrick, the Hunter Region commander told reporters on Monday afternoon.
"[AJ] turned to him with a massive smile on his face that he will not forget," Merrick said. "It was an emotional moment."
The boy had some lacerations on his legs and remained in hospital overnight for observation.
"He is a little survivor," said Gerry Pyke, the Special Operations Team Paramedic, who took AJ's condition as "remarkable".
AJ's family jumped around in jubilation upon hearing the news that he had been found, according to footage from Nine.
"Thank you for everyone. Thank you to the government. Thank you to the police. Thank you very much," AJ's mother Kelly Elfalak told Nine News.
"Thank you to my friends, my cousins, my sisters, my family. Thank you, everybody, and whoever prayed for us."
NSW police organised a coordinated multi-agency response for the search, which included officers on trailbikes, Police Rescue, dog and mounted units, police divers, and a police helicopter.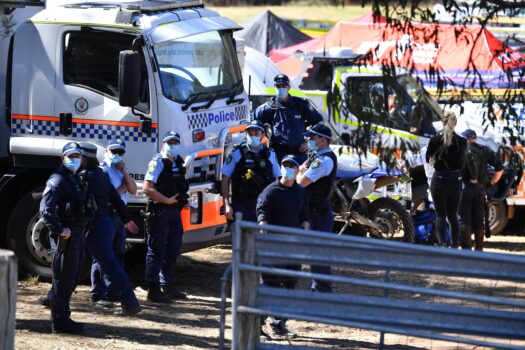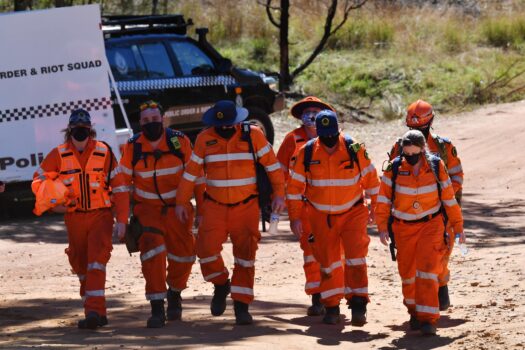 Police were assisted by NSW Ambulance, State Emergency Service, Rural Fire Service (RFS), and the Volunteer Rescue Association (VRA), with hundreds of emergency service volunteers involved in the search during the past weekend.
Tracy Chapman, the NSW Police Superintendent said investigations were still ongoing into how the boy made his way from the property.
"From a policing perspective, we will still be continuing our inquiry to understand what has occurred over the past three days," she said. "I know everyone has lots of questions."
The Elfalak family issued a statement on Monday afternoon, expressing gratitude to the public and asking for space for the family "to appreciate what we have."
"Our family is together again. For that we are grateful to everyone who has assisted in any way over the last three days," the statement read.
"Thank you to the NSW Police, Rescue Services, volunteers, community members, friends, and family who have worked tirelessly to find AJ."
"AJ is fine. Hold your kids close."