My Nolita Grey Evoque with new cloud/ebony interior is a stylish vehicle. Powered is supplied by a 2.0-liter turbocharged 4-cylinder gasoline engine, which delivers up to 246 horsepower and 269 lb.-ft. of torque.
This powerplant is assisted by a 9-speed automatic transmission with black shifter paddles. Ease and calm are enhanced by electric power-assisted steering and Terrain Response, which offers various driving modes optimized for different driving surfaces. The result is Evoque's superb handling regardless of whether it's over paved roadways or road construction zone.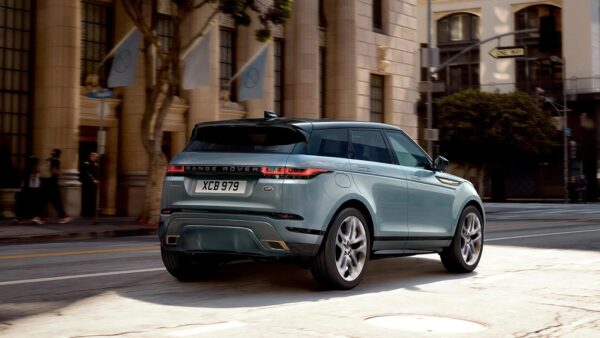 All Terrain Progress Control (ATPC) provides invaluable help to overcome tricky terrain. It maintains a low, steady speed in tough off-road conditions by automatically managing engine output and braking, so the driver can fully concentrate on controlling the steering. It is very much a low-speed cruise control for off-road. Similarly, there is also Hill Descent Control to help you safely negotiate your way down tricky inclines.
The official fuel economy for the Evoque is rated at 20 mpg city and 27 mpg highway, for a combined 23 mpg average.
Land Rover is to be complimented for the superb steering wheel control and quiet cabin. But the vast capabilities and technologies in the drive platform presents a steep learning curve. Sometimes too much technology, attempting to solve every driving issue, may over-task the vehicle and driver as well.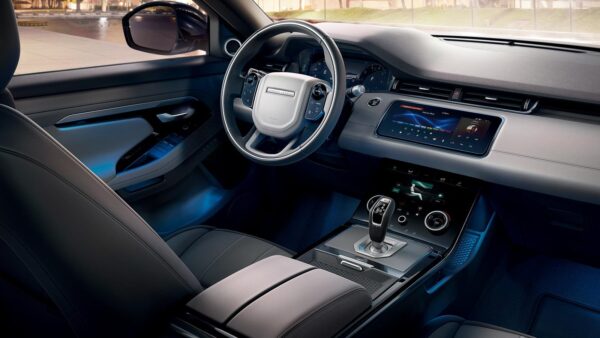 While the powertrain appears to be sufficient, the vehicle still seems to pause before the engine kicks in and gets you going again.
Evoque offers numerous refreshing amenities blended with a quiet, comfortable cabin. It's supported by features like dual zone climate control and configurable ambient lighting.
Once you have gotten into the vehicle (doors are a little narrow) you will recognize the quality of the interior. However the grain leather front seats could be improved by adding a little more length which would help thigh support.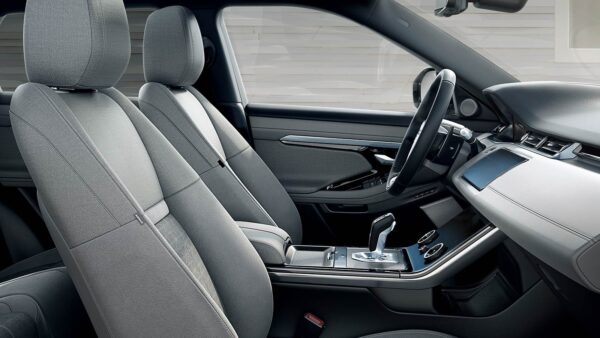 The 40/20/40 split fold-down rear seats allow for flexible trade-off of passenger and cargo space. The atmosphere is aided by the lighting that offers comfortable viewing throughout the vehicle.
Speaking of viewing, the black contrast sliding panoramic roof helps you to gather whispers of what it is like on the outside.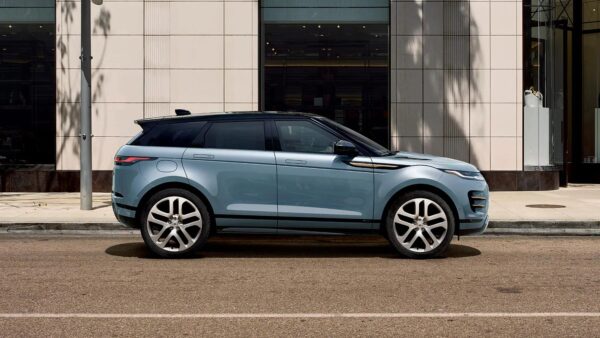 The Meridian Sound System has Wi-Fi hot-spot, SiriusXM All Access, plus Apple CarPlay and Android Auto support in its standard feature set.
Even though the Interactive Driver Display, Head-Up Display and ClearSight interior rear view mirror reflect Evoque's ability to help the driver understand the condition surrounding the vehicle, it is a little puzzling that the thick pillars and small rear view window diminishes the natural visibility.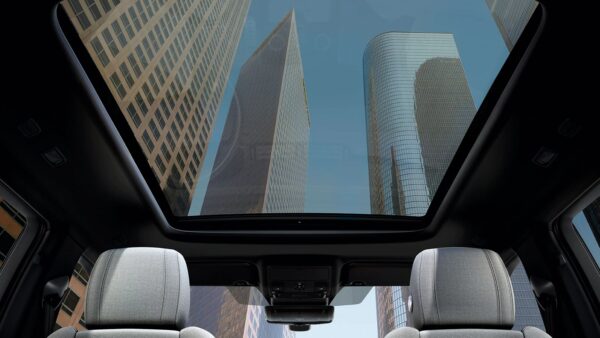 Lane Keep Assist, Driver Condition Monitor, Traffic Sign Recognition, and Adaptive Speed Limiter are excellent technologies to keep the driving in check.
I especially like the Traffic Sign Recognition function. It seems my neighborhood is surrounded by schools, and without this feature, my forgetful mind would assuredly cost me a fortune on speeding tickets for accosting the school zone, not to mention the endangerment to the students. No citations and safe kids make for a "Happy Camper."
Manufacturer's Suggested Price is $56,850.
Land Rover Warranty
4-year/50,000-mile New Vehicle Limited Warranty
4-year/50,000-mile Roadside Assistance
6-year/Unlimited Mileage Corrosion Warranty
Durhl Caussey writes a car column read around the world. He may be reached at this paper or dcaussey@sbcglobal.net.