Nissan LEAF is the flagship in future technologies for the entire Nissan lineup. 100% electric — simply amazing!
LEAF has been the embodiment of Nissan mobility since the debut of the first LEAF in 2010. LEAF also happens to be one of the best-selling electric vehicles in the world.
Entering its second decade, LEAF has received a number of significant adjustments in 2020, starting with the addition of Nissan Safety Shield 360 across all grade levels.
For the 2020 model year, five models are available with two battery variations. The 40kWh S and SV, along with the 62kWh S Plus, SV Plus, and SL Plus. The range-topping SL Plus will be the focus for this review.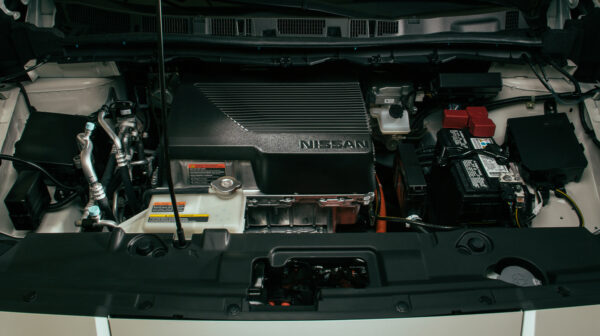 Manufacturer's Suggested Retail Price starts at $31,600 for the base S, and goes all the way up to $43,900 for the SL Plus.
The 160 kW AC synchronous motor fed by the 62 kWh lithium-ion battery can crank out a maximum of 214 horsepower. This powertrain gets you 0-60 in 7.4 seconds. The e-Pedal accelerator system is interesting in that it allows easy driving using only one pedal. Simply easing off the accelerator pedal will start regenerative braking, and eventually bringing the vehicle to a stop. Brakes are automatically applied once the vehicle stops.
A 6.6 kW onboard charger and an 120V/240V portable charge cable keep the battery charged while away from home.
Inside, LEAF is spacious with large front seats and a large front windshield, giving the entire cabin a sunny, friendly disposition.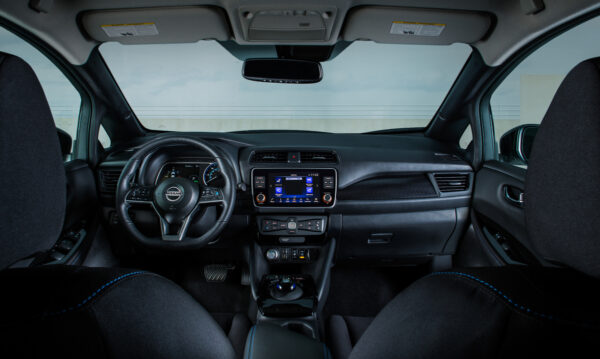 The standard driver's assist features on the 2020 LEAF are built around the Safety Shield 360 safety suite. Features like Automatic Emergency Braking with Pedestrian Detection, Automatic High Beam Headlights, Lane Departure Warning, Rear Automatic Braking, Blind Spot Warning, and Rear Cross Traffic Alert are included. Remember, these are all standard features.
Fresh, modern, artistic, flashy, and family-oriented describe LEAF's interior.
Seated behind the wheel, while a little confusing at first, the hybrid gauge cluster provides large analog speedometer next to an 8.0-inch color digital display, which can be configured to show a variety of info.
The very best interior feature of the LEAF for this driver was the cushion seats for a recliner-type posture. Even the rear seats are adult size and spacious.
However, back seats don't fold down to a flat level surface. Nevertheless, cargo space with 60/40 split fold-down rear seats is more than ample, and among best in class.
There is an abundance of leg, shoulder, and head room. Heated, 8-way power-adjustable leather-appointed front seats, plus heated, manual telescopic steering column allow driver and front seat passengers to get comfortable quickly. Remote Climate Control gets the temperature just right even before you enter the cabin.
There is more technology than I could master in a week of driving. The core is NissanConnect EV supplemented by Nissan Door to Door Navigation with 3D, Apple CarPlay, and Android Auto. Communications and entertainment are expanded by HD Radio, SiriusXM Satellite Radio, USB ports, and Bluetooth. These simple-to-use features were all put to good use and found helpful.
LEAF rides on 17-inch alloy wheels. Nissan signature V-Motion grille and LED headlamps with integrated turn signal define the good looks of the front facade. The rear diffuser and under-body panels add aggressiveness while improving aerodynamics. Thus turning the outside world into a part of the LEAF's personality.

Admittedly I needed some time to learn the art of shifting the small gear change knob smoothly from Park to Reverse and Drive and then from these gears back up to Park. The front cabin is so airy and light-filled, I could not always read the icon showing what gear –if any– the vehicle was in.
LEAF is adventuresome, fresh, ambitious, and ready to make your driving experience fun, for little investment in fuel and other traveling costs.
Durhl Caussey writes a car column read around the world. He may be reached at this paper or durhlcaussey@gmail.com.