The Gladiator was introduced at the 2018 Los Angeles Auto Show. Besides the Overland, it is available in three other trims: Sport, Sport S, and Rubicon.
Gladiator not only carries forward the Jeep DNA, but it has also been invigorated with the stamina of an off-road warrior. It's as handsome as a Roman Centurion.
But the five-foot mid-size bed grafted to the back gives the Gladiator the flavorings of a powerful off-road truck.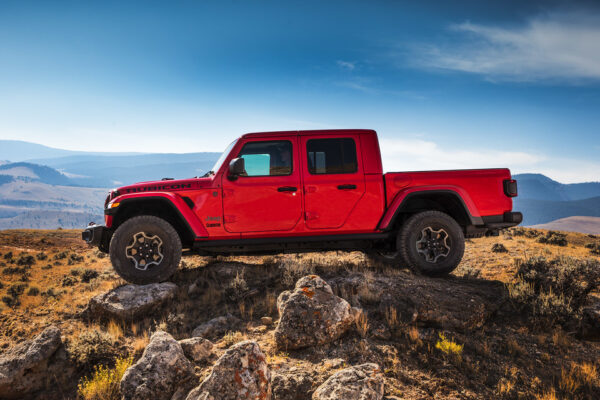 The Overland is powered by a 3.6-liter Pentastar VVT V6 with Engine Stop/Start. The default is a 6-speed manual transmission, but an 8-speed Automatic 850RE transmission is available for $2,000. It is capable of producing up to 285 horsepower and 260 lb-ft of torque.
The gas mileage for the Gladiator is rated at 16-mpg city and 23-mpg highway.
The visibility from the front seats is spectacular, as you have to step up to enter the cab. The large side windows add to the impressive view. If you are tall, pay attention to the different configurations because of "roll-bar intrusion."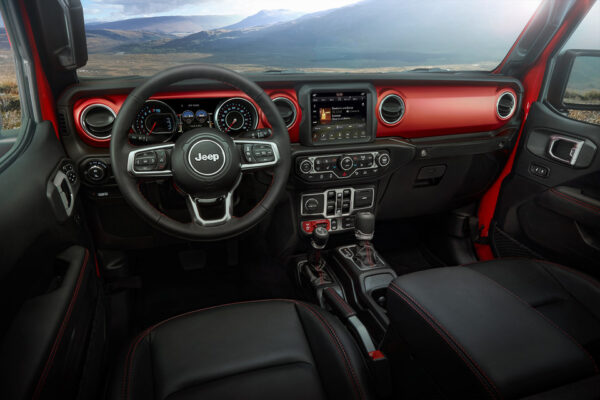 Inside, the Gladiator is much like the Jeep Wrangler. The interior controls — four-wheel-drive lever, radio with large knobs, air conditioning, and 7.5-inch screen — are laid out in a configuration that is easily reached. I would have preferred a little more screen-size, even though the screen was crisp with great color.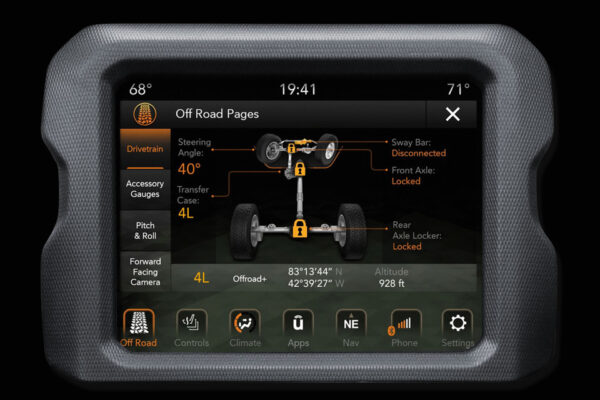 Wide 18-inch tires on Heavy-Duty Dana 44 axles, plus 11.1-inch of ground clearance prepare you for just about any type of off-road adventure. Whether it's climbing mountains, trekking through the forest, or tackling sand dunes, Gladiator is a good bet. Even if you are an old geezer like me living in a large urban area, Gladiator has the pep to get me where I want to go and is easy to park.
Gladiator comes with a whole panorama of communication and entertainment support, including SiriusXM Satellite Radio, Apple CarPlay, and Android Auto. An 8-speaker system delivers quality sound. Several optional items can be added on top of the base $40,395 MSRP for the Outland model.
For an additional $695, you can add the Cold Weather Group, which adds heated front seats and steering wheel for those really cold days.
Another noteworthy package is the $1,045 Premium LED Package Lighting Group. This changes all exterior illumination to LEDs, including headlights, tail lights, fog lights, DRLs, and turn signals.
Gladiator drives, climbs, and has the all-terrain personality of a Jeep. After driving Gladiator, I'm convinced it merits all the necessary characteristics necessary for a great off-road pickup.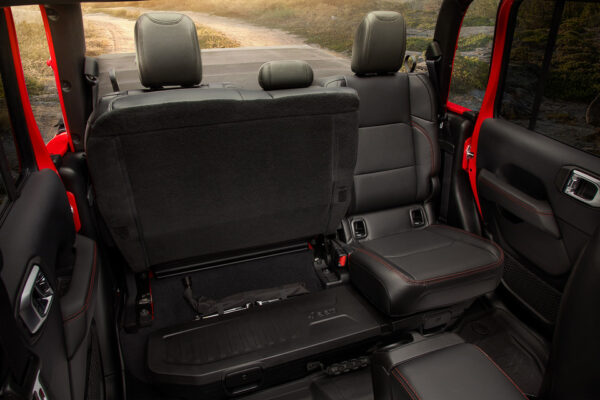 However, Gladiator's wheel noise does tax the ear drums. The noise becomes even more challenging when you lower the windows and drop the doors and roof.
Even with the heavy duty axles, ladder frame and the four wheel-drive, Gladiator fits right into the Jeep Wrangler family of promising vehicles.
Recently I waved to my wife as I was leaving for an adventure. I yelled I was going to pick up some ladies as I was sitting in my Gladiator with the top down and the doors off. She yelled back, asking if I had taken my heart and prostate medicine. I smiled and looked back and yelled, "Yes and my dentures are tight and I'm wearing my hearing aids." Even an old Geezer like me can be a "Bad Boy" driving the Gladiator.
Warranty Coverage
3-year/36,000-mile Basic Warranty
5-year/60,000-mile Powertrain Warranty
5-year/100,000-mile Rust-Through Warranty
5-year/100,000-mile Roadside Assistance
Durhl Caussey writes a car column read around the world. He may be reached at this newspaper or durhlcaussey@gmail.com.