The Mini has come a long way since being voted North American Car of the Year in 2003. The newly designed Countryman is an example for measuring that distance.
The new Mini Cooper S E Countryman ALL4 is the first plug-in hybrid model offered by the British brand, combining gas practicality with electric efficiency. The hybrid powertrain is a combination of a 1.5 L three-cylinder turbocharged engine and an electric motor, coupled with a six-speed auto. The combined maximum output is 221 horsepower and 284 lb.-ft. of torque, which is good enough for a 6.7-second sprint to 60 mph.
The EPA fuel consumption rating is merely 27 MPGe (miles per gallon equivalent) running purely on gas, but it achieves a whopping 65 MPGe when using electricity and gas combined.
This Mini is packed with standard equipment like rear-view camera, rear-park distance control, Mini Connected, and Cooper S sport seats.
Even though this Mini is partially electrified, it sure is fun to drive.
The Countryman is the most technologically advanced Mini ever, with ALL4 all-wheel drive, panorama sunroof, Mini Connected, LED headlights and fog lamps, plus dual-zone automatic climate control, just to name a few of the tech features.
The Mini has what it calls an intelligent energy management system, which ensures the interaction between the combustion engine and electric motor is optimized in all driving situations. In addition, the Countryman plug-in hybrid seamlessly routes power from the TwinPower Turbo gas engine and the eDrive electric motor, making the transitions hardly noticeable.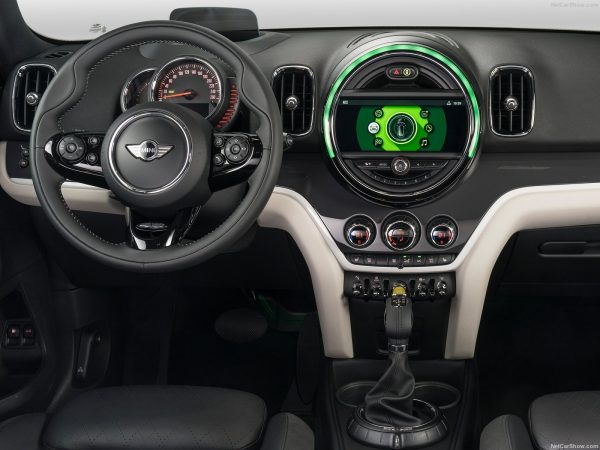 You can choose from three operating modes —electric, hybrid, and save battery—to optimize your ride based on speed, driving conditions, and distance. Whether you are driving gasoline-powered or full-tilt electric, the ride is pure excitement.
The Countryman is bigger than its Mini relatives. The additional cabin space directly translates to more head and legroom, front and back, plus more cargo space. The sliding rear seats provide the flexibility to move back for more passenger legroom or to move forward for extra cargo space. Of course, they can be separately folded flat to be completely out of the way. There is 30 percent more cargo space than previous models.
The added size also makes room for items like the center armrest in the cabin, which works great together with the sport leather steering wheel and rain-sensing wipers when a storm wants to play games. There is also a six-speaker, speed sensitive audio system for the perfect soundtrack.
The ALL4 AWD intelligently routes power to the wheels to offer better traction, and the electronic smarts make the decision in as little as one quarter of a second.
The Countryman has the Mini DNA, which allows it to boast the same nimble handling and spunky driving experience. The four-wheel drive allows you to motor across almost any terrain.
The manufacturer's suggested retail price is $36,800.
The vehicle has not yet been rated in the U.S. government's 5-Star safety tests.
Warranty
4-year/50,000-mile New Vehicle Limited Warranty
8-year/80,000-mile High-Voltage Battery Warranty
12-year/Unlimited-mileage Rust Perforation Warranty
4-year/Unlimited-mileage 24-hour Roadside Assistance
Durhl Caussey writes a car column read around the world. He may be reached at this paper or at dcaussey@sbcglobal.net.