Fall has arrived in Texas. Memories of Hurricane Harvey still linger like poisonous bile in the stomach, but North Texas is filled with blue skies, mild weather and just enough wind to make you grin. Leaves scatter like runaway children hiding in nearby yards and ditches, peeking around shrubbery just an instant before rolling-running across fields and nearby pastures.
For one enjoyable week, I traveled the back roads of small towns and cities with no particular agenda other than to enjoy the ride and eat some fine country foods.
The 2018 Audi S4 Sedan was my choice of motion, and I never had a single regret. Since it took America's fancy in 1999, over 50,000 have been sold. It's not a cheap car, but nobody ever said quality was cheap.
Sometimes it's the small things working together that make for a big thing. The auto-dimming interior mirror, which includes a compass, power-folding heated exterior mirrors, and the Alcantara and leather interior all add up to make a big thing. Also a part of a bigger thing, all four door handles sparkle with an amber blue color, pouring out light at the top and bottom of the door handle.
The Audi S4 Sedan is powered by a 3.0-liter TFSI V6 that pours out 354 horsepower and 369 lb.-ft. of torque. The engine is serviced by an eight-speed Tiptronic automatic transmission, allowing my journey to average 26 mpg. This is more than enough power to keep the four 18-inch double-spoke star-design wheels spinning past cotton fields, grazing cattle, and pastures sprinkled with mesquite trees.
This S4 engine is strong and powerful, making for a quick and easy acceleration if needed—such as when passing a pickup truck pulling a 20-foot trailer or a school bus loaded with kids on the way to a Friday night football game.
However, there are always some hard decisions to be made with every engineering design. The side mirror adjustment panel is too close to the power windows buttons. When trying to adjust the mirrors, you may inadvertently raise or lower the windows.
The driver and passenger seats sit low, causing a bit of a struggle getting out of the vehicle. Even when raised to their highest point, it took some effort for this driver to dismount. The back seats are easy to get out of, though, and the back-seat area is roomy and comfortable.
The clock on the display in the infotainment center is too small to read, and so is the mileage indicator, but the symbols and lettering on the steering wheel are more than adequate in size.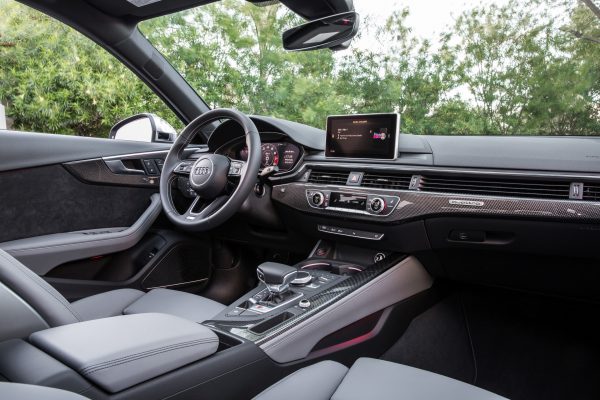 The two cup holders are illuminated but are located too close to the dash overhang to handle tall or large (20 oz.) cups or bottles.
As I turned towards the metropolitan area on the last day of my trip, I could feel the power of the car and the confidence in my driving. The cabin was quiet with the exception of the SiriusXM Satellite Radio playing some smooth jazz. Even the outside noises from the commuter traffic was not allowed to disturb the ambience of the experience.
The driver information system features a 7-inch color display that is complemented by 12-way power, diamond-stitched S Sport seats with heating and four-way power lumbar adjustment. The LED interior lighting is purposeful and important—as daylight turns into to darkness, the lights allowed me to enjoy the beauty of the interior more fully, even although shadows fall.
Even when I was well within the city, cruising a super highway, my mind was still back in the country, remembering how, wherever I stopped for gas or a meal or just a treat, folks came over to the Audi and wanted to know all about it. I was so proud.
My neighborhood was quiet. From the hill top location, Dallas's lights in the distance reflected a Los Angles nightscape. It was good to be home. I wondered if my wife would let me sleep in the car.
The manufacturer's suggested retail price is $51,400 for the Premium Plus model, but from there you can add a long ledger of package options.
Another $4,400 takes you up to the Prestige model, featuring items like Audi virtual cockpit, top-view camera system, ambient LED interior lighting plus package, and MMI navigation plus along with MMI touch with handwriting-recognition technology. The driver assist package available for the Prestige model adds an additional $1,800 and features adaptive cruise control, Audi active lane assist, high beam assist, and traffic sign recognition.
The best way for me to describe the 2018 Audi S4 Sedan is to say that it's a car of culture, blended with a historical tradition of elegance.
Warranty
4-year/50,000-mile New Vehicle Limited Warranty
1-year/10,000-mile Free first scheduled maintenance service
12-year/Unlimited-mile Limited Warranty against Corrosion and Perforation
4-year/Unlimited-mile Audi 24-hour Roadside Assistance
Durhl Caussey writes a car column read around the world. He may be reached at this paper or at dcaussey@sbcglobal.net