If 2016 was the year of the unexpected, 2017 will see these changes play out: the Trump presidency, key post-Brexit elections in Europe, rising markets and interest rates, and political reshuffle in China.
Trump to Launch Bold Agenda of Change
President-elect Donald J. Trump ran as a change candidate, and it seems the mere hope that he will deliver the change he promised has fueled a surge of optimism.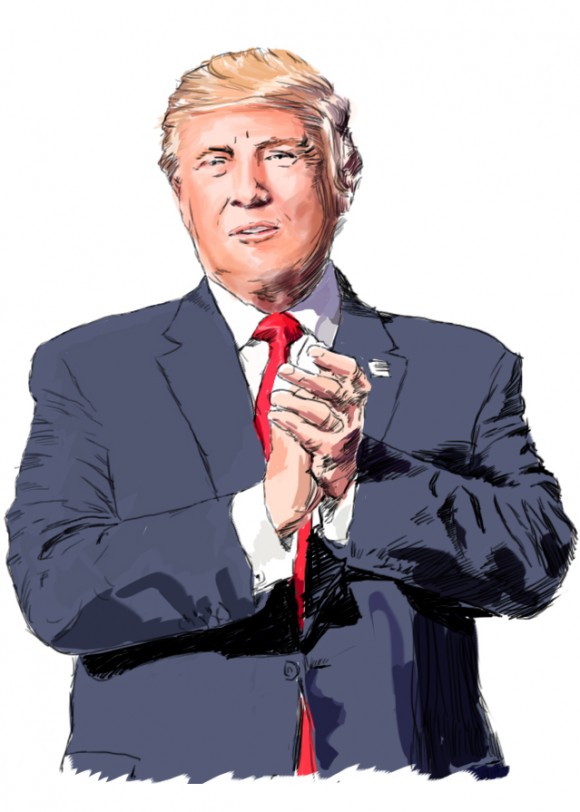 On the expectation that economic good times are coming, the stock market has gained 1,600 points since Election Day and is expected at any time to punch through the 20,000 mark. Consumer confidence is at its highest level in 15 years, according to a Dec. 27 report by the Conference Board.
Trump has a full suite of proposals meant to bring economic growth and new jobs.
He has promised lower income, corporate, and capital gains taxes, and wants to allow companies with money parked offshore to bring it back to the United States after paying a 10 percent tax.
A trillion-dollar infrastructure project that would leverage public money to bring in private funding is in the works.
Whether Trump can deliver on the tax cuts and infrastructure building will depend on congressional cooperation. Senate Majority Leader Mitch McConnell has said that any new spending, such as cutting taxes, must be paid for with new income. If McConnell stands firm, Trump's agenda for economic growth will be slimmed down.
If Mitch McConnell stands firm, Trump's agenda for economic growth will be slimmed down.
Irrespective, there are other changes on offer that would also impact the economy.
The repeal of Obamacare is expected to help businesses that fear the imposition of the employer mandate.
Trump has also promised to repeal regulations that he says are smothering economic growth.
In line with a general skepticism about climate change, he is expected to withdraw from the Paris climate accords.
In terms of trade deals, the Trans Pacific Partnership will not become law, and Trump has promised to renegotiate NAFTA.
In international affairs, Trump has said he wants to emulate Ronald Reagan's policy of peace through strength. To carry this out, he has promised a long list of improvements for the military. He has also threatened to withdraw from the Iran nuclear agreement.
Trump's acceptance of a congratulatory phone call from the president of Taiwan signaled a new approach to China, which will likely involve confrontation with the mainland on trade, the South China Sea, cybersecurity, and other issues.
Will the Stock Market Top out in 2017?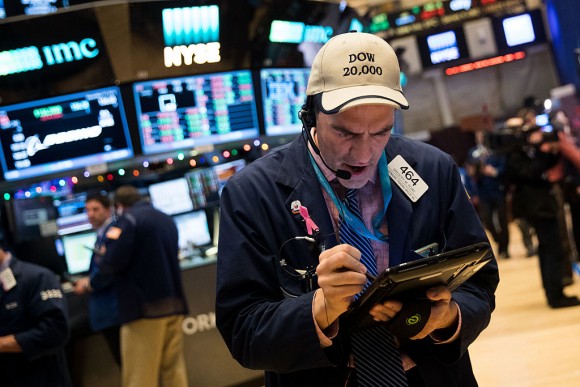 Since the election of Donald Trump, the stock market has been on a tear.
Looking ahead to 2017, analysts expect the recent market optimism to continue. However, they warn about uncertainty over Trump's economic policies, which represent a sharp deviation from the current doctrines of free trade on the economic front and isolation of Russia on the geopolitical front. What form these policies will take in the future and how much they will feed into corporate earnings is still unclear.
We believe it is going to be a year of boom and bust.
"We believe it is going to be a year of boom and bust," said Alex Altman, head of U.S. equity trading strategy at Citigroup, in a video. "The first part of the year will be boom oriented. Everyone will be feeling good about Trumponomics. Then we probably will hit a more difficult patch later on the year."
Trump's tax cuts will improve corporate earnings, and infrastructure spending will raise aggregate demand. U.S. companies' earnings growth will continue to improve from the low point seen in the first quarter of 2016.
However, while most of Trump's policies are pro-growth and often compared to Ronald Reagan's policy mix of deregulation, tax cuts, and increased spending, Trump's starting point is vastly different.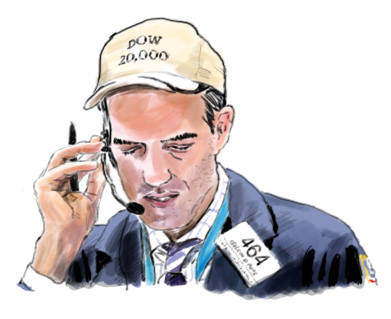 Interest rates were relatively high when Reagan took office in 1981 and then started a decline that lasted until July 2016, helping the economy and stocks. Government debt was only 31 percent of GDP, so Reagan didn't find it too difficult to increase it to 50 percent at the end of his second term.
Trump is starting with record low interest rates, which can only go up, and government debt of 105 percent of GDP, which can't go up much further without causing stress in the markets.
Stocks themselves are overvalued, as the S&P 500 is trading at 26 times last year's earnings, way above the average of 15 times and more than triple the valuation of seven times in 1981, when Reagan took office.
All U.S. stocks are worth 126 percent of GDP, making them significantly overvalued, according to legendary investor Warren Buffett. With valuations high and political risks brewing, the market may well see its cyclical high point in 2017.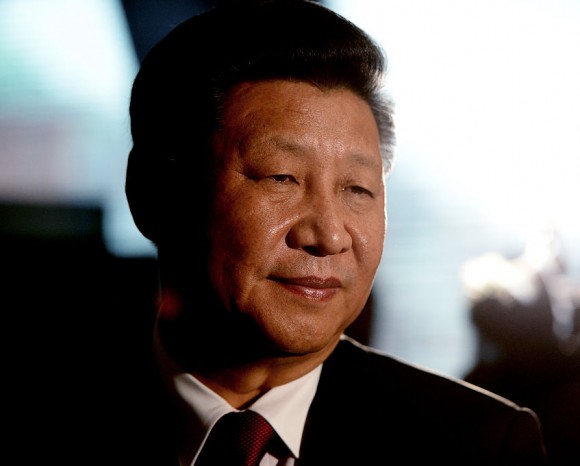 China in 2017: Political Transition, One Way or Another
In his recent book, "Year 2017, Stand Up China," Gao Zhisheng writes that the Chinese Communist Party will collapse in 2017. The Chinese human rights lawyer, who spent years in detention for defending the disenfranchised, believes a transitional government will rule China as it moves toward democracy.
Does Gao's bold prediction seem plausible? In light of Chinese leader Xi Jinping's policies, even if Gao's prediction about the timing turns out to be off, his general theory cannot be ruled out.
Xi has been using an anti-corruption campaign to consolidate power and erode the powerful faction of Jiang Zemin, the former Communist Party chief who was until very recently the unofficial ruler of the regime.
Xi has pushed through policies that suggest a new direction for the Chinese regime.
Xi has become the "chairman of everything" in centralizing power, and he appears to be behind a strict clamp down on the Chinese media and social networks.
Yet Xi has pushed through policies that suggest a new direction for the Chinese regime.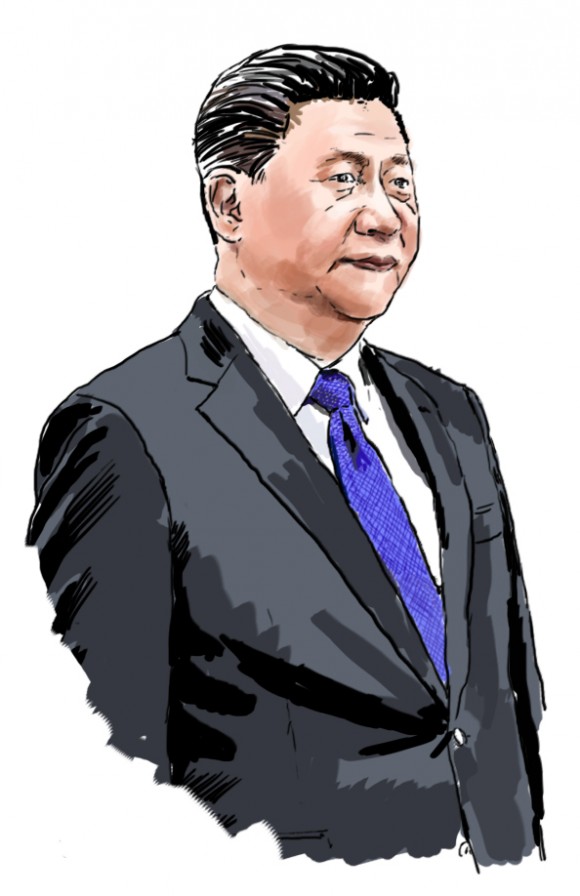 One of Xi's first official decisions was to close China's labor camp system, an extralegal punishment and detention apparatus through which political prisoners were conveniently disposed of.
Xi has also moved China toward the rule of law and constitutionalism. In an unprecedented move, the regime's highest courts have accepted over 200,000 legal complaints against Jiang for crimes against humanity.
In 2016, Xi piloted a new anti-corruption body that answers to the legislature, not the executive. This move, coupled with discussion among Chinese scholars about a "presidential system" modeled after authoritarian democracies, suggests that Xi is planning for a post-communist China, with him leading the transition, Chinese analysts speculate.
If Xi does indeed have political transition in mind, he appears to be playing a long game, taking one sure step at a time. Expect Xi to continue the policy of arresting corrupt officials—especially Party elites—and to create new institutions that can outlive the Party.
Unexpected turmoil, of course, could see the Party come under enormous pressure in 2017. Xi may be forced to more quickly carve out alternate ruling institutions—and Gao's prediction might become reality.
Anti-Globalization Backlash Sweeps Europe

First Brexit, then Trump. Now right-wing populists have the chance to go from the fringes of European politics to the halls of power as several EU countries hold elections in 2017.
In Germany, France, Norway, and the Netherlands, issues like a lagging economy, increasing terrorist attacks, and a pervasive sense of disempowerment are leading voters to look to the right. There they are finding parties that vow to put national sovereignty, identity, and economic recovery before the EU's supranational policies.
Voters increasingly want to put national interests and character at the forefront.
Voters increasingly want to put national interests and character at the forefront, almost always at the expense of immigration and integration into the European Union.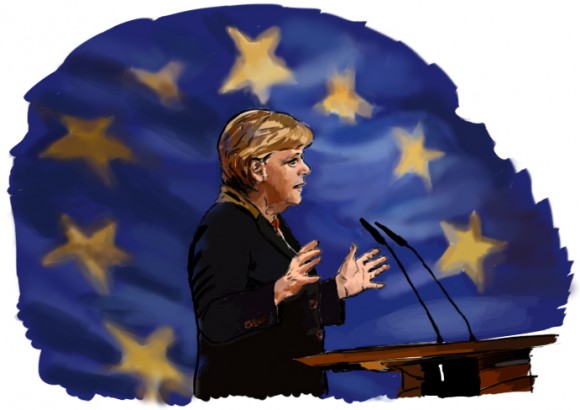 The Alternative for Germany party (AfD) calls for an exit from the Eurozone and has taken strong stances against immigration. It finds itself gaining in the polls, though it is still a ways off from becoming a major force in the coming election.
However, its success in winning seats at the state level and securing a third-place position in current federal election polls, despite the fact it was founded in only 2013, have come at the expense of the two leading parties.
In France, Marine Le Pen's National Front party is polling in second place for the upcoming presidential election, and her party is also polling strong in the race for seats in the National Assembly. The gains have come after Le Pen's moves to moderate the party's positions, going so far as to oust her predecessor (and father) Jean-Marie Le Pen from the party.
Related Coverage
But because France's multiround elections tend to favor established parties, the National Front could win significantly fewer seats in the National Assembly than its percentage of the popular vote would otherwise gain it.
In Norway, the Progressive Party, which finished second or third in the last five federal elections, had difficulty finding coalition partners until current leader Siv Jensen moved the party to dial back its anti-immigration stance. After the 2013 election, it found itself in a governing coalition and is in a tight race to remain so.
In the Netherlands, Geert Wilders's Party for Freedom remains an unpalatable partner to other parties, due to Wilders's vocal stance against Muslim immigration. Wilders has predicted public fury if his party is kept out of a governing coalition but wins the most seats.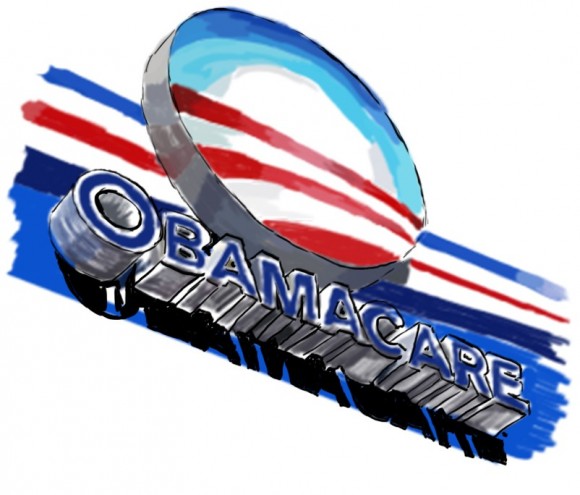 Defunding of Obamacare, but No Replacement Yet
As soon as President Barack Obama signed the Patient Protection and Affordable Care Act (ACA, aka Obamacare) into law on March 23, 2010, the Republicans vowed to repeal it. After Donald Trump's inauguration on Jan. 20, they will get their chance.
A few weeks into Trump's term, Congress is expected to deliver to his desk a bill that will repeal funding for Obamacare.
The repeal will be limited to funding, partly because budget bills can pass the Senate with a simple majority, which the Republicans have, at 52 seats. What they don't have is the 60 seats required to break a Democratic filibuster that would almost certainly result if they tried to repeal the ACA in its entirety.
The law invests the secretary of health and human services with extensive discretionary powers.
The GOP plan is to vote to defund the ACA now, but have those changes take effect in two to three years' time, during which Republicans would work on a new health care bill.
Republicans have said they will repeal taxes—an estimated $1 trillion over the next 10 years—that are part of the ACA. If they do so, however, they will not have that revenue available to fund their new bill.
Speaker of the House Paul Ryan says he would prefer the replacement to be a number of small bills addressing specific issues, rather than a single giant bill, as was done with the passage of the ACA. The sheer size of that bill—2,700 pages—was a factor in kindling the anger that helped Republicans capture the House of Representatives in 2010.
Replacing the policies of the ACA will not be done solely by Congress. The law invests the secretary of health and human services with extensive discretionary powers in determining how the law will be implemented. Trump's nominee for secretary, Rep. Tom Price, will have the power to undo decisions made by the Obama administration.
Trump says he wants the new bill to keep two key features: covering pre-existing conditions and allowing parents to keep their adult children on their insurance through the age of 26. In addition, Trump has stated he does not want anyone to lose insurance as a result of the changes.
Deportations to Increase, but Not Without Challenges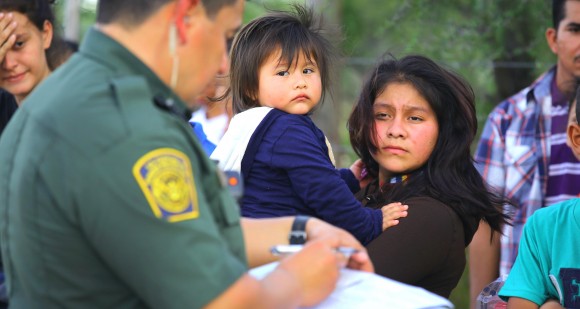 The largely unreported influx of children and families from Central America in 2016 surpassed that seen in 2014, which was called a crisis at the time. The flow is unlikely to wane in 2017, as drug and gang violence torment countries like El Salvador, Guatemala, and Honduras.
The migrants are applying for refugee status with disturbing stories of abuse that don't always guarantee asylum and choking immigration courts with complex cases that can take years to decide. That complicates President-elect Donald Trump's pledge to deport illegal immigrants with criminal records, as the already overburdened immigration courts would have to decide many, if not most, of those cases.
Even with the courts swamped, Trump could increase deportations, possibly to the levels seen in 2011.
Trump's proposed wall along the southern border may stop or discourage some of these migrants, but there could be an even bigger influx in 2017 before the wall is constructed.
Even with the courts swamped, Trump could increase deportations, possibly to the levels seen in 2011, when some 400,000 were deported—the majority from the interior. Any further increase would likely require asking Congress for more money.
Trump wants to reverse Obama's executive orders that handed out work permits and protection from deportation to illegal immigrants brought into the country as children. Yet Trump recently empathized with such immigrants, called "Dreamers" by advocates, suggesting he may not target them for deportation.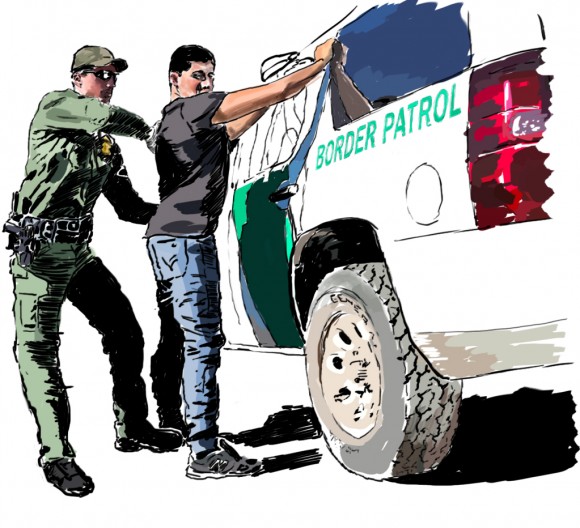 Over 740,000 entered Obama's program, called Deferred Action for Childhood Arrivals, as of June 30.
Trump may ask local law enforcement for help in identifying illegal immigrants. Some cities, like New York or San Francisco, known as sanctuary cities, are likely to refuse. If so, Trump may threaten to cut some federal funding to the cities, but that may not be enough to force them to cooperate.
Increasing deportations of illegal immigrants would impact the economy in a number of ways. It would lower competition for low-skilled jobs, yet increase pressure on the welfare system, as families would lose their breadwinners.
Withholding work permits from Dreamers would suppress their economic activity and hit tax revenues. All the effects would likely remain marginal at the national level, but may be felt by communities with high concentrations of illegal immigrants.
Trump has promised to temporarily halt immigration and/or introduce more extensive vetting of immigrants from countries with terrorist bases, such as Syria.
Interest Rates to Rise, for Better or Worse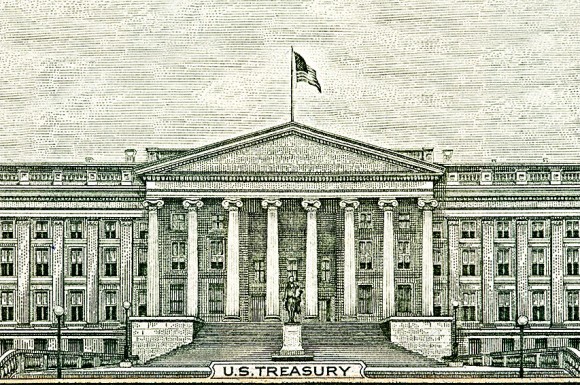 Like debt, interest rates are a double-edged sword. One side is making money, the other side pays. Low rates are good for the borrower; high rates are good for the saver. For the last seven years, savers have felt the pain of rates hovering around 3 percent, barely compensating for inflation in food and shelter.
But the last seven years have been part of a larger super cycle in interest rates that started at the beginning of the 1980s. After years of inflation and budget deficits, yields topped out at 15.84 percent in 1981. Good times for savers, but bad for borrowers like the federal government.
For the last seven years, savers have felt the pain of rates hovering around 3 percent, barely compensating for inflation in food and shelter.
Yields then started their secular decline, facilitating one of the greatest economic booms in American history—which was then cut short by the financial crisis of 2008. Yields continued declining, to the low point of 1.37 percent in July 2016, facilitating a stock market boom.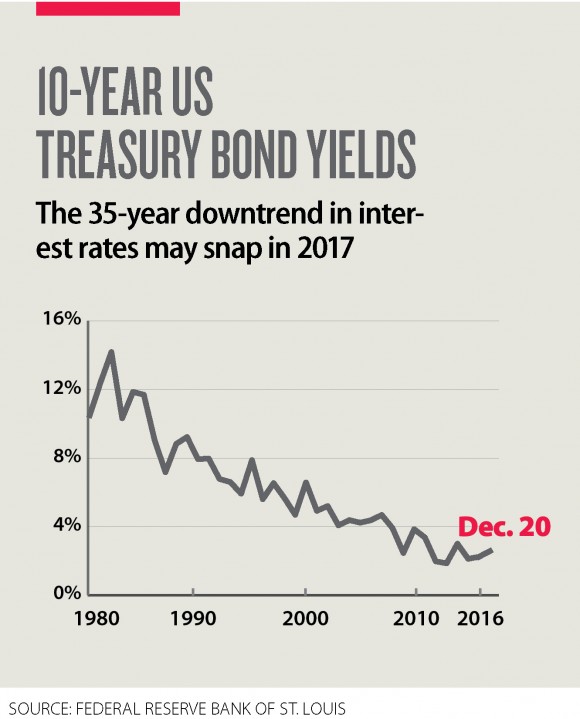 In 2017, rates should continue to rise, because of an uptick in inflation similar to that in the 1970s, as well as the proposed policies of President-elect Donald Trump. Trade wars, restrictions on immigration, and infrastructure spending are inflationary, and excessive spending puts pressure on the government budget. Unless the Fed steps in and buys new bonds, investors will demand higher yields to compensate for higher inflation.
This is good news for retirees living off fixed incomes. It's bad news for the government, which will be forced to issue new debt at higher rates, paying more interest out of the budget. It's also bad news for people who bought government bonds and other fixed income securities at prevailing yields that move in tandem with Treasurys. They will suffer investment losses.
Related Coverage
In the final analysis, it is also bad for stocks because companies will pay more to borrow, and equity valuations will become more expensive. Most valuation models use the risk-free interest rate as an input. How long may this up cycle in rates last? Before interest rates topped out in 1981, they had been rising since the 1960s. Not a good time for bonds, stocks, or the economy.
Change in US–Russia Relations to Have Broad Implications

The relationship between the United States and Russia may change under President-elect Donald Trump, which could have broad implications for international relations and the war on terror.
Trump and Russian President Vladimir Putin have shown interest in working together to fight the ISIS terrorist group. But the United States is backing Syrian rebel forces that are fighting government forces backed by Russia, which could cause difficulties for the United States and Russia in working together against ISIS. Several factors could affect how things unfold.
Both nations may ignore their conflict in Syria and instead focus cooperation on fighting ISIS directly, while still backing their respective groups in the Syrian civil war. Or Trump may back off from supporting Syrian rebels, especially groups with links to other terrorist organizations such as the Al-Nusra Front. Putin may be willing to sacrifice some of his own political interests in Syria and elsewhere if he sees a U.S. alliance as being more beneficial for Russia.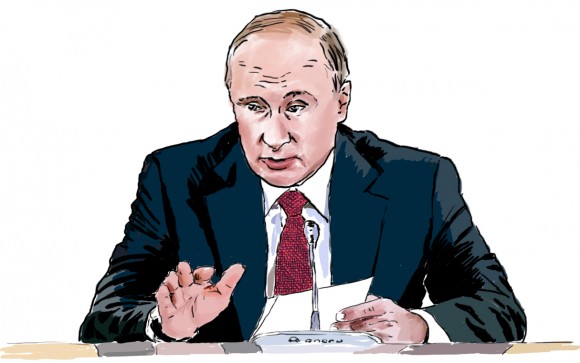 Cooperation between Russia and the United States in fighting terrorism would combine the strength of the U.S. military with the less restrained approaches of the Russian military.
While Russia and the United States stand on two very different sides of global alliances, with Russia trading with many countries under U.S. sanctions, the overall relationship will likely resemble what's seen between the United States and China, in which major differences are ignored for the sake of diplomacy and trade.
This will likely shake things up the most in Eastern Europe, where NATO is in a pseudo military standoff along the Russian border. Trump has suggested European nations should provide more financial support for NATO. The United States currently covers more than 70 percent of the organization's budget. NATO, and the European frontline against Russia, would crumble if countries either refused to pay their share or decided they couldn't afford it.
The issue of funding NATO is likely to cause more political in-fighting in Europe and could weaken the prospects of globalist leaders in the face of rising right-wing candidates. With the United States dealing with Russia, and with Russia being Europe's main source of natural gas, many Western European nations may also shift their diplomatic stances on Russia in the coming year.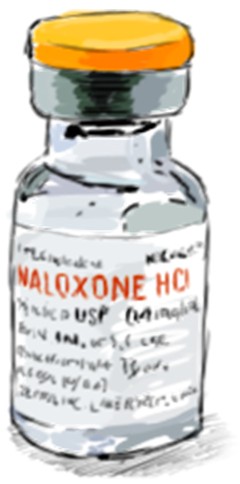 Well-Funded Battle Against Opioids Begins
America is gearing up for a protracted battle with an opioid epidemic that claimed over 33,000 lives in 2015—almost as many as traffic accidents.
Some 2.6 million Americans are addicted to opioids, and most get hooked through painkillers like oxycodone, which are often legitimately prescribed or received from a friend or family member.
When the initial supply dries up, the addiction pushes them to switch to heroin, which is cheaper on the street than prescription pills.
The situation has been further complicated by the influx of extremely potent synthetic opioids like fentanyl from China.
The situation has been further complicated by the influx of extremely potent synthetic opioids like fentanyl from China.
The rising fentanyl supply is increasing the risks of drug users, as dealers mix it with heroin, leading to more overdoses. Fentanyl is also hard to regulate, as producers can slightly alter its chemical composition and introduce it as a new substance. China has promised to curb the fentanyl trade, but the Chinese Communist Party is notorious for lax enforcement.
Congress has pledged more than a billion dollars to fighting the epidemic and the money should start to translate into grants in 2017. The crisis spurred innovation in addiction treatment and prevention, producing more sophisticated intervention methods. The criminal justice system is also directing more addicts to treatment facilities rather than prisons.
The success of any effort to subdue the rising addiction numbers will depend on also curbing the supply. The surgeon general, as well as federal and state governments, have been urging doctors to exercise caution when prescribing opioid painkillers, but the volume of prescriptions remains high.
If America musters up a large enough awareness campaign, opioid abuse could be curbed through prevention, much like smoking.