A 20-year-old Hong Kong student was sentenced to three years and seven months in prison on Nov. 23, becoming the youngest activist to be jailed under the Beijing-imposed national security law.
The sentence was handed down three weeks after the student, Tony Chung, pleaded guilty to charges of secession and one count of money laundering. Despite the charges, Chung said at his Nov. 3 trial that he has a "clear conscience."
The charges were related to Chung's role in Studentlocalism, a pro-independence student organization that was disbanded before Beijing implemented the national security law in Hong Kong in June 2020.
The law criminalizes four vaguely defined categories of offenses, including secession, subversion, and collusion with a foreign country. People who break the law can face up to life in prison.
The prosecutor, Ivan Chung, claimed that Tony Chung had "continued his endeavor and the pursuit of his political ideas"—which violates the security law—by forming the U.S. branch of Studentlocalism and attempting to recruit overseas students through social media platforms, from July 1, 2020, to Oct. 27, 2020.
Tony Chung also acted as the administrator for the Facebook page of a pro-independence organization known as the Initiative Independence Party, according to the press summary of the case's court record.
The money laundering charge was related to the donations of more than HK$133,000 (about $17,000) that he received via PayPal.
Chung was denied bail after he was arrested in October 2020. Local media reported that he was taken away by plainclothes officers near the U.S. Consulate, and it's believed that he sought political asylum in the United States.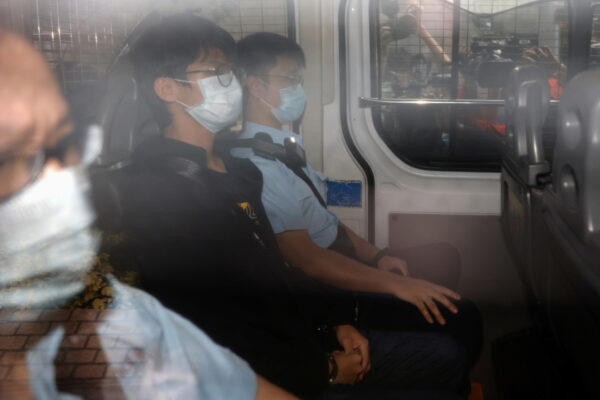 Chung was the third—and also the youngest—person to be convicted under the national security law.
Since the law has taken effect, more than 100 people—mostly pro-democracy politicians, activists, media figures, and students—have been charged for similar offenses.
On Nov. 11, activist Ma Chun-man, dubbed "Captain America 2.0" for wielding the superhero's shield during protests, was sentenced to nearly six years in prison over pro-democracy chants. The 31-year-old man was convicted of inciting secession due to certain nonviolent acts, including chanting the popular pro-democracy slogan, "Liberate Hong Kong, revolution of our times."
Hong Kong courts are set to hand down sentences to two other pro-democracy activists for allegedly violating the national security law. In August, Andy Li and paralegal Chan Tsz-wah became the first people to plead guilty to charges under the law.
Western countries and activists have criticized the national security law and raised concerns over its draconian measures, such as taking away people's basic freedoms and eroding Hong Kong's autonomy—which China's ruling communist regime had promised would last for 50 years when Britain handed over the former British colony to Beijing in 1997.