A two-legged stray dog in China survived against the odds and even gave birth to a litter of puppies despite losing her hind legs to a speeding train.
After the dog's story was covered by British media, the founder of an animal welfare charity moved mountains to take the stray dog and her puppies into the charity's care. Today, the two-legged survivor is an ambassador for Animals Asia.
This stray wasn't always picking through trash and scraps thrown by railway staff near Kouguan railway station in Shanxi Province, northern China. Once upon a time, she was owned by her very own family, and her name was Si Bao.
@screamingbrat @Diego_Miguel_ @dodo gorgeous Lelly and her pup Muddie are fabulous – adore them 🙂 @AnimalsAsia pic.twitter.com/uBfnG4KybC

— Jill Robinson (@moonbearJill) December 31, 2014
Si Bao became among one of China's innumerable stray dog populations when her owner abandoned her after moving away from the neighborhood. Si Bao lost her legs to a speeding train in 2012 but somehow managed to survive despite receiving no medical care.
In 2015, Shanghai Daily estimated that there were 1.3 million homeless dogs and cats in the cities of Beijing and Tianjin alone.
It's a rough life for China's street dogs; many cities host state-sponsored extermination campaigns, dogs are regularly abused by members of the public, some are captured for dog meat, and many succumb to disease or starvation.
But Si Bao survived. Not only that but she gave birth to a litter of four puppies and cared for them all by herself.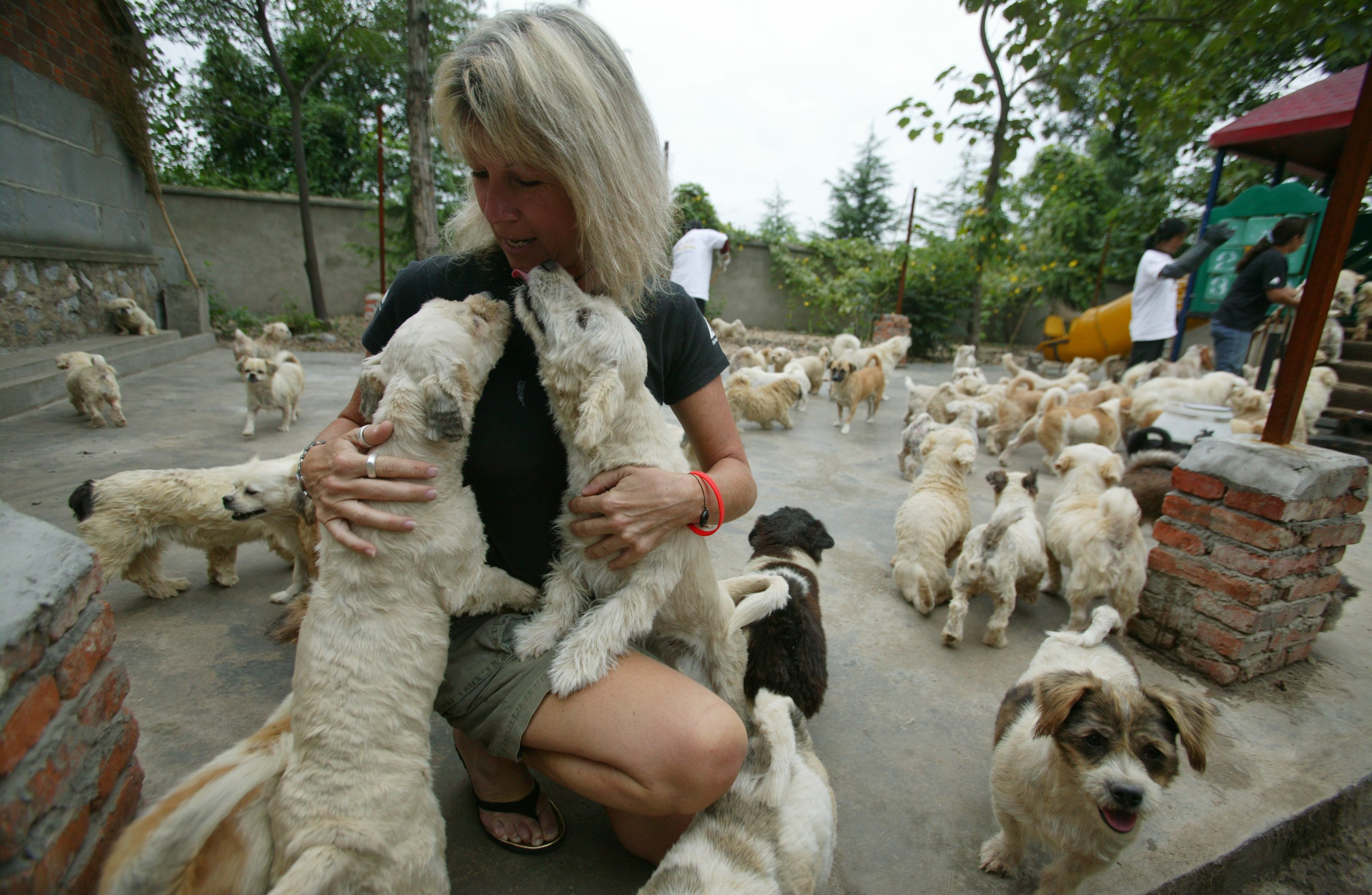 After Si Bao's story was covered by the Daily Mail, it went viral and was read by Animals Asia's British founder Jill Robinson MBE. "I read the story on MailOnline and I couldn't put it down," Robinson told the newspaper.
"I kept going back to it," Robinson recalled, "and then saying to myself, 'You've already got dogs in Hong Kong and China, you can't have any more.'
"But I couldn't get her out of my mind," the charity CEO explained. "I was getting a bit obsessed by it. So I asked our China team to help and they rose magnificently to the challenge."
Chinese staff at Animals Asia's headquarters in Chengdu, western China, called staff at Kouguan railway station, where Si Bao resided. After staff enlisted the help of another local animal welfare group, the dog (whose name was changed to Lelly) and her four puppies were transported to a local vet.
Sadly, three of Lelly's puppies had already succumbed to the harsh conditions of life on the streets; they died of distemper. Lelly and her one surviving pup, Muddie, spent four months in quarantine and eventually arrived in Hong Kong.
According to Animals Asia, Veterinary Support Manager Wen Yan traveled to Datong to fetch the mom and her pup and "personally bring them home." Upon arrival, Robinson took the dogs into her very own home.
"The vets have confirmed Lelly was run over by a train," Robinson informed the Daily Mail. "[They] reckon the hot wheels actually cauterised the wound and stopped it bleeding. That's how she survived."
Thanks for the huge response to Lelly's incredible story. Her smile alone is an inspiration: http://t.co/mhGoG2kk6e pic.twitter.com/PZEdgX96me

— Animals Asia (@AnimalsAsia) April 15, 2015
An Animals Asia vet masterfully constructed a set of strap-on wheels to compensate for Lelly's missing back legs. But the then-9-year-old pup's adventures weren't over quite yet; she became an ambassador for animal welfare.
"In her new role she'll be the face of Animals Asia's Dr Dog programme," the charity wrote on their website, "an initiative that provides people in need with a canine friend. In doing so, it also helps promote dogs as 'friends not food' as part of Animals Asia's work against the dog meat trade."
"It's been wonderful to have them both back in Hong Kong," Robinson shared on the Animals Asia website. "They are absolute little divas and you'd be hard pressed to think that they once lived and scrounged on the streets.
"Lelly is simply phenomenal. There's pretty much nothing she can't do, and all challenges of life on two legs are there to be conquered."