Su Yunxia, 67, was beaten to death at Heilongjiang Women's Prison on Sept. 4, two days before her five-year sentence was to end.
Jailed for her beliefs, Su was beaten because she refused to give up the previously government-endorsed qigong practice called Falun Gong, according to Minghui.org, a U.S.-based website that documents the Chinese regime's persecution of Falun Gong.
"A Falun Gong practitioner must sign the so-called 'three statements'—declarations to give up the peaceful practice—if he or she wants to obtain the release notification," Minghui.org reported. "Otherwise, he or she will be badly tortured by prisoners," appointed by the prison guards days before the sentence is to end.
Su had practiced Falun Gong for over two dozen years. Also known as Falun Dafa, Falun Gong teaches practitioners to be good people by following the principles of truthfulness, compassion, and tolerance. In July 1999, China's ruling communist regime launched a brutal persecution in an attempt to eradicate the practice.
Minghui.org first reported that Su had been detained at Wanjia Labor Camp in Harbin in June 2001. To force her to give up her beliefs, guards tied Su's wrists to the top level of a bunk bed, which was taller than her, and forced her to stand on her tiptoes. If she wanted to rest her toes, the rope would cut into her wrists. All her weight was either hurting her wrists or toes.
Su would be arrested and forced into detention many more times over the next two decades.
Su was from Daowai district of Harbin city in northeastern China's Heilongjiang Province. According to the people who knew her, Su took care of her family members, as well as neighbors and friends.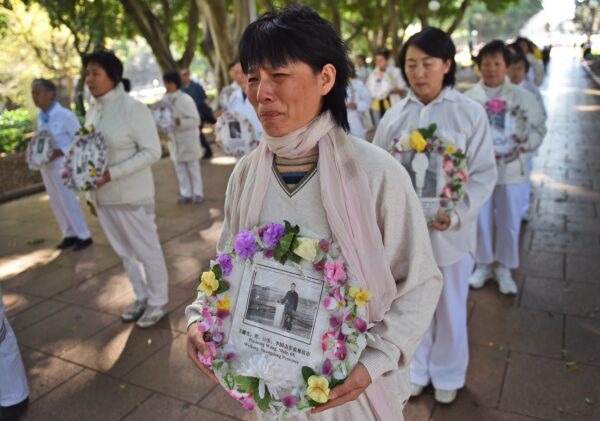 On the afternoon of Sept. 7, 2016, when Su met with a fellow Falun Gong practitioner, Pan Wenli, in their hometown. They were detained at Sankeshu police station simply because they had brochures in their bags and were telling people the truth about what Falun Gong really is, contrary to the reports in state-controlled media that have been used by the regime to justify its persecution.
Hours later, the police raided Su's house and took away her computer, books, and cash.
Su's husband, who relied on her care, was lying paralyzed in his bed. He went to the police station and the district police bureau with the help of relatives to demand Su's release, but was rejected. He wasn't allowed to pay Su a visit in detention.
On March 31, 2017, Su was sentenced to five years in prison and fined 10,000 yuan ($1,565), because she refused to give up her beliefs.
Since then, Su has been detained in Heilongjiang Women's Prison—one of China's most notorious prisons where the regime has been brutally persecuting Falun Gong practitioners, including using all forms of torture.
According to Minghui.org, Pan's situation is still unknown. The regime discourages family members from disclosing the status of detained practitioners to others.
According to information obtained by Minghui.org, the Heilongjiang Women's Prison forced all newly detained Falun Gong practitioners to watch a brainwashing video for 12 hours a day for three months without any break, and then forced the practitioners who still refused to give up their beliefs to sit on a small stool over a dozen hours per day in a room without heat or air conditioning. Prison staff also didn't allow practitioners to sleep for weeks, withheld food, and beat practitioners.
Over the past 22 years, it is estimated that over 1,000 Falun Gong practitioners have been detained at Heilongjiang Women's Prison. At least 31 of them have been persecuted to death, and about 90 percent of others have been tortured to the point where their bodies haven't recovered even after long-term treatment.