A young Chinese dissident landed in Turkey on Thursday evening, after being held for nearly two months in the United Arab Emirates.
Wang Jingyu, a 19-year-old man on the Chinese Communist Party's (CCP) wanted list, told The Epoch Times in an interview on May 27, that he was dumped aboard a flight in the morning with nothing but a one-way ticket, a passport, and a phone.
Several strangers brought him to a car, handcuffed and covering his face with black cloth from an isolated cell in Dubai in the morning, he told The Epoch Times on the phone. No one talked to him until he arrived at the airport in Dubai.
Unable to provide notice to the Turkish airport before arrival, Wang was fined for breaking Turkey's COVID-19 international travel rules. However, he remained optimistic, telling The Epoch Times that he would be able to travel to New York soon.
"I am free now," he said in a tweet on May 27, "I'd like to express my gratitude to all of those supporting and expressing concern for me. I would be tortured in the Chinese Communist Party's black jail without your help."
The CCP took aim at Wang, who is originally from Chongqing City in southern China's Sichuan Province after he disputed the authorities' account of the bloody border clash with India in February.
While transferring to a flight to New York on April 6, Wang was arrested by two plainclothes men who identified themselves as officers from Dubai's criminal informational department. He was then held in custody with limited contact with the outside world.
He had no idea why he was arrested, "I didn't do anything that violated the law in this country," he said in an earlier May 20 interview with The Epoch Times.
Dubai police refused to release him, although the local court granted him bail on April 19. Wang said Chinese embassy staff contacted him at least three times, attempting to persuade him to sign a document agreeing to be deported back to China.
He said Dubai police also tried to get him to sign a document in Arabic on two occasions early in May, but he also refused, saying he couldn't understand its contents.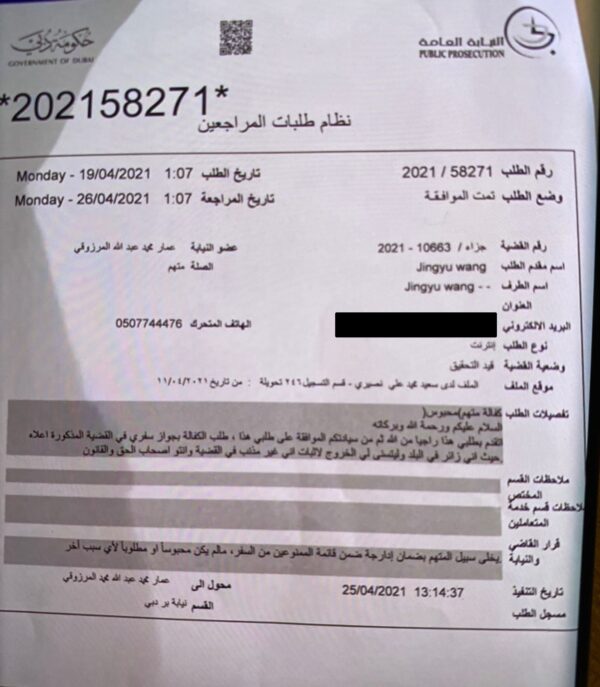 "This is 100 percent linked to the Chinese Communist Party," he said in the May 20 interview, after being held for over a month.
Chinese police charged Wang with defaming "heroes and martyrs" and circulated the notice on Chinese media after he made a comment on social media about the bloody clash on the disputed India-China border that occurred on June 15, 2020. India reported 20 deaths on its side, while eight months later, Beijing announced four fatalities.
"Why did you announce the death toll so late? What on earth are you are hiding?" Wang wrote on Chinese social media Weibo two days after Beijing's announcement on Feb. 21.
Soon after, the Chinese police put him on a wanted list, and his personal information was spread on Weibo. The Chinese police raided his parents' home and detained them in a bid to force him to record a confession video—a demand he refused.
Wang has been in Istanbul since July 2019. Despite having a local phone number, he received text messages from strangers intimidating him. He also received threatening calls at his hotel. Fearing for his safety, he booked a flight to New York, but was arrested at Dubai International Airport, he said.
The State Department acknowledged his case. "We remain alarmed by human rights violations and abuses in China and call on [Chinese] authorities to respect the fundamental freedoms to which their citizens are entitled consistent with China's international obligations and commitments," the Department told the Associated Press.
The publicity of his situation has helped him regain freedom, he told The Epoch Times on Thursday when he was at the airport in Turkey, and a night before, he was transferred to an empty cell with handcuffs and shackles.
"The detainment changes my view of the CCP," he said in the latest tweet on Saturday.
"I used to call it an evil party," he continued. "It is not a party. The CCP is a global terrorist organization, with the apparatus of the state."
Gu Xiaohu and Ling Yun contributed to this report.
Correction: A previous version of this article gave an incorrect immigration status for Wang Jingyu. The Epoch Times regrets the error.