A 13-year-old middle school student remains in critical condition after being attacked by two students at the same California schoolyard where 21 years ago a 12-year-old was killed by his friend in a scuffle.
Two 13-year-old male students at Landmark Middle School in Riverside County have been arrested.
"The victim in yesterday's assault remains hospitalized in critical condition," said the sheriff's office in a Sept. 16 statement. "Both suspects will be charged with 245 (a)(4) PC: Assault Likely to Produce Great Bodily Injury."
Due to the ages of those involved, the police are not providing further information about the incident at the school in Moreno Valley, which lies about 50 miles east of Los Angeles.
#MorenoValley Update:
The victim in yesterday's assault remains hospitalized in critical condition. As the investigation continued, two suspects, also students, were arrested for assault likely to produce great bodily injury The investigation remains ongoing. https://t.co/HpcMxiyeyI

— Riverside County Sheriff's Dept (@RSO) September 17, 2019
A video of the attack at Landmark Middle School, posted to a social media group, shows a student sucker punch the 13-year-old boy in the face. As he reels backward, another student strikes him in the side of the head, knocking him headfirst into a concrete wall. As he clutches his head, the first student runs in with a haymaker to the face, before running off leaving him lying on the floor.
On social media, a woman claimed that the victim was her 13-year-old nephew.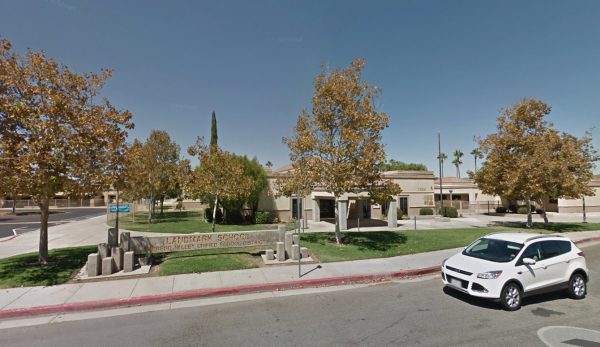 "He is fighting for his life right now because he was attacked by two students at school," she wrote. "I am so angry. And I cannot understand this. If you are reading this please, I beg you pray for him. His entire family is falling apart. Please pray."
She rejected the description that the incident was a fight. "He was attacked," she said. "It's clear in the video."
Officials have provided no information on what led up to the incident but told the Press-Enterprise they do not believe a weapon was used. In the video, the victim is talking to his first assailant just before he punches him.
It isn't the first time that the school has made the headlines for violent incidents.
Earlier this year a fight at the school—partially caught on video—that involved 50 students had to be broken up by deputies who resorted to using a pepper spray ball when students refused to disperse.
But Landmark School's reputation has a much older stain: In 1998, 12-year-old student Jerod Schroeder died from head and neck injuries caused by a punch to the head from a 14-year-old friend who was found guilty of involuntary manslaughter. The two had been arguing over who could use the basketball court in the schoolyard.