Iraqi forces won a "swift and decisive victory against ISIS in Hawijah" on Thursday, Oct. 5, according to Coalition sources.
"The battle was hard fought and operations to liberate the city took 14 days, with many sources reporting more than 1,000 terrorists surrendered," reads a statement from the U.S. Central Command.
During the Iraq war, the city was one of the deadliest places for U.S. soldiers. After the war, the city was wracked with violence, including a deadly conflict that saw Sunni Muslims in the town clash with Iraqi forces, and ongoing anti-government violence that left dozens killed.
Later, during the ISIS occupation, the city became witness to numerous public executions.
With the recent liberation of Hawijah, families that fled in recent years have a chance to restart their lives.
"Our Iraqi partners fought bravely and professionally against a brutal and determined enemy, safeguarding innocent civilians throughout the entire campaign," said Lt. Gen. Paul E. Funk II, Commanding General of the Combined Joint Task Force in a statement.
"Thanks to their efforts, Hawijah will return to local governance and security."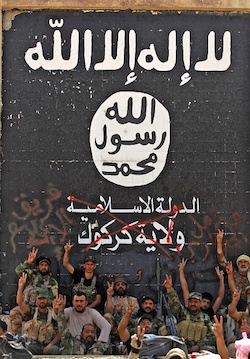 Funk said the victory demonstrated that coalition partners remain stronger together. He reiterated that the coalition was committed to supporting partners in the tough fight to defeat ISIS.
The Iraqi Security Force (ISF) "continues to prove they are a battle-hardened, professional force dedicated to ridding their country of an evil enemy," said the statement.
Reclaiming Hawijah adds to a string of victories for the ISF which includes routing ISIS from its former Iraq capital and largest captured city, Mosul, as well as other towns including Tal Afar, Anah, Rayhanah, and Akashat.
"The government of Iraq and the ISF, with the support of the Global Coalition, have liberated more than four million Iraqis and reclaimed over 41,500km² of land once held by ISIS," reads the statement.
The large scale surrender of ISIS troops in the fight for Hawijah is being read by some as a sign of a demoralized fighting force.
ISIS has seen its territory dissolve, with the vast swathes it once controlled in Iraq and Syria now reduced to pockets.
ISIS has just two strongholds left in Iraq, the Middle Euphrates River Valley and western Anbar Province. Iraqi forces are combating ISIS in both areas.
The fall of Hawija after just two weeks was unexpected, said Funk.
"The speed at which the enemy gave up surprised me," Funk told the Daily Mail in a phone interview from Baghdad. 
ISIS seized control of the city in early 2014. Two weeks ago on Sept. 21, Iraqi Security Forces started combat operations to reclaim it.
"The liberation of Hawijah will be yet another major achievement in the ISF's relentless drive to liberate civilians trapped by ISIS," Maj. Gen. Felix Gedney, Deputy Commander for Strategy and Support said in a statement on that day.