A major emergency was reported from downtown Los Angeles on Saturday night, with the Los Angeles Fire Department (LAFD) responding to a massive explosion that was reported around 6:30 p.m.
The LAFD said they received a "mayday" call from a crew at the site of the explosion. The crew had been passing by 327 E Boyd Street in Little Tokyo when they noticed smoke coming from the building. The explosion occurred shortly after they went inside to inspect for fire.
Multiple buildings were reported as having been set ablaze in the commercial district and at least 11 firefighters were injured, the LAFD said. Two were initially in critical condition and one in serious condition, but all firefighters were later reported as being stable. They all suffered moderate burns from the explosion.
Sounded like a flyover but no. FIRE! A few blocks away from my loft in #DTLA pic.twitter.com/LOUT21pMAW

— Celia (@5thandspring) May 17, 2020
LAFD Captain Erik Scott told reporters that the business at the site of the explosion has been identified as Smoketokes Warehouse Distributor—a wholesale supplier of smoking accessories and a "supplier for butane honey oil," otherwise known as marijuana concentrate.
He said that according to witness accounts, the explosion was "significant" and "very high, very wide, rumbling the entire area."
"Firefighters were coming out with obvious damage and burns," he said.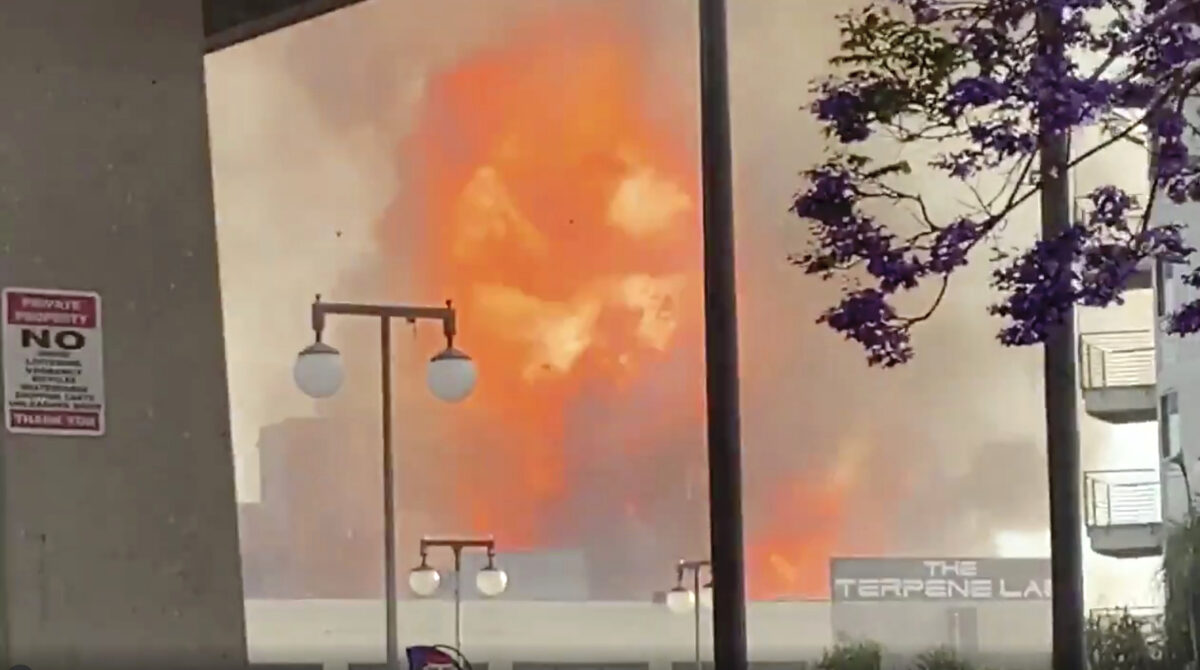 Over 230 firefighters responded to the explosion and were at the scene attempting to contain the blaze. They managed to completely extinguish the blaze by 8:08 p.m.
The cause of the fire remains under active investigation and is of "paramount concern," Scott said.
California Gov. Gavin Newsom said on Twitter he was "grateful for the brave firefighters and first responders on the scene battling these flames tonight."
At 7:15 p.m., the LAFD reported another fire visible from the fourth-story of a building at 812 S Westlake Avenue, also in the downtown area. Another 42 firefighters attended to that fire and were able to extinguish it within 15 minutes.