A zookeeper has written a lengthy opinion piece on last weekend's incident involving a gorilla and a 3-year-old boy, which has gone viral.
Amanda O'Donoughue, a zookeeper with experience in working with gorillas, explained how a toddler was able to enter the Cincinnati Zoo's Gorilla World enclosure, and what the gorilla's behavior meant. She also reasoned that zookeepers made the correct choice in shooting the endangered great ape, named Harambe.
She wrote on Facebook this week:
"Now Gorillas are considered 'gentle giants' at least when compared with their more aggressive cousins the chimpanzee, but a 400+ pound male in his prime is as strong as roughly 10 adult humans. What can you bench press? OK, now multiply that number by ten. An adult male silverback gorilla has one job, to protect his group. He does this by bluffing or intimidating anything that he feels threatened by."

"In more recent decades, zoos have begun to redesign enclosures, removing all obvious caging and attempting to create a seamless view of the animals for the visitor to enjoy watching animals in a more natural looking habitat. *this is great until little children begin falling into exhibits* which of course can happen to anyone, especially in a crowded zoo-like setting."
She added that she's watched the video several times, noting Harambe's posturing and "tight lips."
"It's pretty much the stuff of any keeper's nightmares," she wrote.
O'Donoughue noted: "I keep hearing that the Gorilla was trying to protect the boy. I do not find this to be true. Harambe reaches for the boys hands and arms, but only to position the child better for his own displaying purposes."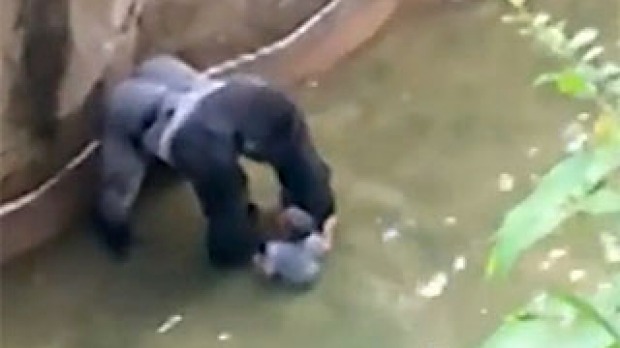 She said that male gorillas engage in "very elaborate displays when highly agitated, slamming and dragging things about."
"Typically they would drag large branches, barrels and heavy weighted balls around to make as much noise as possible. Not in an effort to hurt anyone or anything (usually) but just to intimidate. It was clear to me that he was reacting to the screams coming from the gathering crowd," she noted.
A video clip of the incident shows the silverback dragging the boy around a moat as the crowd above screams.
"Harambe was most likely not going to separate himself from that child without seriously hurting him first (again due to mere size and strength, not malicious intent)," she wrote.

The zookeepers opted to shoot the animal and didn't use tranquilizers for several reasons, O'Donoughue said.
First, is that "Harambe would've taken too long to become immobilized, and could have really injured the child in the process as the drugs used may not work quickly enough depending on the stress of the situation and the dose." And, second, "Harambe would've have drowned in the moat if immobilized in the water, and possibly fallen on the boy trapping him and drowning him as well," she said.
She concluded:
"I can't point fingers at anyone in this situation, but we need to really evaluate the safety of the animal enclosures from the visitor side. Not impeding that view is a tough one, but there should be no way that someone can find themselves inside of an animal's exhibit."

"I know one thing for sure, those keepers lost a beautiful, and I mean gorgeous silverback and friend. I feel their loss with them this week. As educators and conservators of endangered species, all we can do is shine a light on the beauty and majesty of these animals in hopes to spark a love and a need to keep them from vanishing from our planet. Child killers, they are not."
–