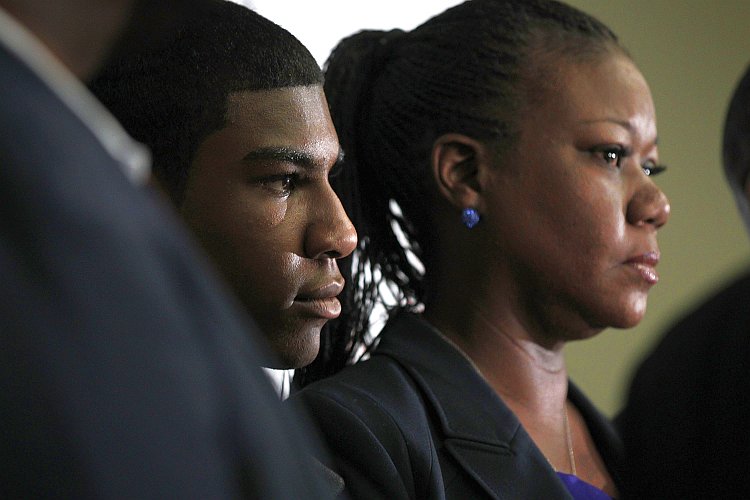 George Zimmerman appeared in court on April 12, after turning himself in for the Feb. 26 shooting death of 17-year-old Trayvon Martin. Florida State Attorney Angela Corey announced April 11 that George Zimmerman would face second-degree murder charges.
Zimmerman's new attorney, Mark O'Mara, asked for bond and asked the court to seal records containing personal information about witnesses, CNN reported. His lawyers had previously announced that they were resigning from the case over lack of contact with him.
Zimmerman is expected to plead not guilty at his arraignment in May.
Corey spoke of her duty to uphold the Constitution, both for crime victims and defendants. She said the prosecutorial team did not decide to file charges because of the public outcry. "Let me emphasize that we do not prosecute by pressure or petition," she said.
She added that she did not intend to answer many questions about the case, to make sure that it is tried properly.
"I want to stress we also took an oath to protect the due process rights of any person whom we charge with a crime. Our oath will be upheld for our victim, Trayvon Martin, and for the man responsible for his death, George Zimmerman," Corey said in a speech later published on her official website.
NAACP President Benjamin Jealous said he thought the local police department should be investigated for their handing of the matter. He said in a statement, "For the NAACP, this case has always been about the rule of law. We are encouraged by today's charges, but we know that this is just the beginning. We anticipate and expect a thorough federal investigation of the Sanford Police Department and its role in exacerbating this tragedy."
"We are still devastated by the loss of our son Trayvon Martin, and nothing can bring him back. But today, we are heartened to tell you that justice may finally be served for Trayvon," said Martin's parents, Sybrina Fulton and Tracy Martin, in a joint statement published on Change.org, which carried a petition asking that Zimmerman be charged. "We are so much closer to justice with the decision to bring charges against our son's killer."
Corey said she called Martin's parents before she announced the charges. Her team had promised "those sweet parents we would get answers to all of their questions, no matter where our quest for the truth led us. … It is the search for justice for Trayvon that has brought us to this night."
In the lead-up to Zimmerman's arrest, rallies, petitions, and media coverage around the country had expressed outrage that Zimmerman, who told police he shot the unarmed Martin in self-defense during a struggle, was not charged the night of the shooting. A 911 call he made saying that Martin appeared to be acting suspiciously included the operator telling Zimmerman not to follow Martin.
On March 22, Sanford Chief of Police Bill Lee stepped down in response to public anger over how police handled the case. Congressman Bobby Rush, (D-Ill.) was thrown off the House floor when he donned a hoodie to honor Martin.
Martin was black and Zimmerman, a neighborhood watch volunteer, has been described in reports as a "white Hispanic." Martin, wearing a hoodie, was returning to his father's house from the store after buying Skittles and tea. Zimmerman had followed the victim over what he described as suspicious behavior.