Renouncing the Chinese Communist Party
February 25, 2009 8:25 pm Last Updated: October 1, 2015 10:08 pm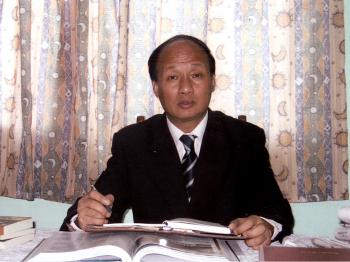 Former human rights lawyer Zheng Enchong spoke over the phone to a Hong Kong rally supporting the 50 million Chinese who have renounced the Chinese Communist Party. Following is the text of his speech.
************
Greetings to everyone. My name is Zheng Enchong. I used to be an attorney in Shanghai. Today we have 50 million people renounce the Chinese Communist Party (CCP) and its affiliated organizations—this will be a milestone in history. I want to offer my sincere congratulations.
There is a growing trend amongst the residents of Shanghai—quitting the CCP. During the Chinese New Year in 2009, I was witness to four individuals quitting the CCP in Shanghai. Two of them used their real names, while the other two used aliases.
The first one, a 28-year-old woman, had told me she helped her mother quit the CCP on an overseas website on September 13, 2008. One of the reasons she gave was that her mother and four other relatives received notices that their houses would be demolished. After this woman's mother quit the CCP, the local regime ceased the demolition action and raised the compensation to 6 million Yuan (approximately US$ 860,000).
The situation has changed from people fearing the CCP's wrath after their renouncement, to the CCP's dread of losing more of its members.
The second case: Former CCP member, Yan Fenlan, went to the Changning District Court in Shanghai ten days ago to file a lawsuit against the local police for locking her in a psychiatric hospital during the Beijing Olympics. The judge ordered her to have a mental health examination before permitting her to file her lawsuit. This was, in fact, depriving her of her legal rights. Yan immediately wrote an open letter to regime leader Hu Jintao to announce her withdrawal from the CCP.
The third case is that of a former CCP member in his fifties who worked in a small factory. His financial situation was OK. Several years ago he decided to stop paying the party fees and participating in CCP activities. Around Chinese New Year, he was invited to attend a CCP meeting. He was informed that he would be receiving subsidy to help him with his "tough financial situation." He was angry upon learning that the party branch had been making up false reports claiming he was in financial trouble and hadn't been able to pay his membership fees. He had had enough, and announced that he quit the CCP on an overseas website.
A few days ago, I met a 79-year-old former CCP member. He joined the CCP during the Sina-Japan war. He had retired from the military medical service system. His three children told him to forget about his house and retirement benefit, and asked that he quit the CCP and live with them overseas. We met the day before yesterday, and he told me he was ready to leave in April, and wanted to quit the CCP with an alias. Once he left Shanghai, he would really quit.
I found out that young people in Shanghai took real initiative in quitting the CCP. What triggered their renouncement was watching President Obama's inauguration speech. They understood English and witnessed the regime's official TV station edit words from Obama's speech—words that the CCP did not approve. They were enraged and began to distribute fliers of Obama's complete speech on the streets. They also offered to help people install software to break through China's Internet blockade. These young people realized that the CCP had been lying to them.
Being a former attorney, at the moment of congratulating those who quit the CCP, I also want to express my strong condemnation of the CCP's brutal torture of attorney Gao Zhisheng. This persecution is not just against attorney Gao, but against all the lawyers in China who are like us. The CCP will even suppress experienced lawyers. Who knows what unimaginable things it would do to those who know little about the law.