Ukrainian President Volodymyr Zelenskyy said the Donbas region in Eastern Ukraine could soon fall to Russian forces, giving his most grim assessment yet.
In a video address over the weekend, Zelenskyy said that conditions in Donbas have grown "indescribably difficult" and suggested the region could fall to Russia. Since the 2014 color revolution in Kyiv, pro-Russian forces have controlled parts of Donestk and Lugansk and sporadic fighting has erupted over the years.
"But our defense holds on," Zelensky told the public. "It's indescribably difficult there. And I am grateful to all those who withstand this onslaught of the occupiers."
Russian and Ukrainian troops engaged in close-quarter combat in the Donbas city of Sievierodonetsk as Moscow's soldiers, supported by intense shelling, attempted to gain strategic footholds for conquering the region.
Ukrainian regional officials reported Russian forces "storming" Sievierodonetsk after trying unsuccessfully to encircle the city. The fighting knocked out power and cellphone service, and a humanitarian relief center could not operate due to the danger, the mayor said.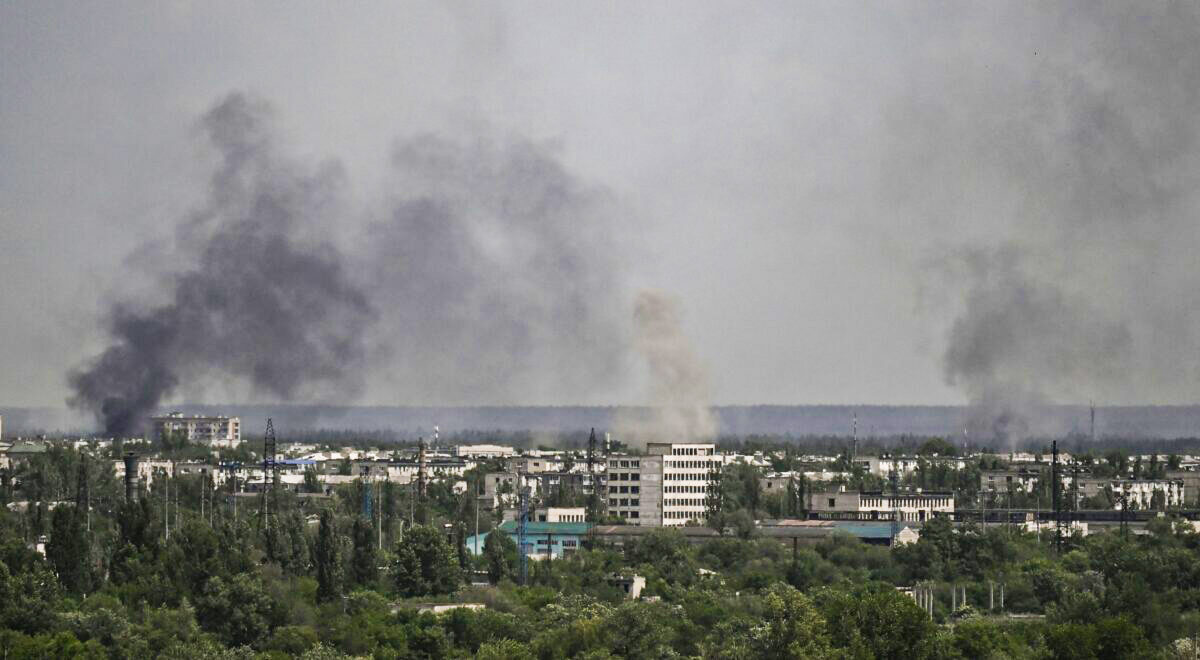 Sievierodonetsk, located about 89 miles south of the Russian border, emerged in recent days as the epicenter of Moscow's quest to capture all of Ukraine's industrial Donbas region. Russia also stepped up its efforts to take nearby Lysychansk, where civilians rushed to escape persistent shelling.
Sievierodonetsk Mayor Oleksandr Striuk said there was fighting at the city's bus station on Saturday. Residents remaining in the city, which had a prewar population of around 100,000, risked exposure to shelling to get water from a half-dozen wells, and there was no electricity or cellphone service, Striuk said.
The two eastern cities span the strategically important Siverskiy Donetsk river. They are the last major areas under Ukrainian control in Luhansk province, which makes up Donbas together with neighboring Donetsk.
"If the occupiers think that Lyman or Sievierodonetsk will be theirs, they are wrong. Donbas will be Ukrainian," Zelenskyy said during his nighttime address.
The pro-Russian Donetsk People's Republic, meanwhile, told state-run media that Ukrainian troops shelled Donetsk six times overnight on Saturday and Sunday. Russia's Ministry of Defense also claimed that the town of Krasny Liman was taken from its forces on Saturday.
"As a result of the joint actions of the people's militia units of the Donetsk People's Republic and the Russian armed forces, the city of Krasny Liman was completely liberated from Ukrainian nationalists," Defense Ministry spokesman Igor Konashenkov said, according to the TASS news agency.
The Associated Press contributed to this report.