Ukrainian President Volodymyr Zelensky addressed members of Congress on Wednesday, asking again for the United States and NATO to enforce a no-fly zone over his country and provide fighter planes weeks after Russia started its invasion.
"Russia has attacked not just us, not just our land, not just our cities. It went on a brutal offensive against our values, basic human values," he said via a translator. "It threw tanks and planes against our freedom, against our right to live freely in our own country, choosing our own future. Against our desire for happiness, against our national dream, just like the same dreams you have, you, Americans. Just like anyone else in the United States."
In asking for S-300 surface-to-air missile systems and Polish MiG-29 fighter jets, Zelensky invoked the Sept. 11, 2001, terrorist attacks and the Japanese attack on Pearl Harbor that thrust the United States into World War II.
"Remember Pearl Harbor," he said "Remember Sept. 11 … Our country experiences the same every day."
"Right now, the destiny of our country is being decided. The destiny of our people where the Ukrainians will be free, whether they will be able to preserve their democracy," the Ukrainian leader also remarked. "Russia has attacked not just us, not just our land, not just our cities, it went on a brutal offensive against our values, basic human values."
A no-fly zone over Ukraine has been described by top White House and NATO officials as a nonstarter. Earlier in March, President Joe Biden said that enforcing such a measure would escalate the conflict to become World War III with Russia, a nuclear power.
After the speech, Rep. Jason Crow (D-Colo.) said that he believes Congress needs "to push for more security assurance" in Ukraine, without elaborating.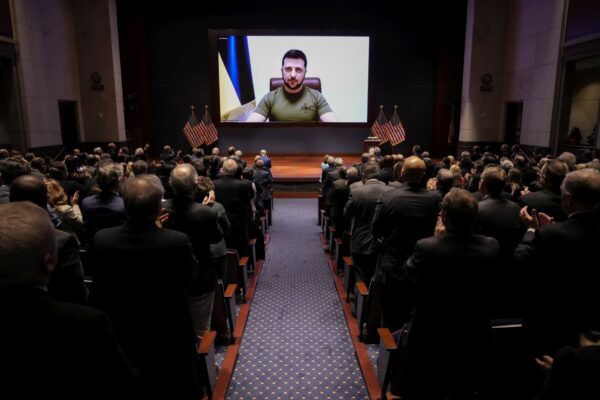 And Sen. Lindsey Graham (R-S.C.) said he will hold a press conference later Wednesday to urge the Biden administration "to facilitate the transfer of aircraft, such as MiG-29s, and air defense systems to Ukraine" after Zelensky's speech while Sen. Ted Cruz (R-Texas) wrote that the White House "should be doing everything he can to provide lethal aid to Ukraine," including fighter jets.
Zelensky also demanded that all U.S. companies stop doing business with—or leave—Russia until the conflict ends. A number of multinational corporations have already pulled out of the country in recent days amid harsh Western sanctions against Russia's economy and leadership.
Some critics of the move have warned that these actions could backfire and strengthen Russian President Vladimir Putin's leadership and his narrative that the West wants to destroy Russia.
"I call on you to do more" Zelensky later asked members of Congress, "until the Russian military machine stops."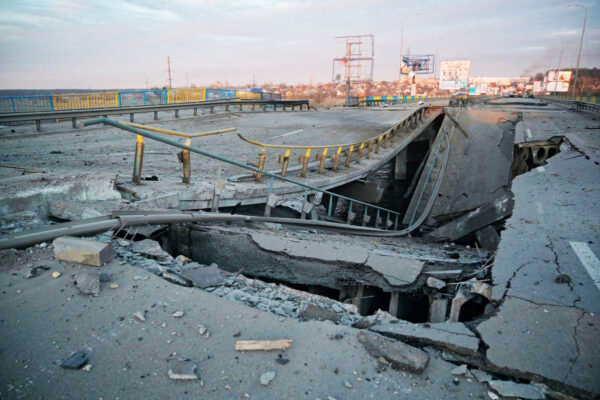 Meanwhile, Russian officials including Foreign Minister Sergei Lavrov and Kremlin spokesman Dmitry Peskov said earlier on Wednesday that Moscow wants Ukraine to become a neutral country such as Austria or Sweden. Ukraine's leadership hasn't confirmed whether neutrality is a possibility, although Zelensky said Tuesday that it is not likely his country will ever be able to join NATO.
"A neutral status is being seriously discussed in connection with security guarantees," Lavrov told reporters. "There are concrete formulations that in my view are close to being agreed."
Ukrainian presidential adviser Mykhailo Podoliak told the news agency Interfax that a model of neutrality is up for discussion but he said security guarantees must be upheld.
Ukraine's allies have provided hundreds of millions of dollars worth of defensive weapons but they have stopped short of providing fighter jets. They've also said that no NATO troops will be called to fight in Ukraine.