Yunnan a Major Channel for Animal Smuggling
February 23, 2004 12:00 am Last Updated: August 23, 2015 2:41 pm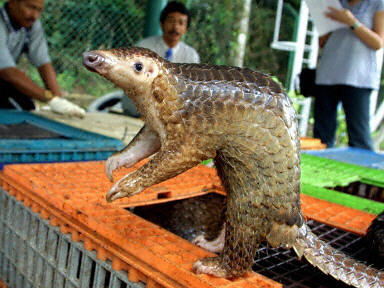 The province of Yunnan has become the major route for wild animal smuggling due to its abundance of the animals and a long border with Myanmar and Vietnam. Using the endless forest borderline as a protective screen, smugglers employ an extensive communication network via sea, land, air and river.
According to a China Youth Daily report, Yunnan Forest Police have recently arrested several wild animal smugglers in Xishuang Bai Na. Approximately 60 pangolins, a scaly anteater that resembles an armadillo, and 130 flat-chested turtles were captured. The smugglers make large profits selling the dried body parts of the wild animal which are used as materials for medicines.
Animal smuggling is a highly profitable business with animals, such as the pangolin, fetching six times its worth when sold overseas. For example, the price of a pangolin in China is approximately 100 yuan but can bring 600 yuan when sold overseas.
According to police in Yunnan, the illegal worldwide wild animal trade is the second biggest after gunrunning with its annual trade volume reaching $150 billion.
As a result wild animals such as tigers, leopards, boa turtles, red deer, black bear and elephants are becoming endangered. Last year 45 cases of smuggling were reported in Menla County in Xishuang Bai Na alone with an estimated value of 400 million yuan. All together a total of 215 cases were reported in eight counties on the border totaling an estimated value of 17 million yuan.
Experts point out that legal sanctions exist for the seller but not for the buyer. Unless the buyer is penalized, the market for wild animals will continue to exist.
Chief of Yun Nan Province Forest Police Bureau, Ma Sheng, said international cooperation is necessary. While overseas police are sensitive to the problem, little cooperation has actually occurred due to limited budgets. "We must meet regularly and pool our intelligence resource data together in order to be effective."