Marie Yovanovitch, the former U.S. ambassador to Ukraine, testified that she had no firsthand knowledge of the July 25 phone call between Trump Ukrainian President Zelensky as well as no direct knowledge about any withholding of military aid—the center points of the Democrat-run impeachment inquiry.
House Democrats called Yovanovitch to testify amid their impeachment inquiry against Trump. They alleged that Trump abused his power by withholding military aid to Ukraine in exchange for investigations into Joe and Hunter Biden, which Trump denies.
Yovanovitch then claimed that allies of Trump's lawyer, Rudy Giuliani, hindered her work in the State Department.
"If our chief representative is kneecapped, it limits our effectiveness to safeguard the vital national security interests of the United States," Yovanovitch said.
As the hearing began, Trump tweeted that she performed poorly in her duties.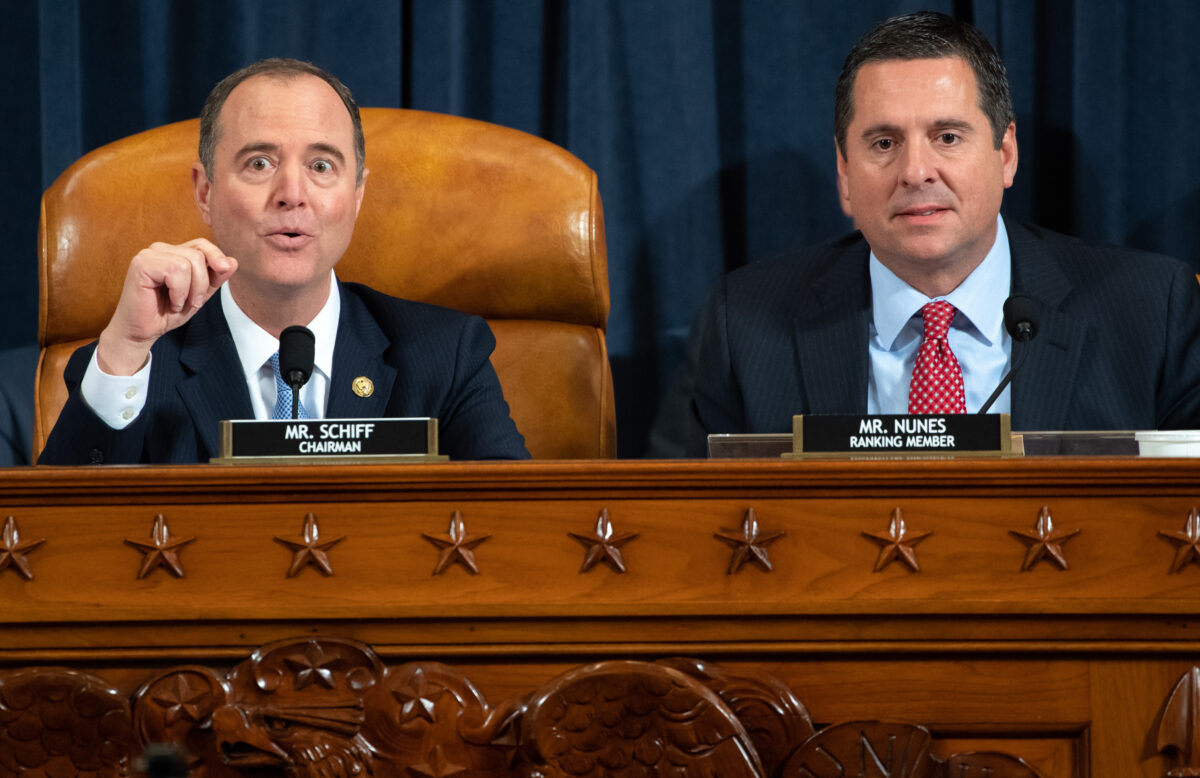 "Everywhere Marie Yovanovitch went turned bad. She started off in Somalia, how did that go? Then fast forward to Ukraine, where the new Ukrainian President spoke unfavorably about her in my second phone call with him. It is a U.S. President's absolute right to appoint ambassadors," he wrote at 10 a.m.
Intelligence Committee Chairman Adam Schiff (D-Calif.) brought up Trump's tweet during the hearing, suggesting that it was "witness intimidation." She also said "it's very intimidating," adding, "I mean, I can't speak to what the President is trying to do, but I think the effect is trying to be intimidating."
Regarding the allegations at the center of the impeachment inquiry—the investigations into the Bidens and military aid—Yovanovitch said she had no firsthand knowledge.
"There are a number of events you are investigating to which I cannot bring any first-hand knowledge," which include "President Trump's July 25, 2019, call with President Zelensky, the discussions surrounding that phone call, and any discussions surrounding the security assistance to Ukraine in the summer of 2019," she said.
Democrats are trying to connect the circumstances of her removal to the alleged pressure campaign.
"Some have argued, that a president has the ability to nominate or remove any ambassador he wants, that they serve at the pleasure of the president. And that is true," Schiff said in the hearing. "The question before us is not whether Donald Trump could recall an American ambassador with a stellar reputation for fighting corruption in Ukraine, but why would he want to?"
But Republican lawmakers said the hearings are a waste of time.
"It's unfortunate that today, and for most of next week, we will continue engaging in the Democrats' day-long TV spectacles instead of solving the problems we were all sent to Washington to address," House Intelligence Committee ranking member Devin Nunes (R-Calif.) said.