YouTube Aflame With China Human Rights Videos
August 12, 2008 4:50 am Last Updated: October 1, 2015 10:56 pm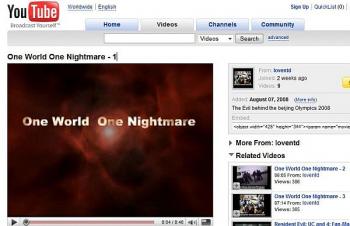 On August 11 at close to midnight Eastern Standard Time, almost half of the most-viewed videos on Youtube were related to China and the Olympics.
Nestled among the familiar stock of explosion videos, heavy-metal concerts, borderline soft-pornography, and now, Olympic winners, two struck a solemn note. They were about the brutal persecution of the Falun Gong spiritual practice in China, including one about the Chinese Communist Party's (CCP) staged attempt to frame Falun Gong practitioners for self-immolations on Tiananmen Square in January, 2001.
Called "Falsefire in China", the video had received close to 150,000 hits after it was added on August 10. It de-constructs State footage of the incident, exposing a range of inconsistencies which reveal a hoax to incite hatred and turn public opinion against the practice. The note accompanying the video states that it won a Certificate of Honorable Mention at the 51st Columbus International Film & Video Festival.
False Fire can be viewed here: http://www.youtube.com/watch?v=-w3ipKfOZzQ&feature=related
There are other examples.
A 10 minute interview with David Kilgour and David Matas, authors of "BLOODY HARVEST: Revised Report into Allegations of Organ Harvesting of Falun Gong Practitioners in China," received close to 35,000 hits the same day it was posted, on August 11.
View here: http://www.youtube.com/watch?v=Fkf2u1Umzi4
David Kilgour is a former Canadian Secretary of State, while David Matas is a human rights lawyer and recipient of the Tarnopolsky award. Their first report was published in 2006, and the revised version in 2007. They say that Falun Gong practitioners are subject to systematic execution and organ harvesting on demand in China since 2000. They call for a full investigation and for the perpetrators to be brought to justice. They say their conclusions have not been refuted.
Harsh Rebukes
In another example, on August 7 the first instalment of a video series called "One World, One Nightmare," a transformation of the Beijing Olympics motto "One World, One Dream", was published and has received 140,000 hits. The three videos detail other salient points among the extensive human rights abuses committed by the Chinese regime, along with poverty and other social problems in China.
"One World One Nightmare" can be viewed here: http://in.youtube.com/watch?v=gMvWvFupMOU
http://in.youtube.com/watch?v=7jskYAn3S30 , http://in.youtube.com/watch?v=Cujt5Un1Vdw
One user from mainland China left a scathing remark in Chinese, sarcastically thanking the video producers for their work and explaining that: "What you need to do is to mind your own stupid business. Don't finger point at any other country, this does no good to you, it will only prove your stupidity and you are an extremely boring character! China's affairs are decided by Chinese only, no need for you foreigners to interfere."
The post continued: "By the way, if you really have any good intentions, then thank you, but we definitely don't need (a derogatory remark) …"
It concluded with an abusive English phrase the user said they had recently learnt.
The contrast between the Taiwanese viewer who posted soon after was stark: "I agree with this video entirely. That government is totally corrupt. Its abuses are probably beyond what even one can imagine in one's worst nightmares. This government will not stand. It will not last. God will bring it down; and the sooner the better."
According to test algorithms on www.websitepulse.com, Youtube is not currently blocked in China.