Youth Forum Helps Bronx Children With Life's Challenges
May 8, 2014 10:30 am Last Updated: May 8, 2014 10:30 am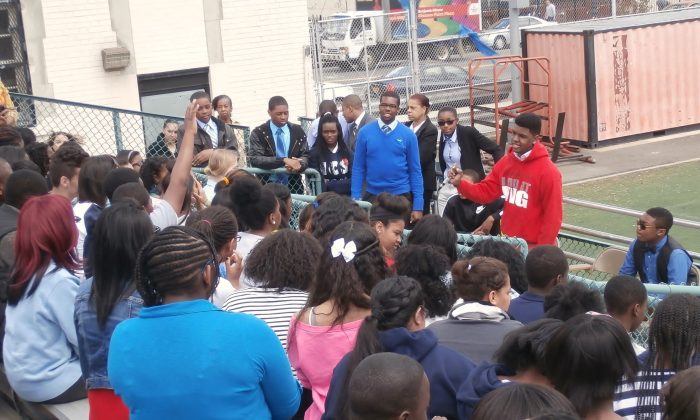 NEW YORK—Little Erika Mejia used to cry a lot when she was being bullied, but her parents told her to be strong and to believe in herself, and eventually she was able to achieve that.
The 11-year-old middle school student bravely shared her bullying experience in front of dozens of her peers at the annual Bronx Youth Empowerment Program Youth Speaks forum held at Evander Child's Educational Campus in the Bronx on Tuesday. 
"They used to tell me, 'Why are you so short? You belong back in pre-K or kindergarten because that's how short you are.' And then I used to feel sad, and I used to feel like I really was short, and I started believing them," said Mejia.
For eight years, the Bronx Youth Empowerment Program (YEP) has been encouraging children to discuss difficult issues together. New York City Council member Andy King co-founded the program with his wife, Neva Shillingford-King.
Since its inception, members of YEP have been invited to the White House, sponsored Black History Month celebrations, met with NYPD officers to talk about police and community interaction, and more. 
Through the program, children are learning that there is power in sharing these challenges with their peers in such a positive environment.
"What's the best way to find an answer to a question than when you formulate it through yourself? Now you're able to believe it, live it, and execute it," he said.
King believes children respond much better when they're part of the whole conversation instead of adults simply barking orders at them.
These young people face a lot of challenging issues—from bullying to obesity to teen pregnancy. They feel like they're alone in their struggle or that the adults in their lives do not understand them.
Community Involvement
Bronx YEP's motto is "Building Mind, Body, and Community." The program encourages youth to be positive and productive members of the community. Many times, youth who have participated in Bronx YEP have continued to be involved in the community.
"It empowers them to find solutions to what they're experiencing in today's society. It empowers them to be better people," said King.
New York City Public Advocate Letitia James said it is important for adults to interact with troubled children.
"These children carry heavy burdens, and it's important that we speak to them, relate to them, and talk to them, and ease their pain, but also let them know that they too can overcome challenges in their life and that they really hold the key to our future," said James.
The children were encouraged to come forward with their ideas and experiences by the young hosts. Later, the children were invited to come up one by one and sing a song, if they wished, ending the event on a joyful tone.
As for Erika Mejia, she takes great pride in her achievements and won't let bullying stand in her way. 
"Even though I'm still short, I'm proud, because I know I'm going to do something in life," she said.
Sarah Le is a special correspondent in New York