Parents and residents of Miami-Dade County, Florida, want the district's public schools to teach children English, math, and science, not "left-wing" socialist ideology, according to a range of opinions voiced at a public meeting on Wednesday.
At the Miami-Dade County Public Schools board meeting, parents and community members shared a range of viewpoints on resolution item H-11 (pdf), which sought to recognize October as LGBT History Month.
Following hours of comments by more than 100 residents and board members, who were energetic and at times disruptive, the board voted 8–1 against the resolution, to loud cheers from the public.
The majority of the school board believed that the resolution, introduced by member Lucia Baez-Geller, conflicted with Florida's Parental Rights in Education Act. That bill, seen as controversial by some, prohibits classroom instruction on sexual orientation in kindergarten through third grade, as well as instruction that isn't age-appropriate.
Baez-Geller was the sole Miami Dade School Board member to vote yes. The rest of the board, including its chair and vice chair, Perla Tabares Hantman and Steve Gallon III, voted against H-11.
Hantman, who represents District 4 and will retire from the board in November, noted that she was originally from Cuba and felt "blessed" to now live in a democracy and see it in action at Wednesday's meeting.
"We respect everybody's rights, but we have to be in accordance with the law," she said, referring to the potential for H-11 to violate the state's law that gives parents a say about what is taught to their children.
'Your Job Is to Educate, Not Indoctrinate'
Many parents and members of the public expressed their views about the proposal being left wing or socialist indoctrination.
"I don't speak English well but I cannot be quiet today," said Fabio Hernandez, a father. "We're talking about indoctrination, not education. Our kids need education. Your job is to educate, not indoctrinate."
Hernandez suggested that teachers who want to get involved in efforts to support LGBT students do so outside of the county's schools.
Speaking at the school board meeting, Miami-Dade resident Elizabeth Santander-Cordero urged the protection of childhood innocence and argued that LGBT ideology is causing overwhelming identity crises for young people.
"Let us, the parents, to be parents and teach our children according to our values, morals, and religious belief. As a mother and grandmother, I don't see how, respectfully, celebrating so-called LGBTQ will benefit our students," she said.
"On the other hand, I see a generation submerged and drowned in a confusion of identity. We are losing the origins of human organic identity by imposing the LGBTQ agenda against the innocence of our children."
'Children Belong to Their Parents, Not the Schools'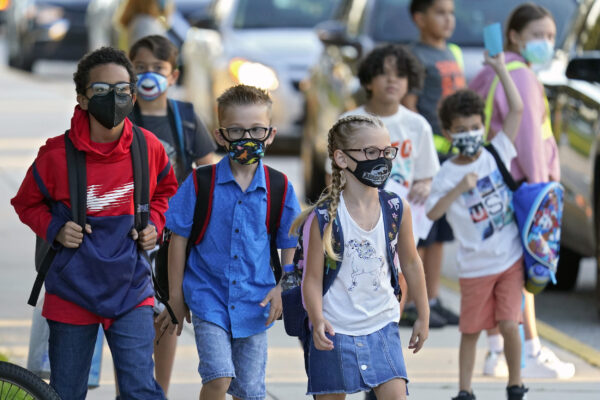 Bill Thompson, who said he has lived in the county for 30 years and raised five children with his wife, said schools should stick to teaching common core subjects and leave social, political, and philosophical education to parents.
"Parents across America, including here in Miami Dade County, have been standing up for the principles that their children belong to their parents, not the schools," he said.
"Miami Dade schools, like all schools throughout America, should teach the academics of math, science, history, and English, as well as morals and values, but not social, political, and philosophical beliefs," he added. "That should be left to the decision of the parents."
The overwhelming majority of speakers at the Miami Dade County school board meeting echoed similar sentiments against H-11.
Florida Pushes Back Against 'Oppressive' Left-Wing Ideologies
Gov. Ron DeSantis, a Republican, has signed a number of measures to combat what he views as woke and racist left-wing indoctrination in the state of Florida.
In March, he signed the Curriculum Transparency (HB 1467) bill, which allows parents to see and challenge teachers' instructional material, required reading lists, and books in school libraries. It also sets term limits for school board members.
"We are going to make sure that parents have a seat at the table," DeSantis said at the time. "Sunlight is the best disinfectant."
"We believe parents not only have a role, but [they also] have a fundamental role to be involved in the education of their kids," he added. "That's how it's going to be in the state of Florida."
In April, DeSantis also signed the Stop Woke Act to restrict ideological indoctrination and training in schools and in the workplace.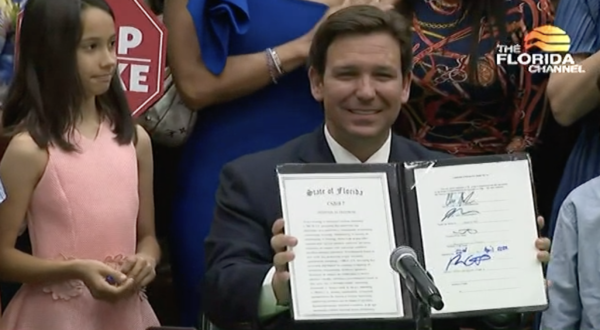 The bill was designed to ban critical race theory (CRT) from being taught in schools or used in employee training sessions, according to the bill's sponsor, Republican state Sen. Manny Diaz Jr.
CRT is considered by conservatives and experts on the subject to be a racist theory because, among other things, in practice it tells white students that they are the oppressors of black people and other non-white races.
"Parents don't want their kids segregated on the basis of race; I don't want my kids being told that they're either forever doomed to feel guilt and shame because of their skin color or have no opportunity and no possibility of success in the United States," said Christopher Rufo, a senior fellow and director of the initiative on CRT at the Manhattan Institute, who DeSantis credits as exposing CRT in schools.
Another expert on CRT, James Lindsay, who wrote the book "Race Marxism: The Truth About Critical Race Theory and Praxis," said that CRT is "calling everything you want to control racist until you control it."
The NAACP defines CRT as "an academic and legal framework that denotes that systemic racism is part of American society."
When he signed the bill, DeSantis told a cheering crowd that not having "oppressive ideologies imposed upon you" without consent is an important aspect of "freedom in the state of Florida."