Your backyard is finally ready to be used. With the warm weather and get-togethers to be enjoyed, who wants to be cooped up in the house making a meal? Consider building an outdoor kitchen. Here's some advice on how to create the perfect space.
With the summer season so short, it's important to maximize the amount of time you spend outdoors. An outdoor kitchen is the perfect solution. It will allow you to enjoy the backyard space you've spent time and money building, while giving you the opportunity to enjoy the company of those you invite over.
Questions to Ponder
A cooking station is a cooking station, right? Not exactly. When you're comparing indoor and outdoor kitchens, there are obviously a lot of factors to consider. You first need to evaluate the main use of the space. Ask yourself these two questions.
How do you cook inside?
How many people do you typically entertain?
The answers to these questions will influence your outdoor space. If you're the type of person who uses a lot of space when cooking indoors, chances are good you'll want that space or something similar reflected outdoors.
Your outdoor kitchen, big or small, needs to be the right size to accommodate the number of guests you plan on entertaining outside. If you'd like to maximize your backyard to its full potential by inviting all your friends, then you may want to consider building a sizable kitchen to accommodate the food and prep work involved.
If, however, you'd rather invite just a few friends over at a time, you can scale back on the size of the kitchen and use that money saved for other backyard renovations. A few suggestions follow.
Plan Out Your Space
Are you visualizing it in your head? That's a good place to start! Finding the right location for your outdoor kitchen is key. It has to be in the right spot so it can blend into the other aspects of your backyard, whether that's a deck, pool or garden. When it comes to an outdoor kitchen, you have options.
If space is an issue, you can create an outdoor kitchen simply by using your existing barbecue and adding a portable island that has a countertop and drawers. Small tweaks like this will give you the space and tools you need to make a meal outdoors.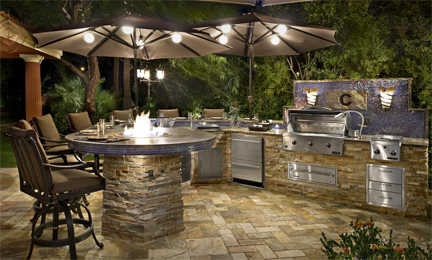 There are so many aspects to an outdoor kitchen: refrigerator, sink, prep area, and grill/barbecue. Each of these elements needs to be in close proximity, working together to create that perfect workable space. If there's not enough space or the elements are not close together, the lack of functionality won't make for easy entertaining.
The next step in your outdoor kitchen preparation: designating a place to eat all that food! You want to make sure your barbecue is in close proximity to your eating area, but not so close that the smoke from the BBQ will heat your guests.
Choosing Your Materials
One of the most exciting aspects of building an outdoor kitchen is actually designing and furnishing it. Remember: an outdoor kitchen is a big investment, so you'll want to pick low-maintenance materials that will work for outdoors. Here's a round-up of materials you should consider, ones that are built to last outdoors and are easy to maintain:
Stainless steel: Whether you're buying a stainless steel sink or trolley for counter space, this material is perfect to use in the outdoor weather. It's high-quality, sanitary, and very easy to clean.
Granite or marble: Choose either of these materials for your countertop (if you're having a bigger space built), for they're durable and easy to clean.
Concrete: The flooring underneath your outdoor kitchen should match your outdoor space's functionality and durability. Concrete is a smart material to use: it's affordable and with the different colours of patterned concrete available, it'll be easy to find one that will match your outdoor space.
Safety first!
It's important to take the same safety measures you do inside your home. You'll want to keep a first-aid kit and fire extinguisher near your newly constructed outdoor kitchen.
Ready to get cooking in your new outdoor kitchen? Take your inspiration to the kitchen renovation experts. They'll make your vision come to life.
Article originally published by EiEi Home Inc. For more information on articles, reviews, and contractors in your area, please see their website at www.eieihome.com