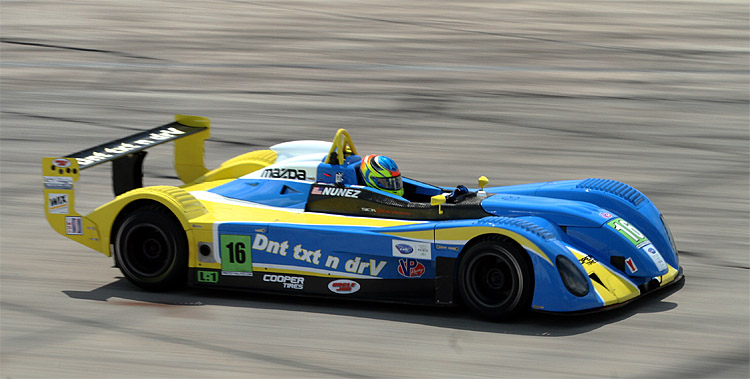 16-year-old Tristan Nunez hopes to continue winning when he races Sunday in the IMSA Prototypes Lites series races at Miller raceway in Toole, Utah.
Nunez won the first two races in his first full season as a Lites driver, setting the series' record as the youngest race winner. He thinks Miller Motorsport Park is the perfect venue to continue that streak.
"I am looking forward to racing at Miller Motorsports Park because it's a high speed course with a lot of aero grip which I feel really suits my driving style," said Nunez in a press statement.
"I am excited for the challenge of racing at a track that I am not familiar with. I think there will be less pressure this weekend because I won't overthink the course and how to drive it. I will be able to get into the car and just do what feels right and utilize the track notes and on-board footage to learn from and make adjustments throughout the weekend."
Nunez drove the #16 Performance Tech Élan DP02 to two poles, two wins, and two track records at the season's first two races at Sebring in March—his first wins in IMSA Lites.
"Having my name go down in the record books as the youngest driver in history to win an IMSA Lites race is a true honor," said Nunez. "Starting the season off like we did gives me a boost of confidence going into the rest of the year. We were very strong at Sebring and now we hope to continue this momentum and results into this weekend's event at Utah.
"My team has been doing a great job finding the speed we need to stay ahead of the pack. I am trying to stay focused though and keep my attention on posting strong finishes to work toward a championship victory in 2012.
"If I do win the championship in Lites this year, there is talk of me moving up to the LMPC car which races in the American Le Mans Series," Nunez said after his Sebring wins. "That attracted me to the team—Performance Tech has a really well-developed in-house ladder system."
Nunez will compete in two IMSA Lites races Sunday, with qualifying Saturday, part of a race weekend which features NASCAR's K&N Series West, IMSA GT3 Cup and Pirelli World Challenge, plus several support series.
Tickets for the event can be purchased through the Miller Motorsports Park website.