Young Protester Detained at Tiananmen Square for Promoting Peace in Korea (Video)
November 22, 2010 8:48 pm Last Updated: November 25, 2010 3:04 pm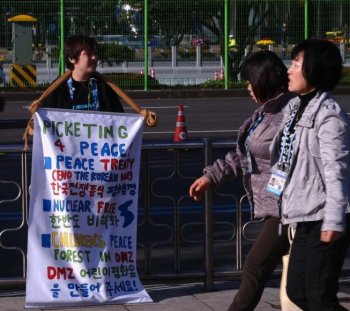 Thirteen-year-old environmentalist Jonathan Lee from Ridgeland, Mississippi, unfolded a banner in Beijing's Tiananmen Square in China on Monday Nov. 22 stating, "End the Korean War: sign a peace treaty," "nuclear free" and "DMZ children's peace forest" in English and Chinese. Within minutes, Lee and his mother, Melissa Lee, were removed by plainclothes police who waved off crowds of journalists and curious onlookers.
Prior to the protest, in an interview with RT TV, a Russian media outlet broadcasting in English, Lee said he hoped his actions would reach out to the Chinese authorities and "touch them so that they will really consider peace in North and South Korea." Previously, the teenager had met with a list of high ranking officials, including President Obama and South Korean President Lee Myung Pak, to discuss environmental issues.
His plea is to build a forest with chestnut trees in the demilitarized zone (DMZ) to be played in by children from both countries. The DMZ is a heavily militarized buffer zone that has cut the peninsula in half since 1953.
"I have to say that no matter how big, how small, what age, it doesn't matter you know, we can all help. So go out and help," he said according to NTDTV.
Lee said he was inspired to raise awareness about peace and environmental issues on the peninsula when he met with Kim Dae Jung, former president of South Korea. Lee also established the GoGreen movement in his Mississippi hometown. GoGreen promotes environmental protection by recycling fastfood packages.
In another earlier interview with RT TV, the teenage environmentalist, who was born in South Korea and raised in the US, said he felt a deep connection with South Korea. "I am from Korea, and I'm passionate about it. All the families have been separated for so long, and they want to see each other."
He said his wish to build the forest on the DMZ is "above politics, above borders, above conflict and about ideology" and "all about giving hope to the children around the world."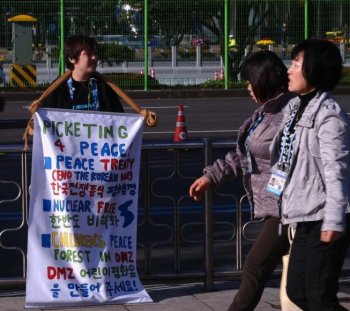 To make his wish come true, he went on an eight-day-trip to North Korea in August 2010 after his family became one of the few Americans to be granted visas to that country. He was not able to meet with Kim Jong Il, the communist leader, but he talked with North Korean children, watched the national gymnastic performances, and he was told by the officials who received him that his wish could not be granted because the US has not signed a peace treaty with North Korea.
Earlier this month, he again traveled to South Korea for the G20 Summit and submitted letters to Korean and US presidents, asking them to sign a peace treaty in support of ending the Korean conflict, but was unable to deliver a letter to Chinese regime leader Hu Jintao. He thus felt his trip to Beijing was necessary, according to the Associated Press, who cited the teenager's Korean American father Kyoung Lee as the source for the statement.
Lee's mother, who accompanied him to the protest in Beijing, has supported her son. "He understands the risks, he's been talked to, and he's ready to go forward, and he's doing something to help this Earth. How can I say no? You know, he's not doing harm to people; he's trying to help, so I will support him in that," said Melissa Lee, according to NTDTV.
"Many people may say that there's no hope and there's too much conflict for this to happen, but I see hope on the Korean peninsula," said the young activist during explanation of his action according to an interview published on his movement's official website.
In the past, Westerners who protested at Tiananmen Square against the Chinese Communist Party were not treated tenderly. Nine years ago, on Nov. 20, 2001, 36 Falun Gong practitioners from Europe, North America and Australia urged the Chinese government to stop the persecution against the spiritual practice. Within minutes, they were dragged into police vans. Some were beaten. After intense questioning, they were deported back to their home countries.
Falun Gong, a practice of mind and body, has five gentle exercises, and the practitioners protested by doing the exercises and unfurled banners before being set upon by security agents. The practice has been brutally persecuted by the Chinese regime since July 20, 1999.
According to CCN, hours after the Lees were detained, they were seen at Beijing airport, taking a flight to Seoul, South Korea. The Chinese authorities said they did not have any information on the protest.