MINNEAPOLIS—Young black men are finding hope and a bright future through the Man Up Club in Minneapolis.
As Korey Dean, the club's founder, worked as a student advocate in a local Twin Cities high school, he discovered that African American boys faced the most challenges. They were disproportionately filling detention halls, disproportionately sent downtown with police escorts after an altercation, and disproportionately failing to graduate.
"We started looking at some of these systemic issues and realized that we needed to step in and … be an advocate on behalf of these young men who really weren't even articulate enough to be able to speak for themselves when they found themselves in tough circumstances that required a lot of maneuvering," Dean told The Epoch Times on May 30, against the backdrop of mass protests and riots following the May 25 death of George Floyd in police custody.
Eighty percent of the boys are from fatherless homes, and many live in situations that require them to operate in "survival mode," Dean said.
Dean, now 46, launched the Man Up Club in 2012 as an after-school program with three goals in mind: "to get our young black males to graduate from high school, to keep them out of the prison pipeline, and then to either go on to college or get a trade after high school."
To that end, Dean hosts a dinner each week for the 60 boys in the program and has built a curriculum around teaching life skills, social skills, academic discipline, and civic responsibility.
The club helps young men set up a bank account, learn how to tie a tie, and give a firm handshake. It provides a suit to those with a job interview, and mentors from the career fields they're interested in.
The club also conducts a trauma healing circle to provide a way for the boys to handle the ordeals that many are forced to face in the inner city.
"They have a high level of fear," Dean said. "So when they see these heinous crimes and murders—whether it's a George Floyd or anyone else—it's happening right there in their community, right there on their block. And the thing is, a lot of people who perpetrate these crimes can be neighbors."
Dean said the "no snitch" policy in a lot of neighborhoods puts young men in a bind, and part of the Man Up mentorship is to show them how to stand up against those situations.
"We also have to teach them conflict resolution. That's a huge component to what we teach as far as interpersonal relationships, and how to respond, and how to de-escalate," he said. "And we just pray to God that what we're teaching them will stick in the heat of the moment, when they're actually faced with some of those quick decisions."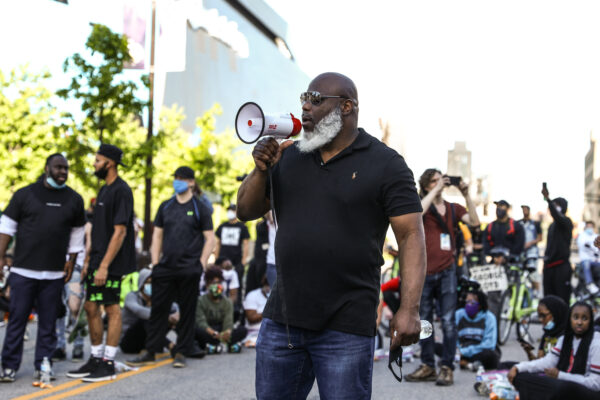 The leaders become father figures, brothers, and confidants to the young men as they navigate the transition into adulthood under challenging conditions. Dean says the level of trust the mentors build allows the boys to accept accountability.
"We actually really get into the lives of these young men to know who they are, know where they live, know who their friends are," Dean said. "We want to know what it is that they want to become, know what their influences are, what their vices are, and just kind of really do life with them."
One young club member said he'd probably be doing something negative with his life if he hadn't joined Man Up.
"Just because of the lifestyle that I live on an everyday basis and what I'm surrounded by, all the obstacles and different things I have to overcome, I honestly don't know what I would be doing," the young man said in a testimonial video on the club's website. "It's opened my eyes and opened a lot of new doors for me and opportunities for me to make a change in my life."
Dean said the club has helped about 400 young men so far, and the success is evident in the many who have gone on to college and then returned to the program to give back as mentors. He's hoping that Man Up chapters will pop up nationwide, and he offers the curriculum for free.
"All of our boys really want to be successful. But, unfortunately, in their current environment, they really don't see a lot of success. But they continue to be resilient, they continue to be strong," he said.
A Man Up member said the club is one of the best things he's ever joined.
"This is something to help get your mind right, help you focus in life, and do better things."