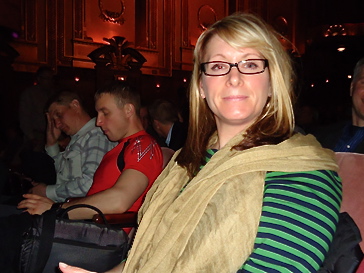 CHICAGO—Tracy Rowland had only one regret Thursday evening—that her family and colleagues had not joined her to watch Shen Yun. "They are missing out; they should have come. I'm just impressed with how amazing it is. It's my first time and I just love it!"
New York-based Shen Yun Performing Arts graced the stage of the Civic Opera House April 19, giving the first of five performances in Chicago as part of its Midwest tour this season.
Ms. Rowland, President of Human Capital Consulting, a Chicago based management consulting firm, had high praise for Shen Yun and exclaimed, "I think it's amazing! It's beautiful. The costumes are brilliant. The orchestra is eloquent. I am quite impressed. It's gorgeous!"
She explained that she was profoundly moved by the performances. "I think that what I love is it evokes emotion out of you. You are touched by watching it. You feel it in your heart and soul. It moves you, and that is an amazing thing to have a performance do for you."
Visibly moved, she elaborated, "Everything! The music with the movement, the costumes, the story. It was a combination of all of the elements that moved me."
In particular, Ms. Rowland said she was touched by the performance, "The Dafa Practitioner's Magical Encounter." In this dance, a young man who displays a banner is assaulted by police; the police meet with divine retribution when fairies intervene.
"I really loved when the fairies came and they saved him. I loved that. I loved that so much! There was something about that, that I just loved—that he was in trouble and they came and they gifted him and he was so grateful and it was a win. I loved it. Wouldn't we all like that? Wouldn't we all be blessed to have that?"
By harmoniously combining a classical Western orchestra with classical Chinese instruments, the Shen Yun orchestras have unveiled a new musical realm appreciated by countless audience members worldwide.
"It's just so lovely! The orchestra is absolutely amazing, the sounds are just so intricate and they are so well blended. I mean, just listening to them now, it warms you," said Ms. Rowland.
She said she was deeply touched by the lyrics of the songs. "The gentleman who did the opera, the baritone, was deeply moving. He was amazing and the pianist is brilliant. It's just lovely."
In parting Ms. Rowland recommended Shen Yun to others. "I would recommend anyone to go see this. I would tell them that they are missing out; they should have come."
Reporting by Ying Wan and Jeanmarie Lunsford.
Shen Yun Performing Arts, based in New York, has three touring companies that perform simultaneously around the world, with a mission to revive traditional Chinese culture. Shen Yun Performing Arts International Company will perform in Chicago through April 22.
For more information visit ShenYunPerformingArts.org