Did Yili Group Provide Tainted Dairy Products to Olympics?
September 24, 2008 1:25 am Last Updated: October 1, 2015 10:48 pm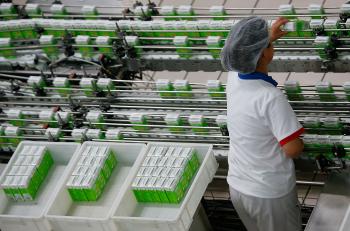 Since news broke of the contaminated Sanlu baby formula, the state-owned China Central Television (CCTV) reported on Sept. 16 a list of 22 manufacturers whose products were found to have melamine. Yili Group, the only manufacturer that provided dairy products to the Olympic Games, was among them.
On the same day, CCTV news contradicted an official statement by the State Administration of Quality Supervision, Inspection and Quarantine (SAQSIQ) that melamine was not found in milk products provided at the Olympic Games or the Paralympics.
This assertion was restated the next day when SAQSIQ director-general Li Jiang told a press conference at the State Council that food provided at both Olympic venues was "absolutely safe."
"We have a special way to manage all the food provided to the Olympics, including dairy products. Food products, including dairy products, were supplied directly from the manufacturers without going through any wholesalers," he said.
Two days later, on Sept. 19, SIQSAQ published its findings from a nationwide test of liquid milk and concluded that melamine was found in products from three major dairy manufacturers: Mengnui, Bright, and Yili.
But Yili Group had already issued a statement only two days earlier saying that the tainted batches of baby formula had been recalled, giving assurance that all dairy products consumed at the Olympics had already been through a national quality inspection and that Yili's dairy products on the market were of exactly the same quality Yili provided at the Olympics, according to its Web site.
Seven days earlier, on Sept. 9, Yili had posted on its Web site: "Olympic Manufacturer Yili Group Swept International Dairy Products Exhibition," stating that more than 30 restaurants in the 2008 Olympic Village had received from Yili 14 types of milk, 6 types of yoghurt, over 30 different cheeses, and 13 kinds of ice cream, totaling a cool 14 million yuan (over US$2 million).
Ten days later, on Sept. 19, Hong Kong Food and Environmental Hygiene Department (FEHD) claimed to have found melamine in eight dairy-product samples from Yili group.
Dr. Chen Hanyi, a food safety expert, at a press conference, warned residents not to use Yili milk products.
Prior to the Olympics, Yili was promoted by Beijing People's Net as "the Olympic milk to drink."
In its July 4 article, the executive president of Yili Group, Zhang Jianqiu, said, "We can guarantee that the milk common people get from the market is the same as we are providing to the athletes. That is to say, common people can also get the milk provided to the Olympic athletes."
Some bloggers say that if the dairy products provided by Yili during the Olympics contained melamine, both Yili Group and the Chinese government have lied. One wrote, "If there was no melamine in the milk provided at the Olympic Games but was only in milk sold to the common people, does it mean Yili Group intentionally committed a crime?"
Read the original article in Chinese here: http://epochtimes.com/gb/8/9/20/n2270007.htm