Yellow Snow Fell on Russia's Far East
February 28, 2006 12:00 am Last Updated: February 28, 2006 12:00 am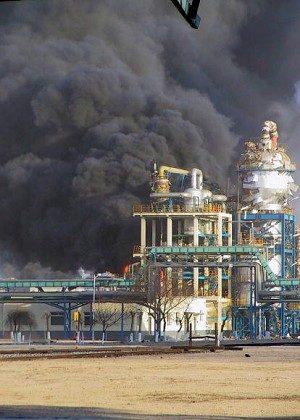 RUSSIA – On Wednesday, February 22, heavy yellow snow suddenly fell on Sakhalin, Russia. Russian media reported that the yellow snow was caused by environmental pollution coming from China.
Sakhalin Island is located in the far eastern region of Russia; some dark yellow snow fell in its northern area on February 23. An official in the district office of Russia's Emergency Situation Ministry revealed the color of the heavy snowfall in northern Sakhalin was very uncommon.
Samples of the yellow snow have been sent for analysis to a nearby city laboratory. An official from Russia's Emergency Situation Ministry stated that the yellow snow emitted an offensive chemical odor, which is probably the result of environmental pollution.
Without adequate evidence, Russian media are reporting the yellow snow in Sakhalin as a result of the environmental pollution coming from China. The Songhua River water pollution incident, caused by a chemical plant explosion in Jilin Province, China that occurred about two months ago is being brought to attention again by Russian media. The toxic water from the Jilin expolsion was carried from the Songhua River into Russia's Amur River.
According to Russian experts, the scale of damage from the toxic Songhua River water will not be known until the ice in the Amur River thaws. A biologist in Russia's Far East region, said, "Humans can purify the polluted drinking water with activated carbon. However, the environmental contamination by the polluted water may have severe and have adverse effects on the biota of the Amur River. The extent of the damage will not be revealed until the river ice thaws."
It was revealed that negotiations with China have been prolonged. Russia is demanding huge compensation for the toxic contamination from the Songhua River. An official of Khabalouvsk City indicated the costs of just cleaning up the drinking water supply would be close to US $5,000,000. Because the cleanup task has yet to be fully completed, the claims process against China is still in process.
Compiled from a Radio Free Asia Broadcast