The "Yellow economic circle" in Hong Kong is part of the social movement which was started three years ago. Along with the massive protests, people started to help each other by shopping wisely, based on the political standpoint of the shops, in order to break the monopoly of mainland Chinese enterprises.
How can the shop owners persist? What do Hongkongers think about the future of the 'Yellow economic circle'?
People worry that the Government will tighten the legislation and the "Yellow economic circle" will be rectified, when the new Chief Executive of Hong Kong John Lee is on board.
William, the owner of "Supreme Hot Pot" restaurant, is pessimistic about the future of the like-minded local shops and believed that the "Yellow economic circle" will be destroyed.
He mentioned that the current political situation of Hong Kong has deteriorated, similar to the situation in Shanghai in the 1950s, after the Chinese Communist Revolution started.
'The fist of (the Government) is nearby," said William. He said that meanwhile he would see how it goes. He believed that due to the economic benefit of Hong Kong, John Lee will compromise politically and will not dare to act "as bad as Carrie Lam" the current Chief Executive of Hong Kong.
William thought that the 'Yellow shops' are based on common political belief. And his restaurant is a place where like-minded guests can chit-chat, express their emotional feelings and avoid any dispute with persons of different political views.
The Impact of Social Movement on Customers
"Supreme Hot Pot" restaurant is located in the vicinity of Mong Kok, where many clashes between the police and the social movement took place in recent years. It is commonly known as "the restaurant of the social movement." It operates from 6 p.m. until midnight.
Many social activists have visited the restaurant, including imprisoned politician Leung Kwok-hung, Youtuber Stephen Siu, fashion designer William Tang and writer Lee Mer.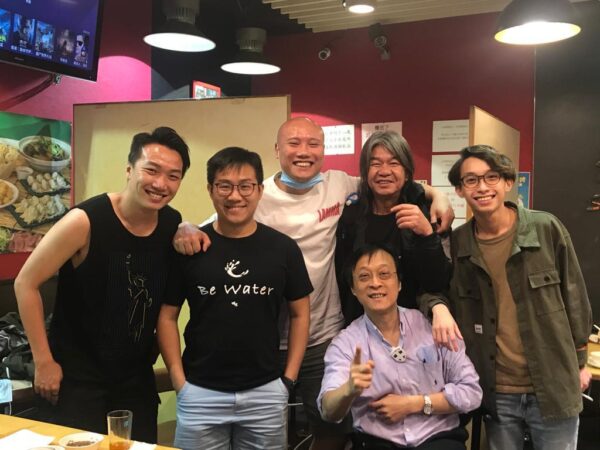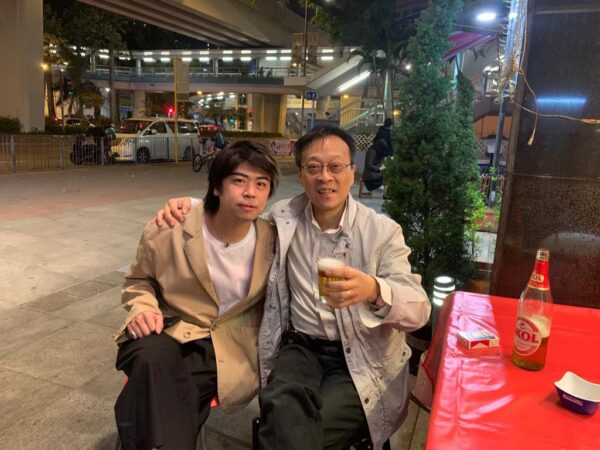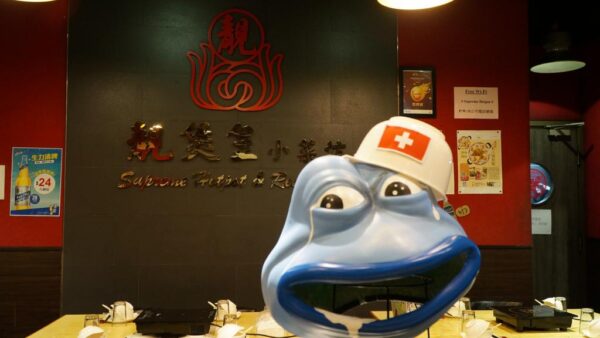 "During the Anti-extradition Bill Movement, we could always smell the tear gas, it was chaotic," he said. He had a strong feeling from the Occupy Central in 2014 to the Anti-extradition Bill Movement three years ago, as he recalled that his customers were hit by pepper spray from the police and it felt very painful.
William thought that Hongkongers were selfish, until the massive demonstration took place on July 1 2003, he then learned that Hongkongers will speak out on big issues.
While he has great interest in current affairs and studied history in university he realized, in order to attract more customers and promote Hong Kong style hot pot, food quality is important.
"I am worried that the positioning of the 'Yellow shop' follows the quality. We should continue to improve our service when we have more resources," he said.
As many of his regular customers have left Hong Kong due to the upholding of the National Security Law, he hopes that he can keep this "gathering place," so that the people who experienced the freedom of expression during the first decade of the handover of Hong Kong to mainland China, can come here to recall their sense of nostalgia and enjoy hot pot and wine.
William also mentioned that although the sales dropped by 90 percent during the period of unrest, fortunately people organized "Yellow economic circle," encouraging like-minded people to consume at the shops or restaurants which supported the movement. It helped his business to recover.
But he said that one cannot be selfish and only pay attention to short term profit.
He added that even with last month's easing of the social distancing rules and the extended time allowed for dining-at restaurants, it is still not sustainable.
Facebook Group Promotes Local Like-Minded Shops
Although the local like-minded shop owners persist, they need a lot of promotion in order to get sustainable support.
"You Eat in Yuen Long. But I am in a Food Stall" is a Facebook group in Hong Kong where the members post reviews and photos of the 'Yellow shops' from the districts of Tuen Mun, Yuen Long and Tin Shui Wai, aimed at helping more like-minded people to understand what is on offer.
Mrs. Diu, one of the supporters of local like-minded shops, helped in setting up of the Facebook group.
She said that she is an ordinary person and after the 2019 Yuen Long attack, also known as the 721 incident, she was scared that more mob attacks would happen, therefore she set up a community self-help Facebook group with other netizens.
"We wanted to help each other and report what had happened in our neighbourhood. We are alert," she said.
Between 20,000 to 30,000 members joined the group in a short period of time.
One of the neighbours in the group, who owned a community restaurant review Facebook group, invited her to manage the group and focus on "Yellow restaurants" in order to help like-minded people.
She refused because she was busy with the community self-help group. But she agreed to promote this restaurant review group in her Facebook group.
'You Eat in Yuen Long. But I am in a Food Stall' was elected as the name of the community restaurant review Facebook group.
Like-minded Shops Should Hold Their Belief

Being a customer who supports local like-minded shops, Mrs.Diu thought that the real "Yellow shops" are the same as other shops. They pay attention to quality of service and adhere to the right belief. They should not only position themselves as "Yellow shops."
She mentioned that she had owned a cafe in the district but she never promoted her shop in the group. Even though she was not promoting shops under her name, she would not promote shops with bad practice. Previously, she had promoted a cafe which positioned itself as "Yellow shop," but in fact, the food was bad and she waited an hour for the dishes to be ready.
Many people think that the ''Yellow shops'' have privilege, when the shop owners urgently ask for support, many people will come and visit your shop. Yet many shop owners were not doing their business properly, she observed, but many shop owners still struggle,even when they maintain good quality of services.
Mr. Diu is not pessimistic but at the same time not totally optimistic about the future of the local like-minded shops.
When asked, "Will the room for 'Yellow shops' diminish once John Lee is on board?"
She laughed and replied that not only might those shops diminish, but maybe Hong Kong as a whole may be affected.
She was only able to "wish everyone good luck" and hoped that everyone should not forget why they started.