Over 1,000 People Support Yang Jia Appeal Case
October 16, 2008 4:22 am Last Updated: October 1, 2015 10:45 pm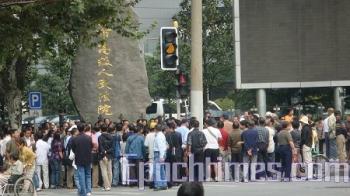 Over 1,000 people gathered in front of Shanghai High Court to support Yang Jia on Oct. 13. Many policemen and plainclothes policemen were present. At about 9:00 a.m., the police arrested about 40 petitioners and people surrounding there.
According to petitioners, Yang's lawyer proposed in court that Yang was mentally unstable and requested for a forensic psychiatric assessment but this rejected by the judge.
A petitioner, Ms Zeng (an alias) told the Epoch Times that she went to the high court to be an observer and to support Yang Jia, as she put it, "I have appealed for many years and all the police know me. In addition, I wore a T-shirt printed with an image of Yang Jia. So I was arrested shortly after I went there."
Ms Zeng said that many petitioners shouted slogans like, "Overthrow the Fascist government! Overthrow the Chinese Communist Party!" They also said things like, "Yang Jia is a hero!" and so on. The policemen recorded them with a video recorder and then arrested them all. She added, "Several Shanghai citizens were beaten."
Some of the people arrested were taken to a relief station located on Fucun Road in Shanghai. "Nearly 40 people were detained there," said Zeng. "They were detained from about 10:00 a.m. to nearly 8:00 p.m."
Ms Zeng said that the oldest petitioner arrested was in her seventies, and the youngest was a college student around 20 years old. More than 10 policemen and over 10 security guards guarded them in turn.
[caption id="attachment_75071″ align="alignleft" width="320″ caption="Petitioners wear T-shirts to support Yang Jia, which wrote,