Xinjiang Bombing Toll is Eleven
August 14, 2008 5:43 am Last Updated: October 1, 2015 10:55 pm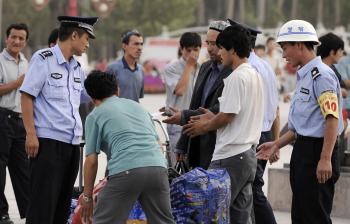 According to Communist Party mouthpiece, Xinhua, the death toll from the recent bombing on August 10 in Kuqa County of Xinjiang Province has risen to 11, including 10 assailants and one security guard.
Xinhua quoted the Department of Public Security of Xinjiang Uyghur Autonomous Region as saying that terrorists had set off a string of explosions in supermarkets, hotels and government buildings in Kuqa County.
Communist authorities said that the terrorists had used water pipes, gas cylinders and liquid gas containers to make bombs, and that the biggest explosion took place at 2:30 a.m. on August 10. The assailants had attacked the local public security bureau on a tricycle filled with explosives.
One security guard was killed on the spot. Two police officers and two civilians were injured.
The police shot and killed one attacker. A second attacker had detonated a bomb killing himself.
Six hours later, a fight broke out in a supermarket near the same public security bureau. The police found five attackers hiding under a market booth.
According to Xinhua, the assailants attempted to throw explosives at the police. Two were shot to death by the police, while another three detonated hand-held bombs killing themselves.
So far no organization has claimed responsibility for the bombings.
Dilixadi Rexidi, spokesperson for World Uygur Congress in Sweden, believes that the Chinese government's repressive measures in Xinjiang have intensified the unrest.