China's homegrown tech giants could encounter major obstacles when listing abroad, as the communist regime has stepped up efforts to control them, says a China expert.
Li Hengqing, a scholar at the Washington Institute for Information and Strategy, said the regime's proposed scrutiny of all offshore listings was aimed at stopping companies' data, and more importantly, money from flowing abroad.
On July 10, China's cybersecurity regulator announced it would review plans by homegrown companies before they seek initial public offerings (IPO) in foreign countries, if they have the data of over 1 million users.
According to the draft of the new rule, Cybersecurity Review Measures, the Cyberspace Administration of China (CAC) said policing overseas listings was to prevent companies' data from being "affected, controlled, or malicious exploitation" by foreign governments.
This move follows new guidelines unveiled by China's State Council on July 6. The rule instructed watchdogs to improve cross-border cooperation over audits, and sharpen supervision "on data security, cross-border data flow, and other confidential information management."
CAC began a closer scrutiny of ride-hailing giant Didi Chuxing on July 2, two days after the firm's debut in New York. It then told China's online stores to take down the app on July 4.
The watchdog claimed that Didi illegally collected users' data, and the removal was to "prevent national data security risks and maintain national security."
On July 5, two more recently U.S.-listed companies, logistics group Full Truck Alliance and recruitment platform Kanzhun, appeared on CAC's broadened investigation list.
Companies are obliged to share information with an internet regulator as part of the listing process, which may bewilder global investors. Li explained that information that allegedly jeopardizes national security might be related to the Chinese regime's obscured actions.
Didi's route recommendation service is based on tracking users' traffic patterns. "When data accumulates, they would know when a national department work[s] late [at] night. Then the analysis of data may expose some things," Li told The Epoch Times on June 9.
As an example, he said that officers of the national security department, or public security department, may book a car late at night when they are busy with "stability maintenance," an often-used Chinese term for the authorities' efforts to censor public opinion and suppress dissent.
"It [the company] would know when officers of a department book the service to go to work, back home, or work extra time. This is what they called 'national security,'" Li said.
The U.S. regulators require a review of audit records of Chinese companies listed in its exchanges; but Beijing has forbidden such reviews on national security grounds.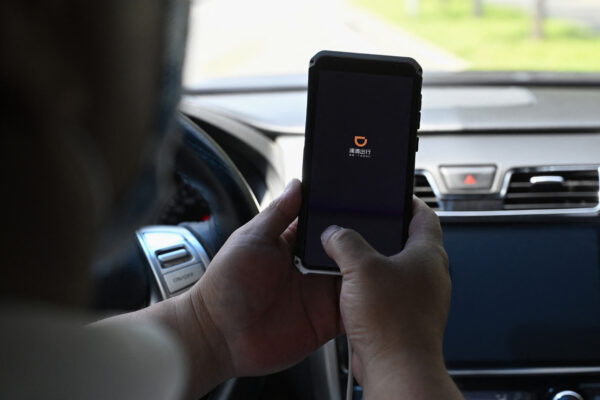 Targeting Tech Sector
But tasking the Internet regulator CAC to give permission to offshore listings suggests that the Chinese regime is targeting its homegrown internet sectors, which are dominated by big, rich companies like Didi Chuxing and Alibaba, defected former Chinese diplomat Chen Yonglin said.
CAC, also known as the Central Cyberspace Affairs Commission, bolstered its stature under Chinese leader Xi Jinping in 2014. The Internet watchdog, with the power of online censorship, has started to play a prominent role in the recent clampdowns.
Chen told The Epoch Times on June 9 that companies listing in overseas stock markets, including the United States, are the primary channel for capital flowing out of China, especially from those private companies, even though Chinese companies absorb money from foreigners.
Seeing money flowing to other countries is rather a "sore point" with Xi, said Chen. "He would intervene heavily" when that happens.
"A large company itself often worries Xi Jinping," said Chen. "When a company grows, like Alibaba, Ant Group, it poses a threat, or potential threat to him. So the regulation will be stricter."
"It is a signal that companies, especially big tech companies, are impossible to list in the foreign stock market," Chen said.
Frank Tian Xie, a business professor at the University of South Carolina Aiken, told The Epoch Times that the Chinese regime tightens its control in the economic sector of data, personnel, money, and also the whole society.
Worries
Li said the adverse impact on Chinese stock might concern Xi.
Didi faces lawsuits by the U.S. shareholders as its market values fell by over 20 percent on the first trading day after the regulator's action, an estimated $11 billion in market value vanished.
Li suggested the outcome would be costly for the Chinese economy as global investors would recoil from Chinese stock. They may heed a lesson from the losses in Didi's case.
Then the lowered confidence may affect foreign investment in China. Xi would worry about this, Li said.
Luo Ya and Rita Li contributed to this report.