Chinese Communist Party (CCP) leader Xi Jinping returned to Beijing late at night on Sept. 16 after a three-day trip to Central Asia. During his attendance at the Shanghai Cooperation Organization (SCO) summit in Uzbekistan, Xi held one-on-one meetings on the sidelines with leaders from ten countries. However, he had no such meeting with Indian Prime Minister Narendra Modi.
China's Xinhua News Agency said in a press release that Xi returned to Beijing immediately after the summit ended in Samarkand on the afternoon of Sept. 16.
During the summit, Xi held one-on-one meetings with the leaders of Russia, Kyrgyzstan, Turkmenistan, Tajikistan, Iran, Belarus, Pakistan, Mongolia, Turkey, and Azerbaijan. It had been expected that Xi would also meet with Modi to discuss the Sino-Indian border dispute and other issues. However, according to the Xinhua News Agency's press release, that did not happen.
Outsiders noticed that neither Modi nor Xi attended a pre-summit event on Sept. 15, which included a dinner and group photo. Indian media explained that Modi was one of the last leaders to arrive in Samarkand, and therefore could not participate in the pre-summit event.
Not on Talking Terms
U.S.-based Chinese current affairs commentator Chen Baokong believes that Modi must have intentionally avoided meeting with Xi.
Chen said in his Sept. 18 Youtube program that leaders of the two countries have stopped visiting each other or talking on the phone since the India-China border war began and that Modi has refused to meet with Xi on any international occasion.
"Now the United States, Japan, India, and Australia have formed a quadrilateral alliance against the CCP. Under such circumstances, even though the Shanghai Cooperation Organization has an Indian presence, and Russia and India are old friends, Modi obviously did not want to make an appearance with Xi Jinping in the same venue," he said.
Before the SCO summit, both India and China said the two countries had begun to disengage from the Gogra-Hotsprings border area in the western Himalayas.
Both sides have stationed tens of thousands of troops in the border area and deployed a large amount of weaponry, including aircraft and artillery.
In a statement released on Sept. 8, the Indian Defense Ministry stated that the Indian and Chinese troops in the area "have begun to disengage in a coordinated and planned way, which is conducive to the peace and tranquility in the border areas."
At a Sept. 9 regular press conference, Chinese Foreign Ministry spokeswoman Mao Ning also claimed that the first-line troops of both sides started to disengage on Sept. 8 in the Ghanan Darshan area in accordance with a consensus reached at the 16th round of Sino-Indian talks at the military chief level.
In June 2020, clashes between Indian and Chinese forces broke out in the Galwan Valley of Ladakh. It was the most violent and bloody incident between the two nations in 45 years, resulting in the death of at least 20 Indian soldiers and at least four Chinese soldiers.
Modi Meets Putin
During the summit, Modi met with Russian President Vladimir Putin where the Indian leader indirectly touched on Russia's invasion of  Ukraine.
"I know that today's era is not of war and we have talked to you many times over the phone on the subject that democracy and diplomacy and dialogue are all these things that touch the world," he said. "We will definitely get a chance to discuss how we can move onto the path of peace in the coming days, I will also get an opportunity to understand your point of view."
Putin replied: "I know about your position on the conflict in Ukraine and I know about your concerns. We want all of this to end as soon as possible."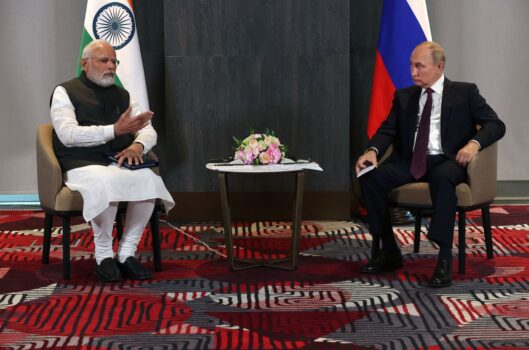 Commentator Chen said that Russia had previously touted that despite sanctions from the United States, Britain, and Europe, the world's two countries with the largest populations, China and India, seemed to be supporting it.
"In fact, it is Xi Jinping and the CCP that supported Russia. India just remained silent," Chen said. "India has a traditional alliance with Russia. India does not want to offend Russia as its priority is to deal with the CCP," he said.
"India had never said that it supports or opposes Russia's war. It's just that India has not joined the West in imposing economic sanctions. India is Russia's second-largest oil importer after China, so Putin feels as if India is his backer.
"But India is after all a democratic country, so Modi told Putin face-to-face that this is not a time for war. That is to say, Putin was wrong to start a war."
Awkward China-Russia Relations
The SCO summit was Xi's first trip abroad since the start of the COVID pandemic nearly three years ago. The meeting between Xi and Putin on Sept. 15, comes as both countries are mired in a diplomatic crisis.
According to Zhang Tianliang, a China expert and U.S.-based commentator, the SCO summit was an effort by China and Russia to form an alliance against free societies, but as things now stand, it did not achieve that—instead, it created many rifts between China and Russia.
When meeting with Xi, Putin said, "We highly appreciate the well-balanced position of our Chinese friends in connection with the Ukrainian crisis."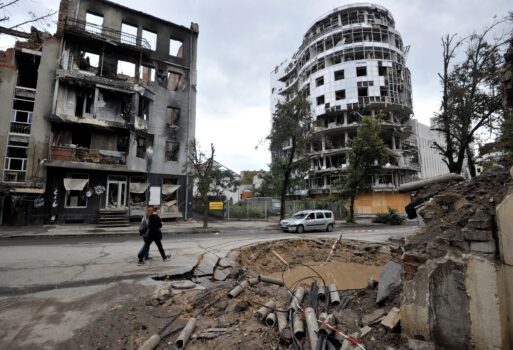 But Zhang said in his YouTube program on Sept. 17 that it is obvious that the CCP has doubts and worries about Putin's Russia-Ukraine war.
"In fact, the CCP is very worried that Russia might lose the war," Zhang said. "If Russia is defeated, Putin may not be able to control the domestic situation, and Russia may even fall to the West after Putin's downfall, and stand with the West against the CCP, leaving it with nearly no allies in the international arena."
As a result, "China and Russia have to keep a distance from one another at a time when they desperately need each other's support," he added.
He believes that most SCO member states do not support Putin's invasion of Ukraine.
"If Putin can invade and take over Ukraine, can he also invade and occupy those countries in Central Asia? Therefore, Putin could not get the SCO as a whole to support his war in Ukraine. In fact, Putin's attendance at this meeting was a complete failure," he said.