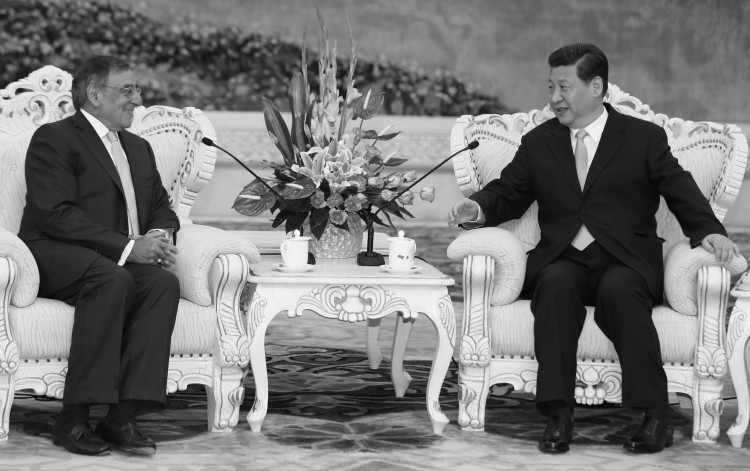 The communist apparatchik who will become paramount leader of China this fall, Xi Jinping, on Sept. 19 met with U.S. Secretary of Defense Leon Panetta in Beijing, who said Xi was "very healthy." The meeting was Xi's first significant official engagement after a two-week-long disappearance from the public spotlight.
Panetta told BBC that the meeting ran to 90 minutes, half an hour longer than planned. 
Chinese state news agency Xinhua carried a terse 250-word notice on the meeting after it ended. CCTV, the state-run television broadcaster, carried shots of Xi shaking Panetta's hand. Neither source mentioned Xi's absence—which has not been officially explained—or mentioned any health issues.
According to Tung Chee Hwa, vice president of National Committee of the Chinese People's Political Consultative Conference, a consultative body for the communist regime, Xi was said to have "hurt himself in sport." 
Tung added that "he's now recovered and he's now back at work," in an interview with CNN on Sept. 18.  
Speculation abounded over why Xi disappeared from public view; abruptly cancelling meetings with foreign leaders, including Secretary of State Hillary Clinton scheduled for Sept. 5. While Foreign Ministry spokespeople attempted to pretend that nothing was amiss, foreign and overseas Chinese media carried regular speculation of health issues—a stroke, a heart attack, a back problem—or that perhaps he was lying low amidst another political joust before the 18th Party Congress scheduled to take place this fall.
In another interview, Tung Chee Hwa, who before his current role was the first Chief Executive of Hong Kong, told BBC Chinese that current Chinese regime leader Hu Jintao will continue to be chairman of the Central Military Commission (CMC) for some time after Xi'a ascension to power. 
Tung is the first high-level Party official to claim on the record that Hu would stay on as CMC chair after ceding power. The CMC is the Communist Party-led organ that controls the military. Deng Xiaoping and Jiang Zemin, former leaders of the regime, stayed on the CMC for some time after relinquishing their posts as head of the Party.
Tung said the 18th Party Congress will be held in October. 
Deutsche Presse-Agentur, a German news agency, said according to its sources that the Congress will take place on Oct. 18 and 19 in Beijing, where the top leadership of the CCP will be replaced. Backroom struggle and politicking about winners and losers in the changeover has been intense this year during the Bo Xilai political scandal that engulfed the Party. 
Also, photos appeared on Chinese military websites of a new stealth bomber, the J-21, in time for Panetta's visit. Similarly in January 2011, when Defense Secretary Robert Gates visited China, the Chinese military tested its then-new stealth bomber, the J-20. The uncanny timing of the test led some analysts to believe the Communist Party was thumbing its nose at the United States.
Read the original Chinese article.
The Epoch Times publishes in 35 countries and in 19 languages. Subscribe to our e-newsletter.
Click www.ept.ms/ccp-crisis to read about the most recent developments in the ongoing crisis within the Chinese communist regime. In this special topic, we provide readers with the necessary context to understand the situation. Get the RSS feed. Who are the Major Players?