Xi Jinping Gets the Message From Protesters in Canberra
June 22, 2010 8:28 am Last Updated: October 1, 2015 7:48 pm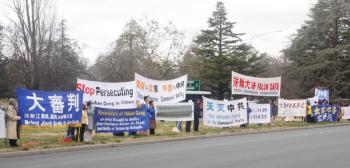 CANBERRA, Australia—While Vice-President of communist China Xi Jinping was holed-up in the Hyatt Hotel last Sunday night, hundreds stood outside in Canberra's cold, holding banners and singing. A favourite ballad of the protesters, "Falun Dafa is Good", said everything about why they had come.
Mr. Xi's reputation preceded him on his recent global tour, at least to the international Falun Gong community. Many of them, born in China, now find themselves outside the country because they were persecuted inside it by the political clique that Mr. Xi sits near the top of.
Mr. Xi was installed to the Politburo Standing Committee by former Party chief Jiang Zemin. The Politburo, which currently has nine members, is the de facto ruling body of the Chinese Communist Party. It was Jiang who engineered the persecution and propaganda campaign against the Falun Gong spiritual practice in 1999. The extraordinarily brutal measures routinely taken against Falun Gong have not been seen in a political movement in China since the Cultural Revolution.
Because of the inherently nepotistic modus operandi of Chinese politics—Mr. Xi is in the Politburo on Jiang's grace, and is likely to be the communist party's next supreme leader—it follows that Mr. Xi will carry on Jiang's legacy of persecution. This makes his visit doubly significant for Falun Gong practitioners around Australia. They came from as far afield as Melbourne, Brisbane and Sydney to greet him.
Lucy Zhao, head of the New South Wales Falun Dafa Association, explained why the practitioners had come: "We wanted to take the occasion of Xi Jinping's visit to highlight the persecution of Falun Gong, to tell him to stop persecuting Falun Gong practitioners, and to say that Falun Dafa is good," she told The Epoch Times. (Falun Dafa is another name for Falun Gong)
Ms. Zhao had days earlier penned a letter to Prime Minister Kevin Rudd, relaying three similar "respectful requests." The first was that Mr. Rudd "specifically ask [Mr. Xi] to stop persecuting Falun Gong."
Falun Gong's greetings to Mr. Xi began on his arrival at Canberra airport on Sunday afternoon, continued at the back, front, and sides of his hotel late into the night, and began again at 7am. The group then moved to the grounds of Parliament House to continue the classic Falun Gong protest ritual of slow exercise, meditation, banner-holding, and singing.
Xi Jinping's Communist Party associates in Canberra had also been busy: they had bussed in a claque of student supporters to cheer for Mr. Xi, and perhaps attempt to countervail the Falun Gong representation.
Zhang Cuiying, an artist of traditional Chinese painting, spoke as she was tying up her protest banner: "So many Falun Gong practitioners from around Australia have come here because the persecution is still going on in China. Right now is also a crucial time for the court case against Jiang Zemin, which has encountered interference from the Australian government, because they have intervened on Jiang's behalf, seeking to grant him immunity from prosecution for crimes of genocide."
She was concerned that Xi Jinping may have used the opportunity in speaking to Mr. Rudd to reiterate that Australia act on the PRC's behalf in those legal proceedings.
Meanwhile, police shadowed the protesters over the Sunday night and again on Monday morning. Unlike previous years, however, they did not park a large Random Breath Test bus in front of the protesters to block them, nor use their police cars for the same purpose. They also prevented the Chinese delegation from using hired coaches to block the protesters. Outside the Chinese Embassy the police, did, however, erect an orange cordon. The Falun Gong practitioners hung their banners on it.