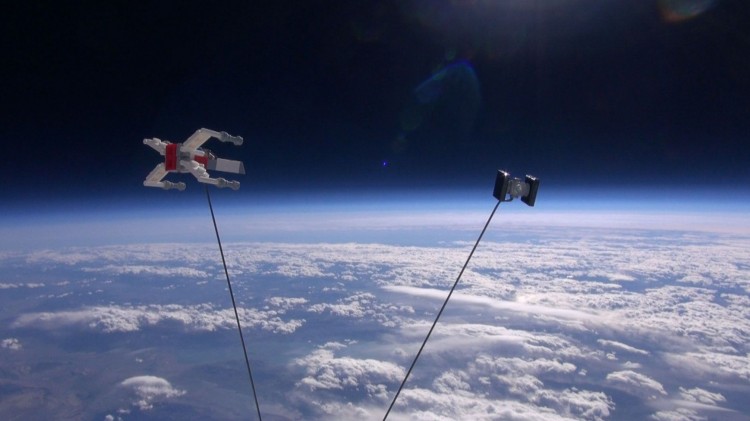 Toy models of an X-Wing and a Tie Fighter, ships from the Star Wars series, were sent to the edge of space by researchers at JP Aerospace, celebrating the 35th anniversary of the films.
"Star Wars helped inspire a lot of us to study space" say John Marchel Powell, founder of JP Aerospace, in a press release. "We want the help kids do something with that inspiration."
JP Aerospace is an independent space program staffed by volunteers. They regularly send ping pong ball "satellites," also called PongSats, to the edge of space—high in the atmosphere but not quite in outer space—by balloon or with sounding rockets. The idea behind a PongSat is to let students conduct experiments in space by allowing them to send anything they'd like on the ride—as long as it can fit inside a ping pong ball.
Experiments have ranged from seeing if the ping pong ball bounces differently after being exposed to the vacuum of space, to how seeds react after being exposed to cosmic rays. JP Aerospace offers the service to students for free, and so far they've built more than 6,440 PongStats, flying more than 20,000 ping pong balls on behalf of students, according to a press release.
The X-Wing and Tie Fighter went along with one of the latest experiments, flying 97,704 feet into the air. The small ships, built from LEGOs, were suspended by wires and made to chase one another using a servo.
They were joined by ping pong ball experiments from schoolchildren around the world—including Japan, New Zealand, and the United States.
The experiment was launched from the Black Rock Desert, Nevada, and landed 40 miles from the launch site after descending by parachute.