Being a World War II veteran, 95-year-old Allen Cameron says he often drops by 15 Wing in Moose Jaw, Sask., the home of Canada's beloved Snowbirds and the centre of Royal Canadian Air Force aircrew training.
"I get called to the base here quite often," Cameron said in an interview. "The pilots out there, they're interested in how things went during the war. It's more curiosity than anything else."
As a young man from Saskatoon, Cameron joined the RCAF at age 17 and began training in Moose Jaw, where he still lives. Colour blindness kept him from the pilot's chair, so he became an airframe mechanic. In 1944, he volunteered to go overseas.
"I wanted to get over and see my brother the fighter pilot. I got to England on the 24th of June and my brother was shot down and killed on the 30th, so I never got to see him."
Cameron lost many pilot friends over the next 12 months.
"We had Halifaxes and Lancasters, both four-engine heavy bombers. We would send out about 25, 30 at night, and they'd go over across the continent. … We'd get back 10 or 12," he said. "So you're looking at a death count every night of anywhere up to 100, 110 [aircrew]."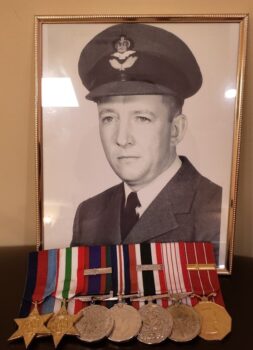 Cameron found the British spirit inspiring. "The British people were never downhearted. They never panicked or anything. They just said, 'OK, that's the stuff, let's get on with it and get it done.'"
Later, Cameron went with the 417 squadron, equipped with the Spitfire aircraft, to Fano on Italy's east coast.
"Our Spitfires would take off and strafe ahead of our infantry," he said. "And we used to put … two 250-pound bombs on the Spitfires, and they'd take off and drop them and come back. So it was war. It wasn't fun. It wasn't amusing. It was rough at times."
He said he had a few close calls, one being when he almost got killed by friendly fire on an airstrip patrol. "We had Sten guns, which are a small machine gun, and we were walking along and Mel is practising, taking his gun and [saying] '1-2-3—hup!' and he's ready to shoot. Well he dropped the bloody thing butt first and pow, a stream of bullets went between us."
Having served in England, Italy, the Netherlands, France, and Germany, the 19-year-old Cameron was back in London for VE (Victory in Europe) Day on May 4, 1945.
"When the war was over, we were really happy, but we were more relieved than we were interested in getting drunk," he said.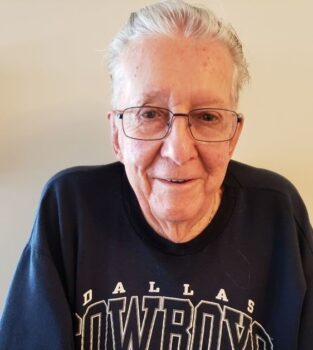 After sailing back to Halifax in 1946, Cameron took the train west and got married soon after arriving home. He became a flight lieutenant and served 26 years in the air force before taking a government job in 1969. His wife died in 2016 after 69 years of marriage.
He learned in 1960 that his brother, Scotty, was buried in Le Plessis-Robinson, France, after his plane was shot down. After the war he was moved to one of the military cemeteries in Normandy. Cameron visited the grave in 1962.
"The allied cemeteries over there are just beautiful," he says.
More than 45,000 Canadian soldiers, sailors, and airmen died in World War II, and roughly 33,000 remain alive to remember.
"There's so few of us left that it's becoming more sentimental all the time, because I'm realizing just how many of all of them—my brother and how many friends [died]. … I was there when they died, and it's a lot tougher to not get sentimental about it now," Cameron said.
He noted, however, that he's had "a wonderful life."
"I got the crap scared out of me a couple of times a little bit. I lost my hearing and I kind of got an injury or two. But all in all I've had a wonderful life."