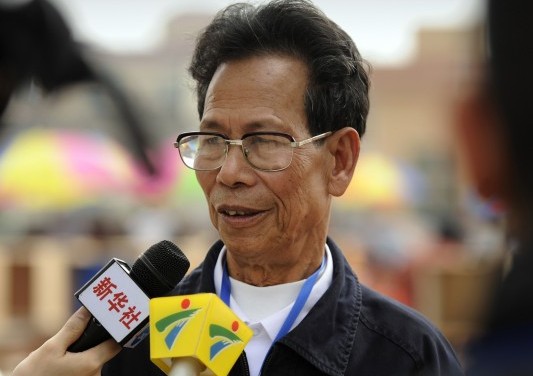 The citizens of Wukan got their election on March 3, bringing to office several of the local leaders that steered protests against authorities last year and brought international attention to the small fishing village in China's south.
Of the seven seats on the villagers committee up for election, Lin Zulian, who led the protests, was elected head, while Yang Semao, also an early protest leader, was elected deputy.
Three of the four original village representatives, elected last year by villagers themselves, before being deemed "illegal" by local Party authorities, were re-elected: Hong Ruichao, Zhang Jiancheng, and Zhuang Liehong. The fourth representative, Xue Jinbo, was killed in police custody last year—no official explanation of his death has been forthcoming, and authorities will not release his body.
According to the Guangdong Political and Legal Committee, of the 8,363 eligible voters in Wukan, 6,812 valid ballots were cast. Li Zulian received 6,205 votes, and Yang received 3,609.
Some Chinese observers of the apparently fair election were still unimpressed. On Sina Weibo, a Chinese Twitter-like service, one use wrote: "Political and Legal Committee, who are you trying to fool? Last December, what were you doing in Wukan?"
This was probably in reference to the intense conflicts that took place last year, including the kidnapping of four village representatives (leading to the death of one of them, Xue Jinbo), and the regular attempts by security forces to shut down the Wukan protests.
Another remarked: "Officials are two faced. If they can succeed in suppression, then they'll beat, smash, and loot; if they can't succeed, then they go along with the villagers."
Both the comments were later inaccessible on Sina Weibo, possibly having been deleted by the Party's Internet censors.
Wukan drew international attention last year after villagers ejected local Communist Party officials after attempts to secretly sell villagers' land. They elected their own villagers committee to run village affairs for themselves.
A special team of apparatchiks from Guangdong Province, where Wukan is located, and Party central in Beijing were sent to mediate the dispute; eventually Party authorities reneged on promises they made to recognize the villagers' own committee as legitimate. They dissolved it, eventually precipitating the current election.
Village leaders Lin Zulian and Yang Semao say their priority will be to retrieve the land secretly sold by the last village chief. They say they will protest again unless it is returned.
In the long run it is unclear the extent to which the committee recently elected by villagers will have control of the operations of their village.
In an interview with The Epoch Times last month, Cheng Xiaonong, a former adviser to ousted Premier Zhao Ziyang and commentator on contemporary Chinese politics, noted that above every villagers committee there is a more powerful and secretive Party Committee. The members of this committee are not up for election, and their powers supersede those of the villagers committee that was democratically elected.