High-profile attorney Mark Geragos—who has represented the likes of Colin Kaepernick, Jussie Smollett, and the late singer Michael Jackson—was named as a co-conspirator to attorney Michael Avenatti after he was arrested in Manhattan for allegedly trying to extort millions from Nike, according to the Wall Street Journal.
"The co-conspirator in that matter is attorney Mark Geragos, two people familiar with the matter said. Mr. Geragos couldn't immediately be reached for comment," the WSJ reported on March 25.
Avenatti, and Geragos, who also works as a CNN legal analyst, both "met with lawyers for Nike in New York on March 19 and threatened to release damaging information unless the company agreed to pay the two lawyers millions of dollars and another $1.5 million to the client Avenatti claimed to represent," the report said.
It's not clear if Geragos was charged in the case.
Just received this from a CNN spokeswoman on Mark Geragos, who is Michael Avenatti's alleged co-conspirator:

"Mark Geragos is no longer CNN contributor."

— Justin Baragona (@justinbaragona) March 25, 2019
Journalist Justin Baragona, a Daily Beast contributor, said that CNN spokesperson told him: "Mark Geragos is no longer [a] CNN contributor."
Avenatti notably represented adult film actress Stormy Daniels and is a frequent critic of President Donald Trump.
Prosecutors allege that Avenatti attempted to extort Nike "by threatening to use his ability to garner publicity to inflict substantial financial and reputational harm on the company if his demands were not met," according to the U.S. Department of Justice (DOJ)
"As alleged, Michael Avenatti approached Nike last week with a list of financial demands in exchange for covering up allegations of misconduct on behalf of the company," FBI Assistant Director in Charge William Sweeney Jr. stated in the DOJ news release.
Geragos, who also represented beleaguered singer Chris Brown, wasn't named in the news release, and only the WSJ and the Associated Press had information about him being a co-conspirator.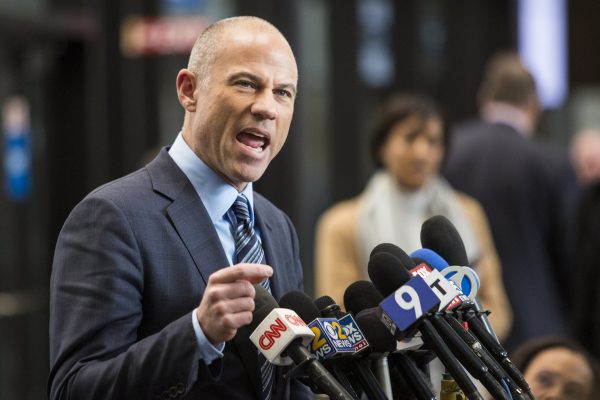 "The lofty price tag included a $1.5 million payoff for Avenatti's client and upwards of tens of millions of dollars for the legal services of his firm—services Nike never requested. This is nothing more than a straightforward case of extortion," said Sweeney.
Manhattan U.S. Attorney Geoffrey S. Berman also said that Avenatti used "illegal and extortionate threats" for the purpose of obtaining millions in payments from Nike.
"Calling this anticipated payout a retainer or a settlement doesn't change what it was—a shakedown. When lawyers use their law licenses as weapons, as a guise to extort payments for themselves, they are no longer acting as attorneys. They are acting as criminals, and they will held responsible for their conduct," he said.
According to a March 20 call, Avenatti and his co-conspirator went to Nike, where he allegedly told him he will "go take ten billion dollars off your client's market cap … I'm not [expletive] around."
Attorney Michael Avenatti has been charged with extortion and other counts over alleged threats to Nike.
Avenatti also threatened to hold a news conference on eve of Nike's quarterly earnings call and around the start of the NCAA basketball tournament to make the announcement.
Earlier Monday, Avenatti tweeted that he would be holding a press conference to "disclose a major high school/college basketball scandal perpetrated by @Nike that we have uncovered. This criminal conduct reaches the highest levels of Nike and involves some of the biggest names in college basketball."
Daniels, whose real name is Stephanie Clifford, released a statement about the matter. She recently cut ties with him.
THIS IS AMAZING:

WSJ reports Michael Avenatti's co-conspirator is Mark Geragos, who is currently a CNN Legal Analyst and was also involved in the Jussie Smollett case.

This day just cannot get any better. pic.twitter.com/AlLKZBN43R

— Caleb Hull (@CalebJHull) March 25, 2019
"Knowing what I know now about Michael Avenatti, I am saddened but not shocked by news reports that he has been criminally charged today," she said. "I made the decision more than a month ago to terminate Michael's services after discovering that he had dealt with me extremely dishonestly and there will be more announcements to come."