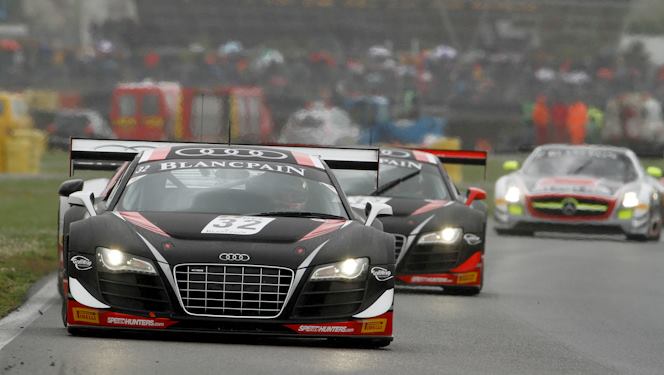 Belgium's Team WRT won both races at the restructured GT1 World Championship's first 2012 event at Nogaro, France, netting Audi its first wins with the R8 LMS Ultra in a world championship series.
Team WRT drivers Stéphane Ortelli and Laurens Vanthoor won both Sunday's qualifying race and Monday's championship race in their No. 32 Audi R8 LMS Ultra.
20-year-old Laurens Vanthoor, formerly a Volkswagen Cup and F3 driver, showed he was totally at home in the GT1 Audi; he was faster than Audi factory driver Olivier Jarvis in Sunday's race. Not bad for a youngster, considering that there were Vanthoor's first two GT races and Jarvis will be driving Audi's LMP1 R18 Ultra in the WEC and at Le Mans.
WRT's second car, the No. 34 driven by Oliver Jarvis and Frank Stippler, finished second both days
"I never expected, even in my best dreams, that we would achieve this result at the first race. I am still quite speechless," Vanthoor told the gt1world.com reporter after the championship race. "I think it is because we did a great job, we worked hard together, and we did a lot of testing.
"Audi have put a lot of effort into it, as well as Belgian Audi Club WRT, and then the co-operation with Stéphane [Ortelli], everything is going the perfect way at the moment. I am really happy—this is one of the most beautiful victories I have had, so I hope we can continue in this direction."
"For Sure it is great to win, but Frank [Stippler] and Oliver [Jarvis] did a great job as well," said Ortelli. All the week we have been testing, sharing the information, we are looking strong because we know how to share the job.
"We have really experienced drivers, I really like the team, and for the rest of the season I think it is looking very good, it is very special."
WRT and Audi have a firm grip on the points heading into the series' second round at Zolder on April 21–22.