The man who threatened to blow up a plane and forced an emergency landing was carrying a toy gun and no explosives, according to Bangladeshi authorities.
The would-be hijacker was shot dead by commandos who stormed the plane when it made an emergency landing in the Bangladeshi city of Chittagong after being diverted from its destination in Dubai.
After takeoff, he had brandished what he said was a pistol and threatened to blow up the plane with explosives strapped to his body if airline staff didn't open the door to the cockpit.
All 148 passengers and crew safely disembarked, police said.
"The pistol with the suspect was a toy pistol and he had no bomb attached to his body," said Kusum Dewan, additional commissioner of Chittagong police.
"He appeared to be mentally imbalanced. We heard he had a personal issue with his wife and demanded to speak to the prime minister. But we are still investigating. We don't want to come to any conclusions right now."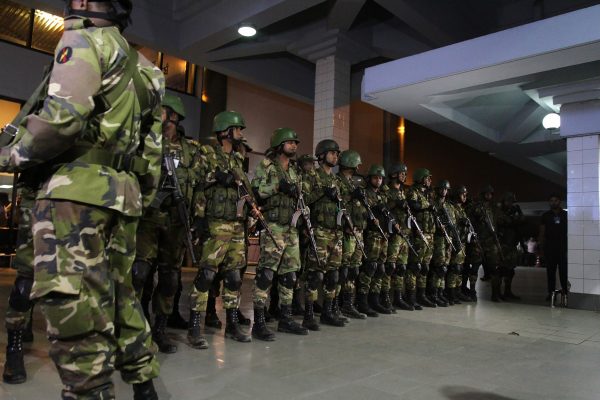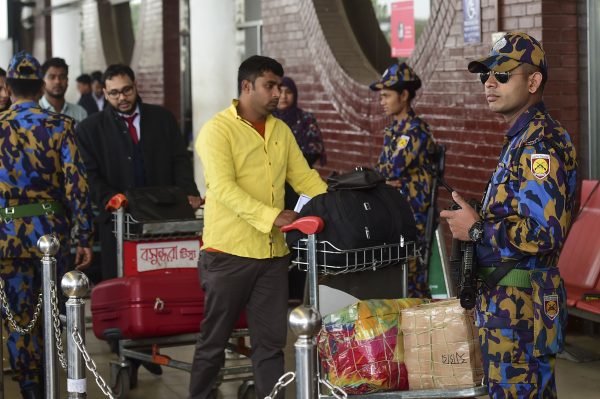 Army officials said the man, who is believed to be 25, died shortly after being shot by commandos, AFP news agency reports.
"We tried to arrest him or get him to surrender but he refused and then we shot him," Maj. Gen. Motiur Rahman told reporters, according to AFP.
"He is a Bangladeshi. We found a pistol from him and nothing else," he added.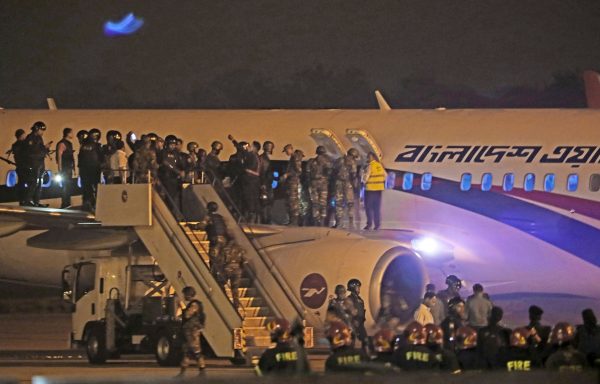 How the man had managed to board the plane with even a toy pistol is a mystery, according to Air Vice Marshal Nayeem Hasan, chairman of the Civil Aviation Authority.
"It was the responsibility of the Civil Aviation Authority to search each passenger before boarding and it was done for this aircraft also, but it is a big question to us that how he boarded with a pistol," he told Reuters.
According to BDNews,  Bangladesh's elite police unit, the Rapid Action Battalion (RABN),  identified the suspect as Mohammad Polash Ahmed from their criminal database.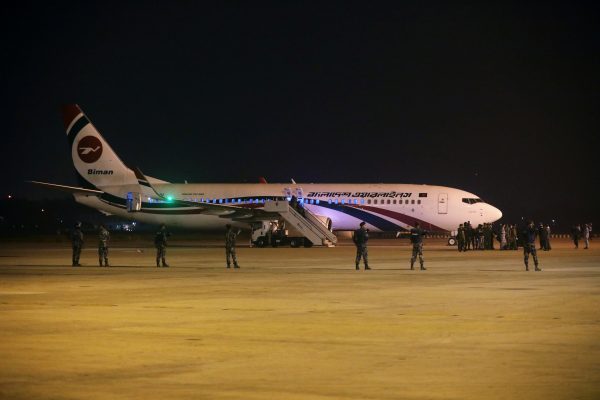 The BBC reports that the boing 737-8000 was immediately cordoned off when it landed at the Shah Amanat International airport in Chittagong.
Crowds of people can be seen on the tarmac at the airport in images posted on social media, with the plane in the background.
After taking off from the airport in Dhaka, the passenger stood up from his seat and tried to go to the cockpit, according to aviation officials.
When a member of the crew blocked his way, he showed his pistol.
He then said he had explosives and if they didn't open the door to the cockpit he would blow up the plane, according to reports.
Reuters contributed to his report.