The U.S. military's Central Command has released a video and some still photographs on June 14 that it says shows Iran's Revolutionary Guard Corp (IRGC) removing an unexploded limpet mine from one of the oil tankers that was targeted near the strategic Strait of Hormuz on June 13, suggesting that Iran sought to remove evidence of its involvement from the scene.
U.S. Central Command spokesman Bill Urban released the black-and-white footage and two still color photographs. The military says the video shows an IRGC Gashti Class patrol boat approaching the Kokuka Courageous "and was observed and recorded removing (an) unexploded limpet mine from the M/T Kokuka Courageous."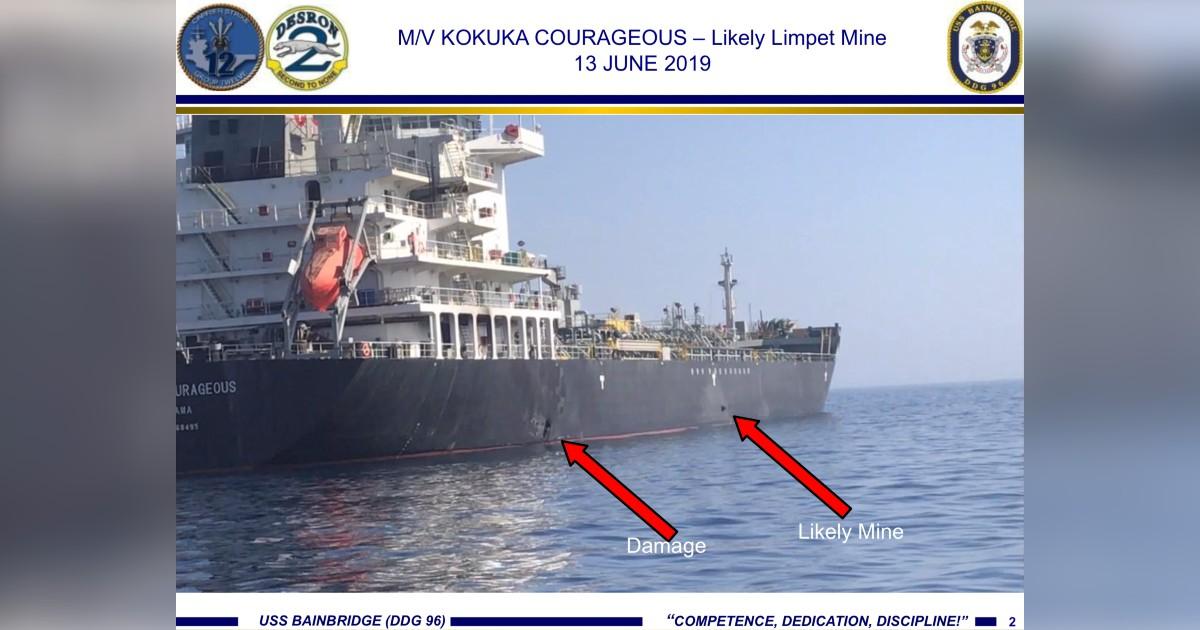 The video release comes hours after the White House
blamed Iran
for the June 13 
attack on two oil tankers
near the strait in the Gulf of Oman, and President Donald Trump said that it was "too soon" to even consider sorting out a deal with the country.
"It is the assessment of the United States government that the Islamic Republic of Iran is responsible for the attacks that occurred," Pompeo said at a department press briefing June 13.
"This is only the latest in a series of attacks instigated by the Islamic Republic of Iran and its surrogates against American and allied interests," Pompeo added.
Pompeo said the evaluation was based on a number of factors that all pointed to Iran: intelligence, the weapons used, and the level of expertise needed to conduct such an operation.
Tehran bluntly denied the allegations.
Attacks on Two Oil Tankers
The
attacks in the Gulf of Oman
off the coast of Iran early on June 13 forced crewmembers on two ships—the Norwegian-owned Front Altair and the Japanese-owned Kokuka Courageous—to abandon and leave the vessels adrift.
Both ships experienced explosions. Reuters reported that one source said the blast on the Front Altair, which caught fire and sent a huge plume of smoke into the air, may have been caused by a magnetic mine.
Meanwhile, the firm that chartered the Kokuka Courageous tanker said it was hit by a suspected torpedo, but a person with knowledge of the matter said torpedoes were not used, Reuters reported.
The United States has also accused Iran or its proxies of carrying out a May 12 attack on four tankers off the United Arab Emirates' coast as well as May 14 drone strikes on two Saudi oil-pumping stations.
Tensions between Iran and the United States, along with U.S. allies like Saudi Arabia, have risen since Washington pulled out of the Iran nuclear deal in 2018. The Obama administration said the deal between Iran and global powers would help curb Tehran's nuclear ambitions.
Iran has repeatedly warned it would block the Strait of Hormuz—a major waterway for world oil supplies—if it can't sell its oil due to U.S. sanctions.
Reuters and the Associated Press contributed to this report.